Winter arrives in a few short weeks, bringing with it cold, snow, ice and the hazardous conditions that can result—both indoors and out. Seniors are at an increased risk for accidents, injuries and other emergencies when temperatures drop, so it's important to make sure they are well prepared for the long, cold winter. This handy checklist is ideal for families, friends or neighbors looking to help their favorite seniors stay safe, comfortable and healthy, even when winter does its worst.

1) Keep Seniors Cozy

Service the heating system.
Cold weather safety begins with preventative HVAC maintenance. To avoid problems with the heating system when winter is in full swing, make sure your senior schedules a furnace inspection early in the season. Have the contractor clean or replace filters and make any necessary repairs.
Install a freeze alarm that sends alerts if your senior's heating system fails.
To get an immediate alert if your senior's furnace fails and the indoor temperature is plummeting, equip their home with a freeze alarm. There are many affordable devices that will alert neighbors or family if a senior's home has lost heat, starting with a local alarm like the battery-powered Freeze Flash Temperature Warning Light that sits in a front-facing window and flashes red when temperatures fall to a level of your choice.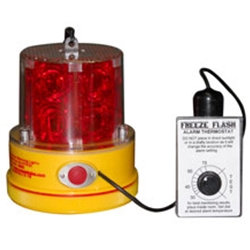 There are also many types of call-out freeze alarms that automatically call a family member or caregiver when the indoor temperature plummets. The phone-based Homesitter freeze alarm automatically calls up to three emergency phone numbers and sounds a loud alarm if there is a drop in temperature (below 45°F/7°C).  If your senior's home does not have landline service, a cellular freeze alarm like the MarCELL Cellular Connected Monitoring System is a good solution.
2) Stock Up Before a Storm

Keep extra food and bottled water on hand.

Stock the pantry with a week's supply of canned and non-perishable food and several gallons of bottled drinking water. A hand-operated can opener is a must for use during power outages.
Fill prescriptions and help manage medications.
Have 30 days worth of prescription medicines on hand during winter months. Consider switching your senior's prescriptions to a pharmacy that makes home deliveries or a mail order pharmacy so no one has to pick up medications during bad weather. Many seniors take multiple medications at various times of day, which can be difficult to manage and risky if they get it wrong.  An automated pill dispenser and medication reminder like the Med-E-Lert Automatic 6-Alarm Pill Dispenser helps ensure that they taking the right meds at the right time.  When it's time to take a pill, the medication reminder alarm sounds a tone or blinks. Med-E-Lert includes separate interchangeable solid and clear covers and 6 different discs to indicate the day of the week and time of day depending on the number of doses needed daily.
3) Help the Homebound Stay in Touch
Install an amplified phone.
Winter can be a time of boredom, isolation and seasonal depression for seniors, especially when bad weather keeps them housebound. Making sure they have a good telephone system will allow them to enjoy calls with family, friends or caregivers. Phones such a the Serene Innovations CL-60 Amplified Cordless Phone or the  Amplicom PowerTel 7 include features like oversized, easy-to-read buttons, amplified volume, talking caller ID and/or a two-way speakerphone, making them ideal for helping seniors with hearing or sight problems stay in touch.
Equip them with a weather alert radio for emergency info.
Seniors will wonder how long they can expect to be housebound. A battery-powered NOAA Weather Radio will help them stay informed of severe weather developments and other emergencies. Consider also keeping a hand-crank or solar-powered radio on hand in case of dead batteries or a power outage.
Provide a reliable way to call for help.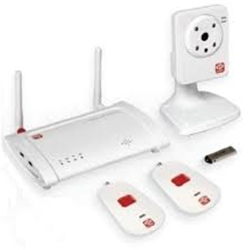 For cold weather and anytime safety, the smartphone-controlled Oplink Connected Care will enable seniors to contact family, friends or emergency services if they need assistance, especially in case of a medical emergency. The system includes 2 wearable panic buttons that send instant alerts if immediate help is needed. It also lets family and caregivers monitor their senior firsthand via live video on their smartphone.
4) Prep for Power Outages
Invest in non-electric emergency lighting.
Make sure your senior has adequate lighting sources during power outages, including battery-powered flashlights, lanterns and extra batteries. As a backup to conventional flashlights, a hand-crank flashlight works without batteries. A rechargeable nightlight like the Datexx Sentina Smart LED Light turns on automatically to provide safety lighting at night and in case of a power outage. Or invest in a multi-use LED light and emergency tool like the Datexx Smart Light Mobile Charger. The smart light switches on automatically and doubles as an emergency flashlight when removed from the socket. The built-in battery also functions as a USB mobile charger.
Have an alternative source of heat.
Seniors should have a safe, non-electric way to stay warm during blackouts, such as a wood stove, kerosene heater or efficient wood-burning fireplace. But keep in mind that burning wood or kerosene can produce deadly CO gases. Make sure the area is properly ventilated and install a carbon monoxide detector and a smoke detector. Many manufacturers offer hard-wired carbon monoxide detectors that also function as a smoke detector so you can protect your senior from both threats with one device.
Keep mobile devices charged.
Staying in touch with the outside world during a power outage is important for home-alone seniors, but keeping mobile devices charged is a problem when there's no electricity. A smartphone charger like the EcoCharge 2,600mAh Waterproof Power Bank will charge all of your senior's USB devices in any situation where they need backup power.

5) Protect Their Health
Prevent dehydration.
Although the causes are varied, winter dehydration is a real risk for the elderly.  Remind your senior to eat well-balanced meals that include lots of vegetables and fruits and to drink plenty of water.
Avoid Hypothermia.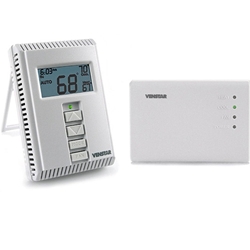 Lower body heat, inactivity, illnesses such as diabetes and certain medications can put older adults at risk of hypothermia. To avoid danger, seniors should stay inside during extreme cold and windy weather, dress in layers and keep their home heated to between 68 and 70 degrees. Installing a remote controlled wireless thermostat will make it easy for them to adjust the heat from anywhere in their home without getting up.
Want More Tips?

Winter's cold temperatures can present numerous challenges for seniors, especially those who are living independently. Taking these simple steps to prepare them for weather-related emergencies can help protect seniors and keep them comfortable and healthy. For more tips on helping senior stay safe year-round, read our blog articles "Water Safety for Seniors"  and "Summer Safety for Seniors." You can also shop our store for great holiday gifts for all of the seniors in your life!