If you live in a state that observes Daylight Saving Time (DST)*, you probably know it will come to an end in 2017 on Sunday, November 5 at 2 a.m. For many of us, the old saying "spring ahead, fall back" reminds us whether we need to move our clocks ahead or back an hour (this time of year we turn them back and return to Standard Time.)
Changing the clocks when DST starts and ends also serves as a reminder to change the batteries in your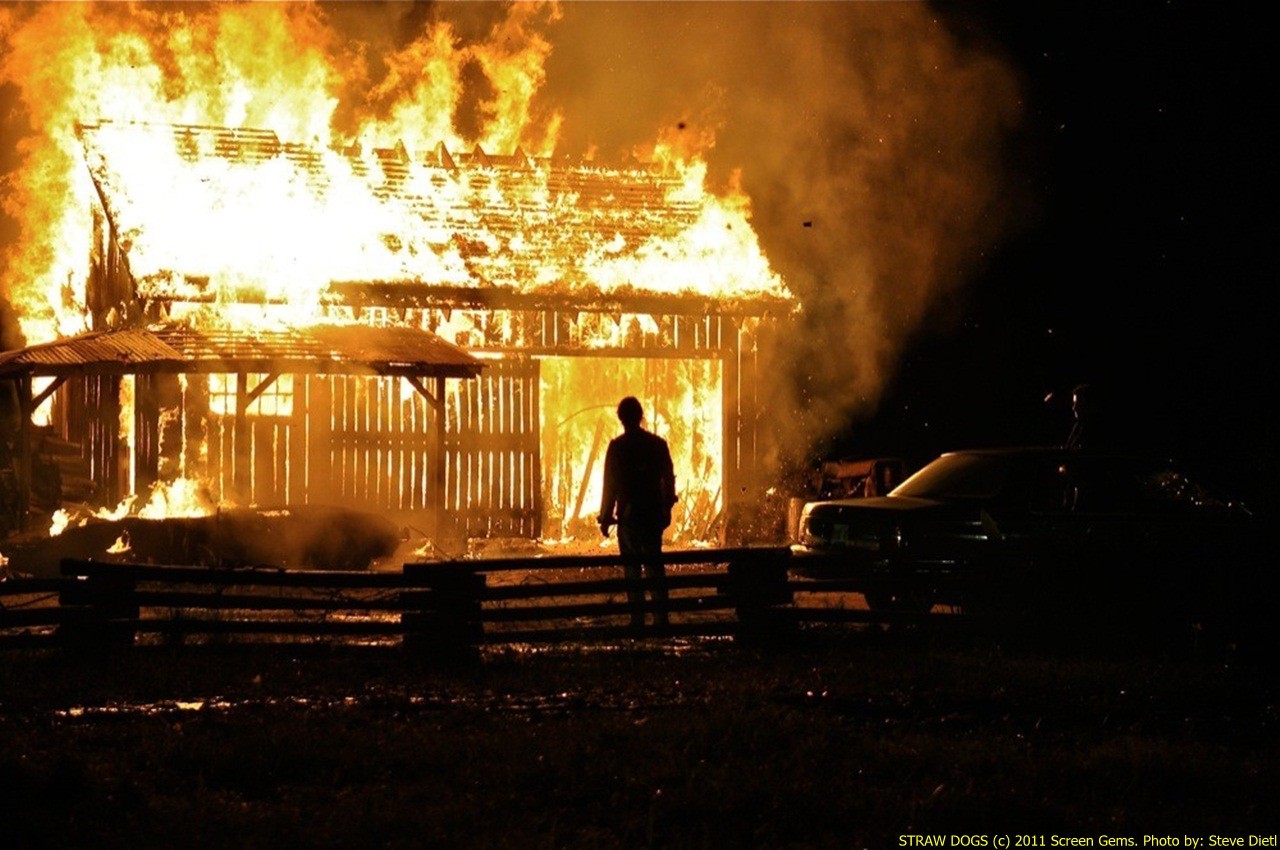 smoke and carbon monoxide detectors. This is thanks to the Energizer Battery Company's very successful "Change Your Clock, Change Your Battery" campaign, which has been encouraging us to change the batteries twice a year since it was launched in 1987.
While this certainly seems like great advice, is it really necessary to change the batteries that often? What about backup batteries if your smoke and carbon monoxide detectors are hard wired? We've got answers to these and other important questions about how to choose and maintain these life-saving devices.
How often should you change the batteries in your smoke and CO detectors?
Estimated battery life in a smoke or carbon monoxide (CO) detector can vary greatly based on battery type and brand, the environment where the alarm is installed and alarm usage. For example, a battery-powered free-standing smoke detector that has gone off a couple of times in a year will experience significantly shortened battery life, as will the backup battery in a hard-wired CO alarm that is drained every time there is a power outage. There's really no good way to know how much battery life is left.
Smoke alarms with non-replaceable 10-year batteries offer a convenient option for those who prefer an alarm with a prolonged lifespan. The battery is sealed inside the detector, ensuring a decade's worth of uninterrupted and tamper-proof protection. The alarm issues an end-of-life warning indicating that it's time to replace the entire device.
What are some general guidelines for maintaining smoke alarms?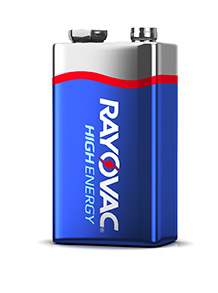 To protect your family and home, it's critical that you make sure your smoke alarms are working properly and the batteries are fresh. The National Fire Protection Association (NFPA) recommends following these guidelines:
Test smoke alarms at least once a month using the test button.
Smoke alarms with non-replaceable 10-year batteries are designed to remain effective for up to 10 years. If the alarm chirps to warn that the battery is low, replace the entire smoke alarm right away.
Smoke alarms with any other type of battery (including backup batteries) need a new battery at least once a year. If the alarm chirps to warn the battery is low, replace the battery right away.
Replace all smoke alarms in your home every 10 years.
Smoke alarms should be maintained according to manufacturer's instructions.
Remember, never use a rechargeable battery in a smoke detector. Brands vary greatly in how quickly they lose their charge (some lose it in just one month) and are not designed for usage in smoke detectors.
Is there more than one type of smoke alarm?
Although there are many different brands of smoke detectors, there are two basic types: free standing and hard-wired.  Both types use either photoelectric or ionization technology to detect smoke. The photoelectric method is better at detecting smoldering fires, while ionization is best for detecting flaming fires. The NFPA recommends using both types of smoke alarms in your home for maximum coverage, since there is no way to know in advance which type of fire may strike.
Here's how to tell which type of smoke detector you currently have: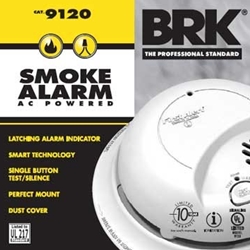 Free Standing Smoke Alarm
If your smoke detector has no wires going into the wall, you have a free standing unit that is battery-powered.
Main advantages: Generally less expensive and easy to install.
Power:  Disposable 9-volt alkaline, lithium or heavy duty batteries.  Most models chirp to indicate when the battery is reaching its end-of-life.
Main disadvantage:  Don't work if the battery is dead. In fact, the NFPA reports that dead batteries cause one-quarter of all smoke alarm failures.
Hard-Wired Smoke Alarms
Hard-wired smoke detectors are powered by A/C current and have a backup disposable battery in case of power outages.
Main advantages:  Considered safer because hard-wired smoke detectors are typically interconnected so that all the smoke detectors in your home go off at the same time, regardless of the location of the fire. Hard-wired alarms will continue to operate on A/C power, even with a dead backup battery.
Power:  Main electrical system.
Disadvantages:  More expensive and installation requires wiring.
Which smoke alarm should you choose?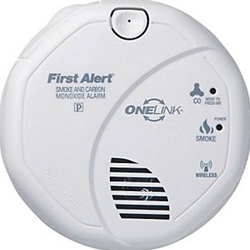 If you are shopping for new smoke alarms, the NFPA recommends using interconnected smoke alarms for the best protection. Interconnected smoke detectors communicate with the other smoke alarms in the house so they all go off at the same time, regardless of the location of the fire. This increases the chances that family members in unaffected areas of the house will hear the alarm and be able to get out safely. 
Most interconnected smoke alarms are hard-wired, but there are some wireless interconnected systems on the market.
Wireless interconnected smoke detectors are battery-powered, and easy to install without complicated wiring, making them a good choice for older homes where the electrical system hasn't been updated.
Tip:  When shopping for interconnected smoke detectors, look for the "tandem connections" rating which tells you how many units can be combined.  It is also important that all of the alarms are from the same manufacturer. If the alarms are not compatible, they may not sound.
How important is a carbon monoxide detector?
Carbon monoxide (CO) is a poisonous gas with no smell, taste or color, making it so difficult to detect that you can inhale it without even realizing it! According to the CDC, each year 500 Americans die from unintentional CO poisoning not linked to fires, more than 20,000 visit the emergency room, and more than 4,000 are hospitalized.
Because carbon monoxide poisoning is a serious public health concern, many states require interconnected carbon monoxide detectors in new construction homes. As of January 2017, 32 states have enacted statutes regarding carbon monoxide (CO) detectors.
Which type of CO detector offers the best protection?
Any type of carbon monoxide detector is better than none to protect your family from deadly carbon monoxide gas. However, there are many reasons why hard-wired carbon monoxide detectors are the better, safer choice over a less expensive battery-powered CO alarm.  If you are shopping for a carbon monoxide detector because you want to upgrade the alarms you have now or are building a new house, read our blog "Hard-Wired Carbon Monoxide Detectors are Better, Safer Choice" to find out why this is clearly the better investment.
Many manufacturers offer hard-wired carbon monoxide detectors that also function as a smoke detector so you can protect your family from both threats with one device. These are especially good for kitchens, basements and living rooms where there are fuel-burning appliances.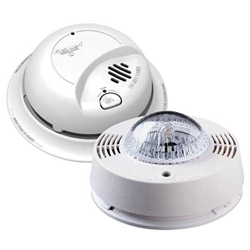 How many detectors do you need?
Unless you live in a small one-level apartment, your home should be protected by multiple smoke and carbon monoxide detectors. The average home needs detectors on every level of the home, including the basement. Here's where smoke alarms should be installed:
Bedrooms: Install smoke detectors inside each bedroom and outside every sleeping area.
Living and Family Rooms: On levels without bedrooms, install alarms in the living room, den or family room, or near the stairway to the upper level, or in both locations.
Kitchens: To prevent nuisance alarms in the kitchen, smoke detectors should be located at least 10 feet (3 meters) from cooking appliances.
Basements: Smoke alarms should be installed on the ceiling at the bottom of the stairs leading to the next level.
For details on installing carbon monoxide detectors in your home, read "Why One Carbon Monoxide Detector is Not Enough." Remember that when installing multiple alarms, a linked system of interconnected units is the best way to keep your family safe.
Want to know more?
While many people find the end-of-DST time switch disruptive, it serves as a powerful reminder to protect your  family's safety by checking to see that smoke and CO detectors are in working order. The NFPA website is a valuable resource for fire safety tips and details on installing smoke alarms in your home. You can also find additional information on the DIY blog, including the articles "What's Your Smoke Detector IQ?" and "Daylight Saving Time Ends", or shop our online store for a complete range of do-it-yourself home monitoring and security solutions.
*Exceptions to DST in the U.S. include Arizona (except Navajo Nation Community, which does use DST), Hawaii, American Samoa, Guam, Puerto Rico, and The United States Virgin Islands