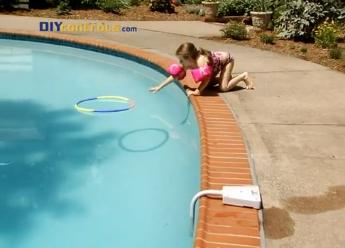 Curious children and swimming pools can be a dangerous combination, especially when important swimming pool safety guidelines are not followed and enforced.   It takes only minutes for a child to drown.  In 77 percent of drowning incidents, parents or caregivers say that the young victim was out of sight for 5 minutes or less!  Surprisingly, 65 percent of swimming pool accidents involving children happen in their own backyard and another 33 percent happen at the home of a relative or friend.  Very few (2 percent) child drownings occur at a public beach or town pool or involve a child who "trespassed" into a neighboring yard.
Parents need to be alert and vigilant when children are in the vicinity of a pool or spa, especially when it in their own backyard. Â Learning proper water safety procedures and life saving techniques are critical. Â Seconds count in preventing death or brain damage.
Equally important are "safety barriers" to prevent children from gaining access to the pool and increase the time adults will have to locate the missing child and intervene if the child is found submersed in the water.  Because there are no nationwide laws regulating swimming pool safety barrier standards, the U.S. Consumer Product Safety Commission and the American Society Testing and Materials (ASTM) published guidelines for safety barriers for residential pools and spas in 2007.  Known as the "six layers of protection," these safety barriers include:
Walls or permanent fences that enclose all or part of the pool area that are at least four feet high (see "How to Prevent a Child from Getting Over a Pool Barrier";
Pool covers that are ASTM-approved;
A window or door alarm that sounds when opened to keep a toddler from wandering to the pool unsupervised, including special pool door alarms and pool gate alarms that are installed on a barrier around pool and sound when the gate is opened;
Self-closing latches that keep children from opening doors, windows and fence gates;
A temporary mesh barrier that separates the pool from the yard or other playing spaces;
Finally, a swimming pool alarm that sounds when a child unexpectedly enters the water (see "The Best Pool Alarms and Pool Gates").
In addition to protecting your own children and young guests, pool safety barriers will also help deter neighboring children from wandering near your pool and keep out pets and wild animals.  Most states and cities have laws requiring pool fencing and possibly swimming pool alarms or door alarms, so check with your local government.  As a parent and homeowner, swimming pool safety is your responsibility.
For more information on why to buy a pool alarm, see: Pool Alarms: 5 Reasons to Get One.