Even the smallest leak can become a major catastrophe for homeowners, resulting in thousands of dollars in damage. Investing in a water alarm is one of the most effective ways to detect leaks caused by both plumbing and non-plumbing problems – from leak-prone appliances to a leaky roof.
FloodStop, which makes some of our best-selling water shutoff valves, has just added a new option to its line of automatic water shutoff products. FloodStop shutoff valves prevent leaks by turning off the water at its source and sounding a local alarm. Now you can add the FloodStop WiFi Connect Module to your system and be alerted via text message and/or email whenever the alarm is triggered.
Adds WiFi Connectivity to Any FloodStop Device
This easy-to-use device connects to your home WiFi network and plugs into your FloodStop shutoff valve's relay output. The module will send out alerts via text to up to two cell phone numbers as well as five different email addresses. No subscription is required – the purchase price covers everything.

The FloodStop WiFi Connect Module is compatible with any of FloodStop's automatic water shutoff valves. You can buy valves separately or save by purchasing the valve and module together.
Pairs Easily with Other Water Detection Systems
Because it is triggered by a relay closure, the FloodStop WiFi Connect Module can be wired into other shutoff valve devices as well. For instance, you can pair it with the FloodMaster Total Water Main Shut-Off and Alarm series, which is designed for localized leak detection. When a leak is detected in a room or on a single floor, the unit will automatically shut off the water main supply line. It will also work with FloodMaster's Water Leak Detection & Alarm System, which sounds an audible alarm when its sensor puck comes in contact with just 1/16″ of any non-flammable liquid. The system plugs into any common wall outlet, and comes with a standard optional dry contact output to a home security panel, control room or appropriate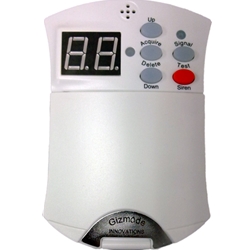 relay. Just connect the module to the "Normally Open" output on the controller.
The FloodStop WiFi Connect Module is also compatible with Flood Screamer products like the Wireless Water Alarm System, which allows you to monitor up to 32 Water Puck sensors placed at strategic points where water damage may occur. When a Water Puck sensor gets wet, it sends a wireless signal to the Flood Screamer, which sounds an alert and indicates the location of the leak. Or combine the module with the Valve Screamer Wireless Whole House Kit – one of the easiest whole house water detection systems to install. It comes with a water main shutoff valve to turn off the water supply for plumbing leaks anywhere in the house, plus a Flood Screamer control unit and two Water Puck sensors.
Helps Avoid Costly Wastewater Backups
Wastewater backups and spills can result in property damage, odors and health hazards. The Detectit Hardwired Wastewater Backup Alarm Standard Kit comes with a sensor designed to be installed into the main drain line that will detect a backup or slow draining waste water and sound a piercing alarm before a problem occurs. When you combine Detectit with the FloodStop Wifi Connect Module, you will also get text and email alerts when you are away from home. Have a kit with the full alarm panel? Simply connect the WiFi module to the outputs on the red alarm panel.
If you are looking for a way to prevent a minor plumbing or appliance failure from becoming a major problem, an automatic water shutoff system will help you safeguard your valuable property. When you want to monitor your property even when you are miles away, FloodStop WiFi Connect will give you 24/7 peace of mind.