With the holiday season fast approaching, now's a good time to get a head start with your shopping with one of these great gift ideas for grandparents and seniors. Each of these items was carefully selected for older folks who don't need more household clutter but who will appreciate a gift that makes everyday living easier and more enjoyable.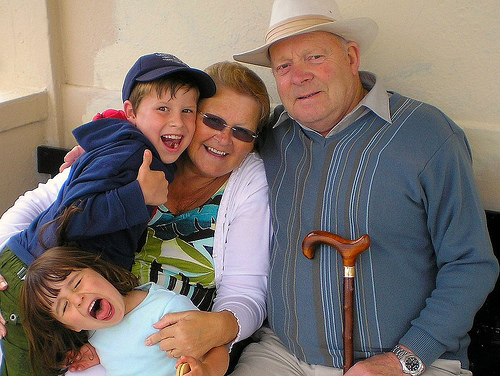 Gifts Under $50
No More Wasted Trips to the Mailbox
With the Dakota Alert 1000 Series Wireless Mailbox Alert Kit, seniors will know exactly when their mail has arrived.  The Dakota Alert's sensor mounts on any hinged mailbox door and activates the moment the postman opens the mailbox.  Inside the home, the receiver plays a tune to signal that mail has been delivered. Both the transmitter and receiver are battery-powered and wireless, so installation is easy. Works up to 1,000 feet away and priced around $50.
Using the Telephone Just Got Easier
The Clarity Photo Phone P300 provides up to 26dB of amplification, making voices not only louder but also clearer and easier to understand. The extra large dial pad is designed for users with vision problems to make dialing easier.  Seniors can customize the speed-dial buttons with photos of family, friends or other frequently-called numbers. This is a great gift for seniors with mild to moderate hearing loss or low vision. Only $50!
Protection Against Tripped Circuits or Power Outages
Many grandparents have trouble climbing stairs or walking distances so they won't know if the power goes out or a circuit is tripped on a basement or garage refrigerator, freezer, water heater or sump pump.  The Power Failure/Failed Circuit Alarm solves that problem by alerting with a loud 85 to 90 dB buzzer and blinking lights so they can remedy the situation. Installation is simple — just plug it in! Cost is $45.
Gifts Under $100
A "No Meds" Approach to Better Sleep
With the Marsona Sound Therapy Machine, seniors will fall asleep faster and sleep more soundly without medication. Instead of hearing the ringing of tinnitus or disturbing background noises, users are lulled by the realistic sounds of either falling rain, the ocean's surf, a babbling brook, crickets chirping softly, the shoreline of a lake or a waterfall.  The Marsona Sound Therapy Machine plugs into a wall outlet or runs on battery power.  Lightweight and portable, it also features an automatic timer and sliding volume control.  A unique gift for around $90.
Watchdog You Never Have to Walk or Feed
Grandparents who live alone will feel extra secure with Rex Plus II, the Electronic Watchdog on duty guarding and protecting them. With his electronic radar eyes, Rex II can "see" through thick doors, walls and glass.  When he detects movement, he'll begin barking. As the intruder gets closer, volume and frequency increases, just like a real watchdog. As the intruder backs off, the barking decreases in frequency and eventually stops. Powered by 110V wall outlet or batteries.  Priced around $80.
Wake Up Solution for Deep Sleepers (w/wo Hearing Loss)
Here is an extra-loud alarm clock that promises to wake up any deep sleeper on your shopping list, even if they're hard of hearing. The Bellman Vibrating Alarm Clock Classic uses a powerful but silent bedshaker, high-intensity LED lights and a built-in extra-loud 100-plus dB ascending alarm.  The alarm spans multiple frequencies, so even users with a high frequency hearing loss won't miss their wake up call. Around $75.
No More Missed Meds
Many seniors take multiple prescription medications as well as vitamins at various times of the days, which can be difficult for them to manage and risky if they get it wrong.  With a Med-E-Lert Automatic 6-Alarm Pill Dispenser, you can ensure that they taking the right meds at the right time.  The Med-E-Alert has 28 medication compartments and holds up to 6 doses of medication per day.  A medication reminder alarm sounds a tone or blinks when it is time to take a pill and the tamper-proof locking key system helps prevent over-medication. About $80.
Gifts Under $200
Adjust Room Temperature Without Getting Up
Make it easy for grandparents and seniors to adjust the heat or A/C from wherever they are with a 7-day programmable Venstar Wireless Thermostat with Remote Control. The portable, handheld remote is easy to carry from room to room, so grandma and grandpa can turn the heat up or down from the comfort of their sofa or bed. The remote transmits up to 500 feet, even through walls and floors, and the system is completely wireless so it's easy to install.  For anyone confined to a bed or wheelchair, this gift provides the ultimate in convenience!  About $175.
Gifts Under $300
Turn Up the TV Volume Without Disturbing Others
Wireless TV headphones are the perfect solution for seniors with hearing loss who need to turn up the volume in order to enjoy their favorite TV show or music, but don't want to disturb others nearby.  The wireless Sennheiser 830 Infrared TV Amplifier System lets users listen to TV from anywhere in the room and enjoy clear, outstanding sound quality. The under-the-chin stethoscope-style headset is lightweight and comfortable to wear (even with eyeglasses) and turns on and off automatically. Priced at $250.

Never Miss a Doorbell, Phone Call, Baby Cry or Smoke/CO Detector
Here's an expandable home alerting system for any senior regardless of their hearing or visual challenges. The HomeAware™ Complete Home Alerting System by Sonic Alert provides both visual and audible alerts for all kinds of important events happening in the home. The main unit features a dual alarm clock with a bright red, 2-inch scrolling display that announces the alert (e.g., "smoke," "phone" or "door"); flashing ultra-bright strobe light; 110 dB extra-loud alarm; and a powerful bed shaker that slides under the mattress. Starter kit sells for about $205.
More Gift Ideas
Still looking for just the right gift for your favorite senior? Take a look at some of the other gift ideas we offer in the "Independent Living" section of the diycontrols.com store, including: personal emergency response systems you buy instead of rent, amplified phones, reminder alarm clocks and wireless security and in-home monitoring systems.