It's not easy keeping up with the onslaught of new devices these days, so we're offering this short list of family-friendly tech products designed to protect your brood.  Whether your flock includes little ones, teens, grandparents or pets, each of these safety tech products are best sellers because of their unique features, easy set up, easy operation and affordable price.  We all want to keep our families safe, but no one wants to be labeled a Mother Hen.  These tech products will help you protect your loved ones in a caring, but discreet, way.
Water Safety
Wearable Pool Alarm for Kids and Pets — Families love the portable Safety Turtle 2.0 Child Immersion Pool Alarm System for protecting young children and pets around open water. Safety Turtle 2.0 is a "personal immersion" system that uses water-activated wristbands and pet collar tags that trigger a loud alarm when submerged in water.
Portable — Use at home or bring it with you when you travel or swim in a friend's pool
Expandable — One base supports unlimited child wristbands or pet collar attachments
Plug 'n play setup  — Requires no programming or wiring
Pool Safety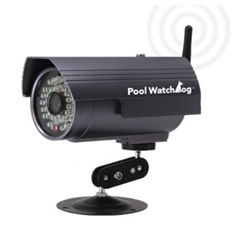 "Always Watching" Pool Surveillance Camera — If you've always wished for a way to see your backyard pool when you're inside the house or away from home, the Pool WatchDog™ Swimming Pool Safety Camera™ is the answer.  Pool WatchDog is a motion-activated outdoor surveillance camera with night vision, so it's watching and alerting 24/7.  As soon as a child, trespasser or animal enters the pool area, you'll receive an email or text message alert on your smartphone or tablet.
See the action from anywhere — View steaming live video on your smartphone or tablet
Easy to use and set up — Wireless camera is WiFi-enabled (can also be hard wired to your router)
No hidden costs — No monthly service fees; iPhone and Android app is free; requires no extra equipment
Baby and Child Safety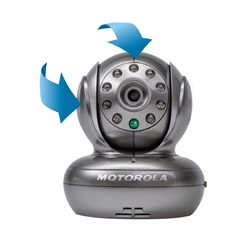 View from Anywhere Digital Video Baby Monitor — Whether you're in the next room or miles away at work, a digital video baby monitor like the WiFi-enabled Motorola Blink1 Wi-Fi Video Baby Monitor lets you look in on little ones via your smartphone, tablet or computer.  The Blink1 also allows two-way communication, so parents can talk to baby and listen in while they're sleeping, playing or in distress.  Use your video baby monitor for supervising bigger kids or checking up on pets or seniors who live alone.
Follow baby's movement — Has a pan/tilt/zoom camera that you control using your smartphone
See or record the action — Delivers live video and audio to your compatible iOS or Android device up to 540′ away
Infrared night vision — Watch what's going on in baby's room without turning on lights
Teen Driver Safety
GPS Tracking Device Delivers Peace-of-Mind — Parents everywhere worry when their new teen drivers are behind the wheel, so many moms and dads use the built-in location tracking feature on their kids' smartphone to check up on their whereabouts.  But but if your teens are outsmarting you by "forgetting" to bring their phone or turning it off,  you can outsmart them by hiding a KJB iTrail Solo GPS Tracker in their vehicle!  The iTrail Solo lets parents view teen's activity and car location in real time so they'll know if their kids have arrived safely or traveled outside their "safe zone."
Alerting feature — Sends a text message alert when teens arrive or leave your customized geo-fence zone
Long-life rechargeable battery — Lasts up to 14 days on a single charge
Many other uses — Great for charting walks or hikes on Google Maps™
Pet Safety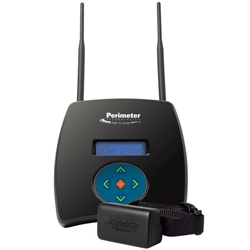 Wire-Free WiFi Dog Fence — Wireless dog fences are the latest innovation in pet safety.  Wireless systems, like the Wire-Free Wi-Fi Dog Fence by Perimeter Technologies, use a base station that transmits a radio signal that forms an invisible circular boundary.  Set up is easy because there are no wires to bury. The radio signal is picked up by a receiver collar worn by the dog.  If she gets too close to the boundary, the collar emits a warning tone. If she crosses the boundary, she receives a static correction.
Pets learn quickly — Most pets learn how the system works after just a couple of weeks of training
Great for large yards — Covers up to 2-1/2 acres
Safer than conventional fencing — Dogs can't jump over or tunnel under the Wire-Free Dog Fence
Senior Safety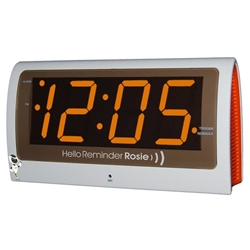 Voice-Controlled "Reminder" Clock – Here's a unique tech product that provides seniors with an easy way to remember medications, appointments, bill payments, tasks, etc. — without having to touch any buttons! The "Reminder Rosie" digital clock records messages in the user's own voice and has large, easy-to-read LED numbers. Plugs into any wall outlet and has backup batteries to retain reminders, time and alarm settings during power outages.
Personal and familiar — Reminder Rosie records and stores up to 25 reminder messages in the user's own voice
Simple to use — Automatically announces reminders at scheduled times with no buttons to press
Continuous operation, even during blackouts — Battery backup retains reminders, alarm, time and date
Additional Tech Products for Family Safety
If you don't see anything here that fits your family's needs, take a look at these categories on the diycontrols.com website:  Home Safety; Outdoor Safety; Pet Water Safety; and Independent Living Aids.