Winter is a good time to upgrade your home and tackle those home improvement projects that you've been putting off.  If you only have a few hours to spend and a limited budget, here are five easy-to-install devices that cost under or around $200 yet provide a boatload of protection and convenience.
Upgrade Your Thermostat
Get energy savings and convenience with a remote controlled programmable thermostat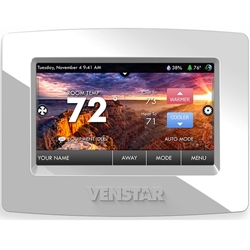 According to the U.S. Department of Energy, you can save 5% to 15% a year on your heating bill by turning your thermostat back 10° to 15° for 8 hours.  Make that task easy by replacing your manual thermostat with a programmable thermostat that will lower the heat automatically when you go to bed or leave for work and raise it when you return.
Better still is a programmable thermostat that can be controlled remotely using your smartphone, like the Venstar ColorTouch, the high resolution digital thermostat with the touch screen display.  The attractive ColorTouch remote control thermostat now comes with built-in WiFi so you get the added convenience of being able to control and monitor the temperature in your house from anywhere using your smartphone.
Cost:  About $170 (plus $37 for built-in WiFi)
Upgrade Your Home's Freeze Protection
Prevent costly and messy damage caused by frozen pipes with a freeze alarm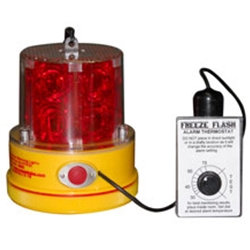 Furnace failures and power outages can happen at anytime, especially in the wintertime. If you want a way to get advance warning that the temperature in your home is dangerously low so you can remedy the situation before your pipes freeze, you need a freeze alarm.
The popular Freeze Flash Warning Light is an affordable solution for people who live in a community with friendly, reliable neighbors. Position it in a front-facing window and ask neighbors to contact you if they notice it flashing, which indicates that the indoor temperature has dropped below your setpoint.
Cost: About $80.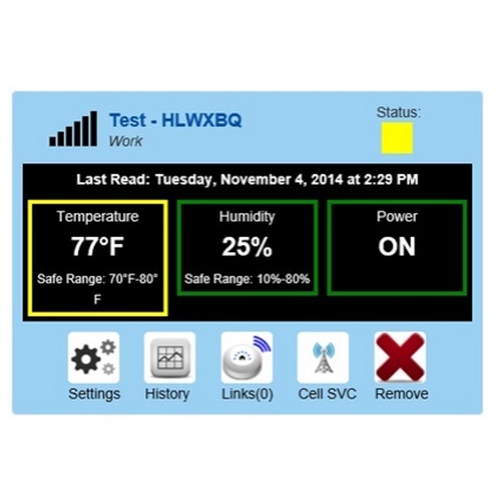 For homes located where there's reliable Verizon cellular service, the MarCELL Cellular Connected is one of the most affordable cellular-based freeze alarms for monitoring temperature, humidity and power.  If there's an emergency, it sends an instant phone call, text or email message to a mobile device or PC.
Cost:  Below $200.
Upgrade Your Washing Machine
Protect against catastrophic leaks with an automatic water shutoff valve
Washing machine leaks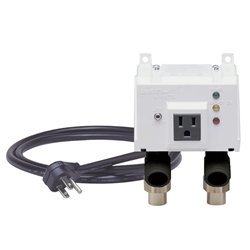 can be caused by a range of failures, including ruptured hoses, cracked fittings, aging parts and even using too much detergent.  Regardless of the cause, the resulting water damage can be catastrophic, especially if you're not home!
An automatic water shutoff valve like the Watts IntelliFlow allows water to flow only when it senses that the washing machine is turned on. It automatically turns off the water supply when your machine is not operating and if the floor sensor detects water.  If there's a leak on the floor, it also turns off the power to the washing machine in case the problem is a faulty discharge hose. The IntelliFlow is a great investment to protect your home against washing machine leaks, regardless of the cause.
Cost:  Under $200.
Upgrade Your Sump Pump
Receive alerts when your sump pump fails by adding a sump pump alarm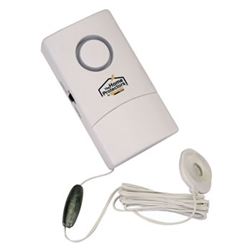 Electric sump pumps don't pump during power outages and can lead to a messy, flooded basement.  A battery-powered sump pump alarm will sound a loud warning if the water level in your sump pit rises to a dangerous level so you can take preventive action before the pit overflows.  This inexpensive alarm is powered by a 9V alkaline battery and takes only minutes to set up.
Cost:  Around $15.
For protection when no one is home, the PumpAlarm Cellular Water Alarm sends text message alerts to your cell phone or mobile device when the water level in the pit gets too high. It also notifies you when there's a power outage.
Cost:  Around $200.
Upgrade Your Fire and CO Protection
Get anytime, anywhere notifications if your home's smoke or CO alarm is activated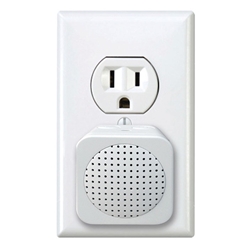 If you are away and your smoke and CO detectors are not hooked up to a home security system, you won't know if there's a fire or carbon monoxide emergency in your house.
The solution is a Kidde RemoteLync Smart Home Smoke/Carbon Monoxide Alarm Monitor.  RemoteLync "listens" to existing smoke and CO alarms and automatically sends an alert to an iPhone or Android-compatible smartphone or tablet if one of the alarms goes off. It can even be programmed to call 911.  Works in any home with 24/7 WiFi.  Just plug it into any wall outlet and download the free app.
Cost:  About $100.
Additional Ways to Upgrade Your Home
For more winter weekend projects and ways to upgrade your home, check out these articles on the diycontrols.com blog:
Easy DIY Projects to Winterize Your Home
5 Easy Home Improvement Projects for a Snowy Day
It's Not Too Late to Winterize Your Home