It's always nice to bring a gift when you're visiting a senior at their assisted living apartment, but choosing something appropriate can be a challenge. Most likely, their everyday needs have changed and their living space is now very limited. If you want to avoid bringing just another dust collector, browse through this list of practical gift ideas. Each item was chosen because it will help make your senior's life at assisted living more enjoyable, healthier or safer. Instead of adding to the clutter, these gifts are something they will actually use and definitely appreciate.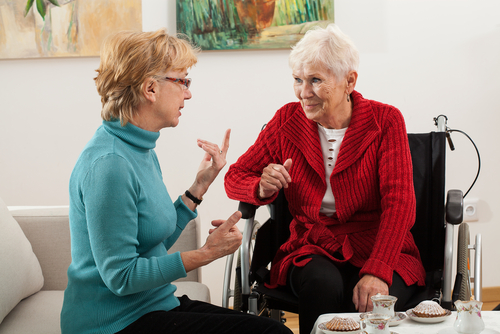 1.  Houseplants – Brighten up your senior's assisted living apartment with an easy-to-care-for houseplant set in a colorful flower pot. Look for a low-maintenance plant that will thrive in low light, like a philodendron or Chinese evergreen. Include a small plastic watering can and a saucer to collect any drips.
2.  Wireless TV Headphones — Wireless TV headphones are the perfect solution for seniors with hearing loss who need to turn up the volume in order to enjoy their favorite TV show.  In addition to improved sound clarity, wireless TV headphones let users listen privately at any volume level without disturbing others (which your senior's next door neighbors will surely appreciate!). Popular models include TV Ears and headsets by ClearSounds.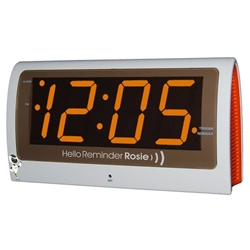 3.  Voice-controlled "Reminder" Clock – Here's a unique gift that provides seniors with an easy way to remember medications, appointments, bill payments, tasks, etc. — without having to touch any buttons! The "Reminder Rosie" digital clock records messages in the user's own voice and has large, easy-to-read LED numbers. Plugs into any wall outlet and has backup batteries to retain reminders, time and alarm settings during power outages.
4.  Emergency Alert Pendant – Even seniors living in an assisted living facility need a reliable way to call for help in the event of a fall or other medical emergency. With an emergency alert pendant like the FreedomAlert System, they can summon for assistance at any time. The FreedomAlert wireless pendant dials up to 4 pre-programmed emergency phone numbers with just the push of a button and also allows two-way conversation.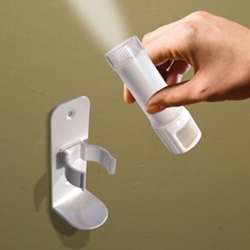 5.  Motion-Activated Nightlight – Many accidents occur when seniors get disoriented in the dark. This handy motion-sensing light stick by Datexx automatically switches on when it senses movement up to 6 feet away. It's powered by three AAA batteries and can be mounted on any wall. Snap it out of its cradle to use as a super-bright flashlight.
6.  Calendar – Everyone needs a place to write down appointments, birthdays and upcoming events. If you are in a hurry the next time you are visiting your senior and don't want to arrive empty-handed, pick up an attractive wall calendar or desktop-size flip calendar at a pharmacy or office supply store. Be sure to choose a style with plenty of room for handwritten entries and large print that's easy to read.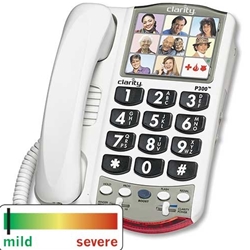 7.  Amplified Photo Phone – Make it easy for your senior to hear and dial with the Clarity Photo Phone that has nine one-touch speed dial buttons they can customize with photos of family and friends. It amplifies sounds up to 26 dB, making voices not only louder, but also clearer and easier to understand. Great for seniors with mild to moderate hearing loss or low vision.
8.  Wide-Platform Bathroom Scale with Projection Readout — The Taylor Projector Scale is ideal for anyone who has difficulty seeing the readout on his or her bathroom scale.  This nifty scale projects their weight right onto the wall (as well as on the jumbo-size LCD digital display) so it's easy to read.  The wide platform has non-slip treads making it perfect for seniors who are a little unsteady.
9.  Digital Picture Frame – A digital picture frame is the perfect way to personalize a senior's new home with their favorite family photos. Digital picture frames can display hundreds of photos without taking up a lot of wall or tabletop space.   Many models even have remote controls. If your senior isn't computer-savvy, preload the photos for them.
10.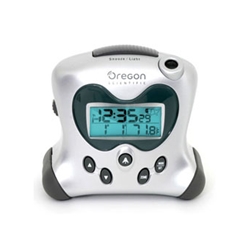 Projection Alarm Clock –This petite battery-powered alarm clock by Oregon Scientific fits nicely on any bedside table and projects the time onto the ceiling or wall, making it easy for most seniors to check the time from bed without needing to put their glasses on. It automatically sets itself to the U.S. Atomic Clock so it never needs adjusting, even for Daylight Saving Time. Also includes an indoor thermometer.
Other Gift Ideas
If you didn't see just the right gift above, here are a few more unique gift ideas for seniors: comfy heated travel blanket for car rides; mobile phone cradle with flashing signaler; pocket-size weather alert radio with AM/FM; or a pedometer that counts daily steps, distance, calories and fat burned.