If you are wondering what you get with a DIY home security starter kit priced at under $150, you are not alone. Many of the experts who tested and reviewed the new SkylinkNet Connected Alarm System asked the same question when this Internet-based system was introduced in September 2014. After all, when it comes to protecting home and family, everyone wants a home security system that is consistently reliable. For those who opt for a DIY home security system, they want a system that is super easy to install and operate, as well as affordable.
So how does the under $150 SkylinkNet Connected Alarm System SK-200 measure up? Well, based on the reviews by security and home automation experts, the SkylinkNet meets all of these requirements and delivers even more! Here's what they had to say: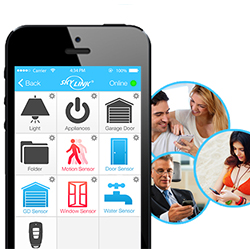 What's In the Box
"Inside the small box you will find the essential foundation to start building your own home alarm system. The SK-200 comes with:
The essential Internet hub that allows you to remotely control the system via your smartphone or tablet (only the iPhone is supported presently)
Two windows/door sensors
One motion sensor
A keychain remote control, and
Ethernet cable to connect the hub to your home router."
Source: Examiner.com
"The SkylinkNet is user installable and cloud connected to iOS apps with ability to allow up to 6 users. The system has no monthly fees like some big name alarm systems. The system can work with up to 100 different sensors and 10 wireless security cameras."
Source: Geekbeat.tv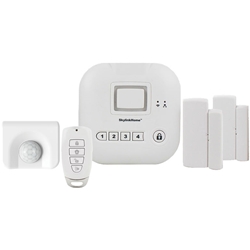 Simple to Install
"To test SkylinkNet out, I installed the starter kit in my smallish one-bedroom apartment. The app did a nice job of guiding me through the setup process, with clear, step-by-step instructions and helpful visuals. After about 10 minutes, I had everything up and running."
Source: CNET.com
Easy to Expand
"The whole premise of this system is that you can build the alarm up over time. You can add various components to the system such as a solar powered outside alarm, video cameras, telephone dialers, garage door sensors, appliance control modules, additional window and door sensors, and water sensors that can detect when your home is flooding."
Source: Examiner.com
User-Friendly App
"The Skylink app is easy to manage and maintain. You can even track multiple sensors in multiple locations, great for those with vacation homes or who have an elderly relative they may need to keep tabs on from afar.
We really liked the event log feature which lets you track the comings and goings of your homes. This makes it really handy for those who have a small business they'd like to monitor."
Source: Slashgear.com
Other Key Features
Battery Backup: "Something unique among Internet-connected home devices: the hub will run on battery power if the power fails in your home."
Internet Backup: "You can also add a Skylink's external dialer so if the Internet goes down, the hub can use a POTS line to call one of nine programmed cell numbers as another back-up."
Source: Wired.com
Backup Responders: "There are some really interesting benefits that set it apart, though. You can add numbers of friends or relatives to call in the case the alarm goes off. That makes it handy for traveling, as you can just add a neighbor's number as needed and ask that they respond if need be.
Source: Slashgear.com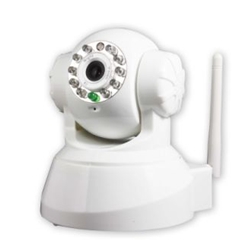 Real Time Video: "There is also an option to be able to view a live feed from any of the video cameras that you might have attached to the system, which is a very nice feature indeed."
Source: The Examiner
Conclusion
Overall the experts who reviewed the new SkylinkNet Alarm System agreed that this DIY home security system is one of the best starter kits on the market today. We think the review team at Slashgear.com summed it up best when they wrote:
"If you're looking into home security, give Skylink a look. It's competitively priced, has a variety of packages to suit you, and will put peace of mind front and center. SkylinkNet is a pretty easy recommendation, and is one of the only DIY security systems that can grow with you. More than the rest, you might have SkyLink for a long time."