If you are planning to leave your home vacant for weeks or months at a time and want someone or something to provide reliable oversight for water leaks, high or low temperatures and humidity, this new combination water and freeze alarm is the answer. Let's face it…a neighbor or caretaker may stop by your house once or twice a week (if you're lucky), but the EnviroAlert EA800-ip Monitoring Console will monitor your home round-the-clock and alert you immediately via email and text message if there's problem. We think the EnviroAlert EA800-ip by Winland is one of the most exciting home monitoring devices available today and here's why: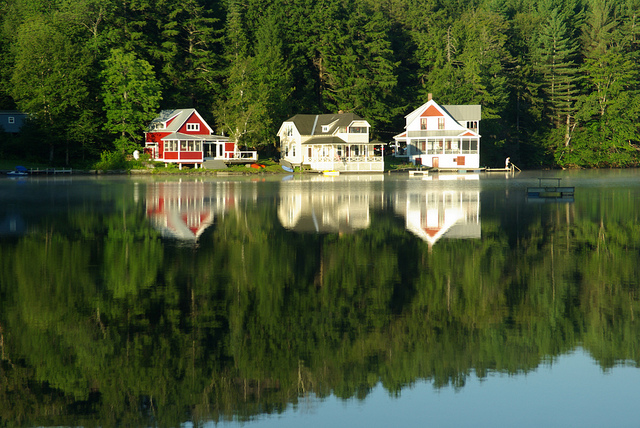 Uses Internet, Not Landline
Traditional home monitoring devices require a landline phone connection, but not Winland's EnviroAlert EA800-ip. The EnviroAlert EA800-ip gives you 24/7 remote home monitoring without the expense of a seldom-used landline phone.   All it needs is fulltime Internet service and an Ethernet connection to monitor for those critical conditions you worry about in an unoccupied home, such as leaks, floods and freezing temperatures that can crack water pipes and cause thousands of dollars in damage.
Get Alarm Notices on Your Cell Phone or Computer
One of the best features of the EnviroAlert EA800-ip is that you'll be alerted by text message and email if there's an alarm alert for one of the conditions you are monitoring. For instance, if the temperature in your house goes below your set point and you plumbing is at risk of freezing, you will receive both a text message and an email notification.  So if you are like 90% of American adults who have a cell phone, your EnviroAlert EA-800ip will be able to reach you 24/7 as long as your cell phone, Smartphone or computer is with you.
Buy Only the Sensors You Need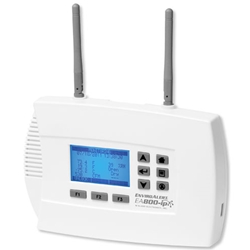 The EnviroAlert EA800-ip Monitoring Console can support up to 8 sensors (4 wired and 4 wireless), which means you can monitor up to 8 different zones in your house. Sensors are sold separately, so you buy only what you need.
Wired water sensors come with a 15-foot cable. If the distance between the sensor and the console is more than 15 feet, you can add a cable extension of up to 1,000 feet or plug the wired sensor into a wireless multi-function sensor that has a transmission range of up to 45 foot through two walls.
Provides Two-Way Communication thru the Cloud
The online portal is another great feature of the EnviroAlert EA800-ip. Through "the cloud" you can remotely access your EnviroAlert Console and view real-time data and history and adjust your settings.
Tie it in with Existing Security Systems
Do you already have a security system at your home? The EnviroAlert EA800-ip is compatible with any hardwired or wireless alarm system. Integrate it with your current security system so that whenever the EnviroAlert Console alarms, your security system will be triggered and also alarm.
Ideal for Professional Use Too
As a combination freeze and water alarm, the EnviroAlert EA800-ip Monitoring Console provides homeowners with a reliable way to remotely monitor a range of environmental conditions, including high and low temperatures, water leaks and humidity. It communicates over the Internet, alerts you by text or email, is expandable up to 8 zones and is affordably priced – and that's exciting!
The advanced capabilities of the EnviroAlert EA800-ip make it ideal for many professional applications as well, including:
High tech server rooms
Medical laboratories, hospitals, clinics, urgent care facilities, blood and plasma donor operations
Food Service freezer/coolers including commercial buffets, schools, nursing homes, hospitals, colleges, day care facilities, grocery stores, convenience stores, quick-service food establishments
Office and warehouse facilities
For more information on how you can use the EnviroAlert EA800-ip in your home or business, go to the diycontrols.com website.