Winter can wreck havoc on a house, which is why spring is the perfect time to inspect your home inside and out for leaks and repairs and tackle critical preventative home maintenance projects. As the weather begins to warm and daylight gets longer, use your weekends to tackle the tasks listed in this article so you can really relax when summer rolls around.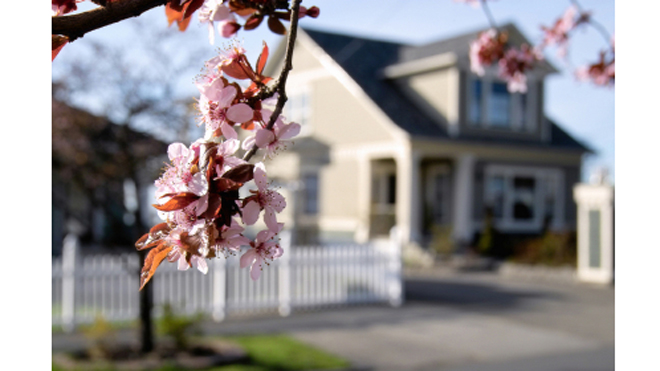 Inspect the Exterior
Roof – Prevent future leaks that can lead to water damage inside your home by replacing any broken or missing roof shingles. And while you are up there, also inspect and re-caulk flashings and joints around chimneys, vent pipes and skylights.
Wood Siding and Trim – Fresh paint makes your home look nice and provides a protective barrier from the elements. Walk around your house and examine all of the woodwork for peeling paint, moisture buildup and wood rot. Repaint or stain as necessary and replace any rotting wood trim around windows, doors, railings and decks.
Gutters –Gutters and downspouts drain rainwater and melting snow away from the foundation so it doesn't seep into your basement or crawl space. Inspect your gutters and downspouts and make sure they are clear and free of leaves, branches and debris. For easy and fast cleaning, get a do-it-yourself gutter cleaning tool kit that attaches to your cordless drill and lets you remove blockages easily without having to get up on a ladder.
Doors and Windows — Visually inspect all windows and doors and check for cracked windows and torn screens. Look for air leaks around doors and windows and places where caulking has become brittle or loose. Re-caulk joints, replace broken windows, and repair ripped screens.
Inspect the Interior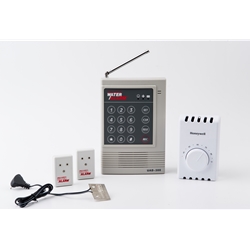 Chimney Flue – If you used your fireplace or wood stove this past winter, spring is a good time to give the chimney flue one last cleaning so you won't smell soot and creosote all summer. Instead of paying a professional chimney sweep, invest in a do-it-yourself chimney cleaning system that makes chimney cleaning a easy chore any homeowner.
Attic — Not all roofing problems are visible from the outside, so you'll need to inspect the underside of the roof and rafters for leaks or water stains from inside your attic. If you see evidence of leakage, wet that section of the roof with a garden hose and check the attic again for drips. To monitor a suspect area in the attic, setup a simple simple water sensor alarm that will alert you of new leaks.
Smoke and CO Detectors – The U.S. Fire Administration recommends replacing the batteries in your smoke and carbon monoxide detectors every spring and fall. If you have trouble remembering to do this very important task, consider replacing your battery-powered detectors with hard-wired smoke and carbon monoxide Most hard-wired units can be interconnected with your home security system.
Basement — Spring thaws are a major cause of basement flooding. If your basement is prone to flooding, installing a sump pump will draw water out of from under the basement and pump it far away from the foundation.  You can also set up a water alarm and flood sensor to alert you if there is water collecting in the basement, before extensive damage is done.
Inspect Appliances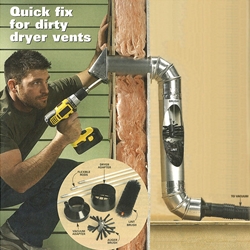 Clothes Dryer –Just like your chimney flue, spring is a good time to clean out any lint that has built up in your dryer vent. A clear dryer vent will save you money by reducing the time it takes to dry your clothes and prevent the risk of a house fire. Dryer vent cleaning systems are inexpensive and easy to use.
Washing Machine – Now is a good time to inspect washing machine hoses for cracking, which can lead to leaks and cause major water damage in a short period of time. Eliminate worries by replacing old washing machine hoses with a pair of braided stainless steel hoses that shut off the water supply to the washer automatically if an excess flow of water is detected.
Air Conditioner (A/C) – Spring is the ideal time to service your air conditioner, before the first heat wave strikes. If your home has window A/C units, clean the filters and coils of dust and debris to ensure optimal performance. Central A/C systems should be inspected by an HVAC professional. To save on cooling costs, replace your old thermostat with a programmable thermostat that will automatically raise the air conditioning temperature when the family is out of the house or sleeping.
Next Step…Relax!
Depending upon the age and condition of your home, these preventative home maintenance projects may take you a couple of spring weekends to complete. But once you are done, you can kick back and relax on your deck or patio knowing that the next threat of winter is 6+ months away.