For people who have hearing loss, or live with someone who is hard of hearing, a TV Ears amplifier headset makes TV viewing enjoyable for everyone. Having had two relatives with hearing problems who liked to blast the TV so they could hear their programs, I know firsthand how disturbing that can be for the rest of the household.

And that's biggest advantage of TV Ears — the wearer can adjust the volume of their TV Ears headset without affecting the sound coming out of the TV set! TV Ears even works with the TV volume set to "mute," making it great for people without hearing loss who want to watch TV in bed without disturbing their partner.  In fact, TV Ears has prevented many an argument between married couples who simply can't agree on the volume setting.

What is TV Ears?
TV Ears is an amplified listening device for people with mild to moderate hearing loss, or people who want to listen to TV privately.  A TV Ears set consists of a small transmitter that attaches to your television and a lightweight, wireless headset. The transmitter receives an audio signal from the TV and sends it to the headset via an infrared signal. When not in use, the transmitter base doubles as a recharging station for the headset. When fully charged, the headset delivers up to 6 hours of listening.
How does it Hook Up?
TV Ears is very easy to hook up. The transmitter is powered by electricity and plugs into any household outlet. It connects to your TV set with an audio cord (included) that plugs into the TV's audio output jack.
How does TV Ears Work?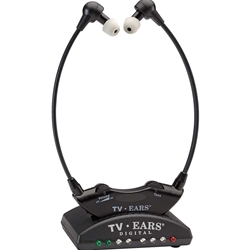 TV Ears uses wireless, speed-of-light 95 kHz infrared technology to transmit sound from your TV to the wireless headset. TV Ears works with just about any television, including plasma sets, and provides up to 120dB of amplification. The TV Ears 5.0 Analog System uses an infrared signal with a range of up to 600 square feet. The more powerful TV Ears 5.0 Digital System covers up to 900 square feet and its transmission technology won't interfere with wireless telephones.
How does it Sound?
Great! Users rave about how clearly they hear with TV Ears. The headset allows users to adjust the volume, tone and balance to their personal preference, and the proprietary Voice Clarifying Circuitry™ automatically increases the clarity of TV dialogue and decreases the volume of background sounds such as music and sound effects.
Who can use TV Ears?
Anyone who has mild to moderate hearing loss can benefit from using TV Ears. People with normal hearing can also use TV Ears for private viewing or to improve listening on TV sets with poor volume output. Two or more people can use TV ears at the same time.  The volume and tone of each headset adjusts independently.  The transmitter base that comes with the TV Ears 5.0 Dual Digital TV Listening System holds and charges two TV Ears headsets at one time.
Does TV Ears work with Hearing Aids?
Yes, the TV Ears TV digital headsets are specifically designed for people who wear hearing aids to give them the added digital clarity and increased power to fully enjoy TV. And the headset can be worn with or without hearing aids. Many users find wearing a TV Ears headset without their hearing aids works better than hearing aids alone because TV Ears brings the sound right from your TV directly to your ears without picking up competing sounds in the room.

Summary
Gradual hearing loss can affect people of all ages, varying from mild to profound, yet only 35% of people with hearing loss are older than age 64. TV Ears is great for anyone of any age with hearing loss.  If you or someone else in your family is having trouble hearing the television, or want to watch TV without disturbing others, a TV Ears system lets them listen at their preferred volume (even full blast!) without affecting anyone else.