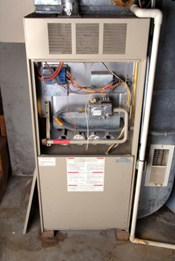 If you feel like a dummy when it comes to protecting your home against water leaks, don't despair — water leakage and damage is the most common insurance claim. In fact, nearly 2,000,000 homes experience severe damage due to common plumbing problems every year. A single appliance water shut-off valve is an easy, affordable way to protect your home and property 24/7 against water damage, whether you are at home or away. And it's all automatic. When it detects a leak, the water shut-off valve turns off the water supply to the appliance before you have extensive damage.
How Does a Water Shut-off Valve Work?
A single-appliance automatic water shut-off valve, like the WaterCop Leakstop, includes a high-quality brass valve, an attached electric control box, and a couple of moisture sensors. The valve installs "upstream" of the appliance you are monitoring and directly into the plumbing line. (If you are skilled, you may able to install it yourself; otherwise, call a licensed plumber.)
The moisture sensors are placed on the floor near the appliance. If a leak is detected, the sensors send a signal to the control box which closes the valve and turns off the water supply. The valve stays closed and the water remains off until you manually reset it.
Top Potential Leakers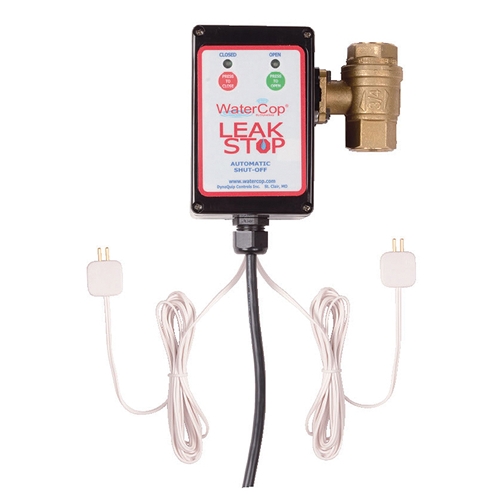 Every home has appliances that use water and have the potential to leak. The age of the appliance, the overall condition it is in, and the mineral content of your water are contributing factors to appliance leakage. Here's a list of leak prone household appliances and typical causes of leakage. All of these appliances are good candidates for an automatic water shut-off valve.
► Hot Water Tanks
Common cause of leaks: Corrosion due to age. Most tanks last 10 to 15 years.
► Refrigerators
Common cause of leaks: A faulty ice maker water valve.
Common causes of leaks: Defective fill hoses, water valves, tub seal, drain hoses or pump; also clogged drain pipes.
► Dishwashers
Common causes of leaks: Too much soap or a cracked soap cup. Also, a defective water valve, boot or pump coupling, or pump seal.
► Whole House Humidifiers
Common cause of leaks: A faulty refill valve.
Whole House Water Detection
If you want an economical way to monitor more than one appliance, consider a whole house emergency water shut-off system that uses wireless moisture sensors that you can locate all around the house near your leak prone appliances. The electric shut-off valve installs at the main water supply line to protect everything in the house that is downstream.
With a WaterCop whole house water shut-off system, you can also add wireless temperature sensors on or near pipes that are susceptible to freezing. If temperatures dip too low, the sensor sends an emergency shut-off signal to the main control valve to turn off the water supply before pipes can freeze and burst.
Summary
If you have an aging appliance that you fear may leak — like that old hot water heater tank sitting in your basement – a single appliance automatic water shut-off valve is an affordable and effective way to monitor it 24/7 and prevent costly water damage to your home. For vacation homeowners and frequent travelers, a water shut-off valve provides peace of mind while you are away.