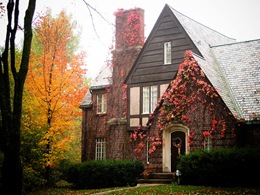 Even though statistics show a peak in home invasions during the month of August, homeowners should also be concerned about home security in the fall. For many families, the end of summer marks the return to the hustle and bustle of school, work, activities and sporting events, resulting in a home that's left empty for long periods of time and vulnerable to break-ins and robbery.
The best way to protect your home and property is to make your house an unattractive target for would-be burglars. Here are some simple steps you can take and affordable home security equipment you can install to achieve that goal.
Tips* to Increase Home Security
1.  Lock windows and doors – Whether you are leaving for a few minutes or a few hours, get in the habit of locking all of the doors and windows whenever you head out. Most break-ins occur through unlocked windows,  doors and garage doors.
2.  Update old locks – Replace any old locks on doors and windows with ones that provide protection from keys being duplicated without your knowledge.
3.  Install dead-bolts — Make sure your door locks have a long enough bolt so they can't be pried open.
4.  Tidy up the yard — Trim hedges and bushes so thieves can't hide out.
5.  Rely on neighbors – Ask reliable neighbors to look out for strangers and suspicious cars / activity around your home. Neighborhood watch groups are one of the best and least expensive defenses against neighborhood crime.
6.  Get rid of the "hide-a-key" — Leave a spare key with a trusted neighbor rather than hiding it on the property. An experienced burglar knows to look in obvious places (like under the door mat or potted plant) for hidden keys.
7.  Light up your home — Make sure all outside entrances have good lighting so burglars can't easily hide. Use timers so indoor and outdoor lights go on and off automatically.
Beef up Protection with a Home Security System
Home security systems really do help deter burglars. Thieves want to get in and out of a target home as quickly as possible, so having to disarm a burglar alarm is a time-consuming chore they don't want to deal with. In fact, nine out of ten convicted burglars admit that they would pass up a house with a posted home security system.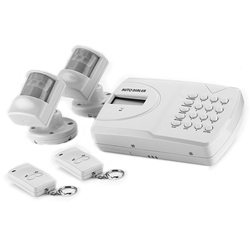 If you think you can't afford a home security system, at the very least put up an inexpensive alarm decal or sign to warn burglars that your home is armed. However, there are many do-it-yourself home security systems on the market today that feature state-of-the-art technology and are extremely easy to install. Here are a few DIY home security systems that are cost-effective alternatives to professionally installed and monitored security systems:
Basic Landline Auto Dialer — For homes with a landline phone, a landline auto dialer is a very affordable solution. The wireless sensors are easy to install and cannot be disarmed if the power line is cut. A good example is the Dakota Alert Wireless Security System (AD-01-Kit). Its dialer can send a voice message to up to nine different phone numbers and has back-up battery that allows it to operate for 12 to 24 hours without AC power.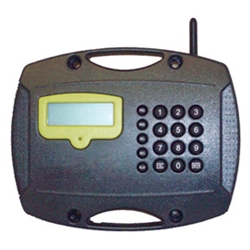 Cellular Auto Dialer – For homes without a landline phone (such as a vacation house in a remote location) or for homeowners who want protection even if their landline is cut, a cellular auto dialer provides a dedicated communications path. The Dakota Alert Wireless Security System (CAD-05-Kit), for instance, is a do-it-yourself dialer that uses GSM cellular service to send a message when an alarm is generated.
Portable Cellular Auto Dialer – For protecting remote or outdoor locations (like a boat) or to carry as you go between two homes, the Dakota Alert Portable GSM Cellular Wireless Security System (CAD-03-Kit) has a rugged plastic case and works without a landline connection.
Be Consistent
Be proactive and dedicate a weekend this fall to ensuring that your home is protected against potential break-ins. You can definitely minimize your risk by following these tips and installing a home security system. But remember, you need to be consistent and adhere to these practices every time you leave your house – always lock windows and doors, always turn on ("arm") your home security system, and be sure that your home looks lived-in by leaving lights on.
*Suggestions come from the National Crime Prevention Council.