This list of popular gifts will make shopping for families with children a lot easier this holiday season.  Most of the items here are best sellers and longstanding favorites amongst parents.  If you want to give a gift that helps keep kids safe and make parenting easier, this is the shopping guide for you!
Gifts to Protect Little Ones
Digital Video Baby Monitor for Nurseries, Playrooms or Any Room
The Safe & Sound Digital Video Baby Monitor by VTech is a great gift for families who want to keep an eye on sleeping infants or older children busy in the playroom.  It features a full-color, high-resolution large 4.3-inch LCD screen; a pan, tilt and zoom camera; and automatic infrared night vision so parents can see their little ones in the dark.  The two-way intercom lets parents soothe a restless baby or converse with an upset child.  Best of all, the system is expandable so cameras can be added in up to 8 rooms.
Floating Pool Alarm for Any Type of Pool
The Pool Patrol PA-30 Pool Alarm with Wireless Remote Receiver is one of the best ways to prevent an accidental drowning in a backyard pool.  Pool Patrol works in any shape or type of pool — above-ground, in-ground or inflatable — and protects swimmers, non-swimmers and pets.  The adjustable sensing ring activates only when an object the size of a child or pet falls into the pool.  Installs in seconds, no tools required.   The PA-30 comes with a remote receiver so the alarm will sound at poolside and in the house (up to a distance of approximately 200 feet).
Take-it-With-You Pool Alarm Protects at Home and Away
Families love the portable Safety Turtle 2.0 Child Immersion Pool Alarm System for protecting young children and pets around open water. Safety Turtle 2.0 is a "personal immersion" system that uses water-activated wristbands and pet collar tags that trigger a loud alarm when submerged in water.  Safety Turtle can be used at home or carried to wherever the family will be swimming, including hotels, lakes, a friend's pool or on a boat.  One Safety Turtle 2.0 base unit can support and unlimited number of child wristbands or pet collar attachments, which can be purchased separately.
Safety Gifts for Bigger Kids
Keep Tabs on Where Kids Hang Out
For parents who worry about their children's safety when they're away from home, the KJB Security Tracking Key II GPS Data Logger provides a reliable and discreet way to see when and where they've gone.  Measuring only 3-3/4″ x 1-1/2″, the KJB Tracking Key II can be tucked into a child's backpack or attached to a car with the built-in magnet.  It holds up to 10 days of activity data so parents will know precisely where, when, and how fast their child traveled.  Location information can be viewed on Google Maps using the free online mapping software.  Works on PCs and Macs.
Garage Door Alert Prevents "Escapees"
Here's a gift for families with young children who are concerned that their kids may slip out of the house unsupervised via the garage to explore the great outdoors. With an STI Wireless Garage Door Alert, they'll be notified each time someone opens the garage door.  The wireless receiver works up to 1,000 feet away (line of sight) and flashes and chimes when activated.  It also reports the garage door's current status ("open" or "closed").
Home Alone Protection — Screen Visitors from Smartphone
Here's a simple device that all parents will cherish — the Ring Video Doorbell.  It's like Caller ID for the front door!  When the doorbell is pressed or motion is detected, an alert is sent to mom or dad's smartphone along with streaming live HD video of the visitor outside the door, allowing them to screen visitors while deciding if its safe for whomever is home to open the door.  Ring Video also lets parents converse with the visitor through the built-in microphone and speakers.  This system is especially useful for working families with "latchkey" children who are home alone after school.
Gifts for Tweens and Teens
No More Excuses for Oversleeping
If you know a deep sleeper who is chronically late for class or consistently missing the bus, the extra loud Sonic Boom Skull Alarm Clock w/ "Bone Crusher" Bed Shaker will wake them up on time every morning.  In addition to its deafeningly loud 113dB alarm, The Skull has flashing red eye sockets, a strip of orange flashing alert lights and a deadly bone crusher vibrating bed shaker, making it one of our most popular gifts for young teens.  It also has a socket for plugging in an MP3 player.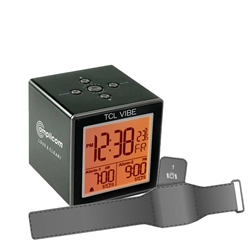 And for teens or college students who share a bedroom with a sibling or roommate, the compact, wireless Amplicom TCL Vibe™ Dual Alarm Clock features two wake-up alarm times.  Vibe Dual comes with a comfortable vibrating wristband alarm that silently wakes up one sleeper without disturbing anyone else.  To awaken really heavy sleepers, Vibe can sound an extra loud audible alarm.
Personal GPS Tracker = Peace of Mind for Parents
All teens enjoy technology and so do most parents!  With a KJB iTrail Solo GPS Tracker in their backpack, purse or vehicle, they can chart their walking, hiking or driving activity on Google Maps™ and parents can view their activity and location in real time so they'll always know where they are.  Teens can also use iTrail Solo to send discreet text message alerts to notify parents that they've arrived safely or left one of their parents' customized geo-fence zones.  If teens encounter trouble anywhere, the iTrail Solo has a built-in panic button.
Unique Gifts for the Home
Easy-to-Install DIY Home Security System 
Here's an affordable wireless security system that installs in minutes.  Because there are no wires to run or holes to drill, it's the perfect gift for do-it-yourselfers with no skills! It's a great solution for older homes too. The STI Burglar Stopper System is controlled by a Smart Panel that monitors wireless sensors in up to 8 zones. When there's a security breach, the system's indicator lights and a loud 120dB audible alarm is triggered. Comes with 2 door/window sensors, 1 motion sensor and a remote key fob controller.  Accepts an unlimited number of add-on sensors.  Include an autodialer that automatically dials up to 8 emergency contact phone numbers when activated.
24/7 Protection Against a Leaky Washing Machine Mess
Whether at home, at work or on vacation, a washing machine flood can go undetected for hours or even days, spilling 500 gallons of water per hour onto the floor!  Give a lucky family on your shopping list the Floodstop Washing Machine Valve Shutoff Kit to prevent this kind of disaster. When the Floodstop water/leak sensor detects water under or near the washing machine, it immediately turns off the hot and cold water supply.  Floodstop is easy to install and completely lead free. It can even be hooked up to a home security system to receive notifications when it's been activated.
Need More Ideas for Popular Gifts?
For more suggestions of popular gifts for kids and families, go to the Great Gift Ideas tab on the diycontrols.com home page.  Or read about some of the other cool items we offer on the diycontrols.com blog page and click on Child Safety in the blue menu bar.