Removes Background Noise and Amplifies Sound
If you or someone you know has trouble participating in conversations or hearing well in places like noisy restaurants, classrooms or theaters, than a personal sound amplifier may be the perfect solution for better listening.  Personal sound amplifiers remove annoying background noises and amplify sounds, making it easier to understand what people are saying and enjoy TV and theater.  Designed for people with mild to moderate hearing loss, personal amplifiers can be purchased without a doctor's prescription or visit to an audiologist and are available in a wide price range.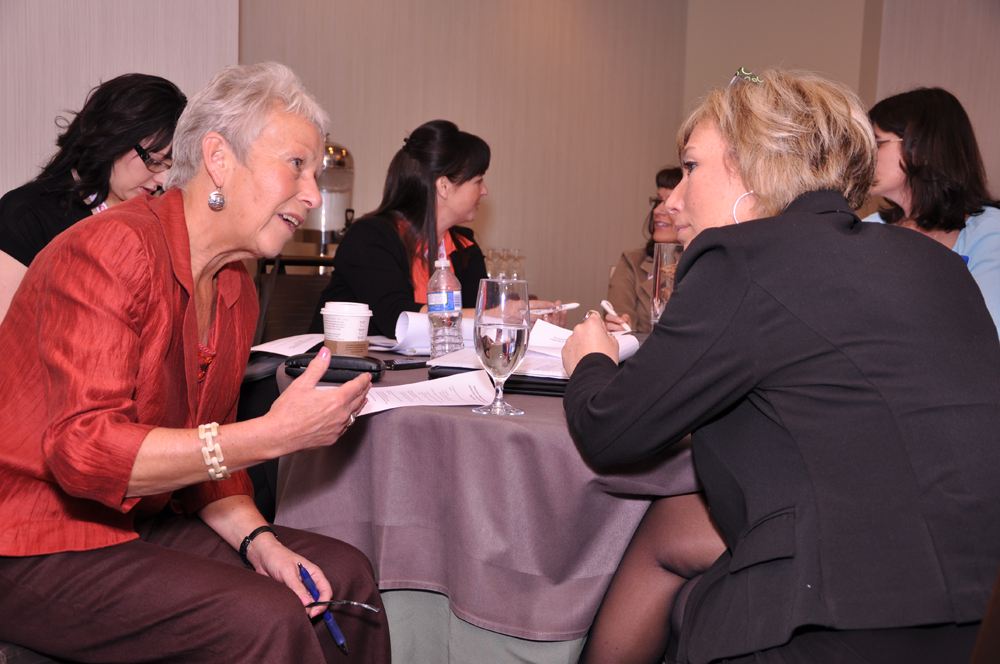 Personal Amplifiers — Perfect for People in Denial or on a Budget
Many people with hearing loss would rather suffer silently than wear a visible hearing aid.  In fact, 35 million American adults have reported some degree of hearing loss, yet only one in five wears a hearing aid!  For these people, a personal sound amplifier can make the difference between hearing speech and actually comprehending speech so they can have meaningful two-way conversations!  And since most models fit easily into a shirt pocket, only the earbuds or headphones can be seen and no one will know that you're wearing a listening device.
For hearing impaired people on a budget who can't afford expensive hearing aids, a less expensive personal sound amplifier can be a real life-changer.  A personal amplifier makes it easier for them to communicate with family and friends again and follow dialogue on TV shows and movies.
What is a Personal Sound Amplifier?
A personal amplifier consists of a transmitter, a receiver, a microphone and either ear buds or over-the-ear headphones.  Small and portable, a personal amplifier can be carried easily in a pocket or tucked in purse and pulled out to use in challenging listening situations to filter out background noise, enhance speech and increase sound volume.
Hearing Aid Compatibility
Many personal amplifiers are hearing aid compatible.  If a user wears hearing aids equipped with t-coils, they can keep their hearing aids in and use an induction neckloop to connect to the personal amplifier.
For people who wear hearing aids without t-coils, using a personal amplifier's headphones or earbuds instead of hearing aids may actually provide a better hearing experience!  That's because in many settings, a personal amplifier is very effective at cancelling out background noise and compensating for poor acoustics – better, in fact, than hearing aids.
Popular Styles – Good, Better, Best
GOOD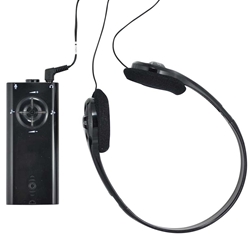 For under $150, you can get an entry-level personal amplifier that boosts sound and works well for people with mild hearing loss.
Conversor Listenor Pro with Headphones
Features a powerful built-in microphone
Provides enhanced sound quality for people with hearing loss
Use with binaural headphones, earphones or inductive loop for use with hearing aids
Add-on accessories available for TV listening, telephone use, audio devices like MP3s
BETTER
There are several very good personal amplifiers in the $100 to $200 price range for people with mild to moderate hearing loss.  These models are ideal for conversing with friends and family, hearing better in meetings and restaurants, and watching TV or listening to music.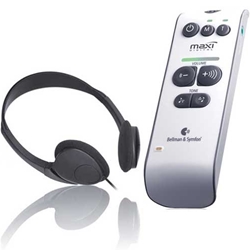 Bellman & Symfon Maxi
Digital signal processing and noise reduction
User-friendly design for people with impaired vision or low dexterity
Built-in t-coil, works with hearing aids and cochlear implants
Omni-directional microphone
Tone, volume and balance controls
Merry Personal Sound Amplifier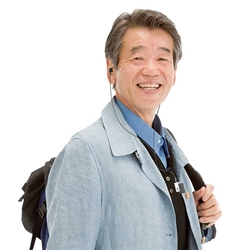 Stylish and small (only 1" square) to clip to a shirt or wear around the neck
Easy to operate with only four buttons for power, volume, and listening mode
Up to 40 dB amplification
Adaptive noise reduction
Lithium ion rechargeable battery operates about 20 hours
BEST
These top-of-the-line personal amplifiers serve as "listening systems" and are designed primarily for people who wear hearing aids to clarify speech and filter out disturbing background noise in busy places like at school, work and public places.  Prices start at $500+.
Domino Classic Personal Listening System
Works with hearing aids and cochlear implants, as well as with regular headphones or earphones
Digital signal processing technology to filter out background noise and enhance speech
Digital wideband technology streams audio in full stereo
Omnidirectional microphone
2.4gHz broadband link standard works globally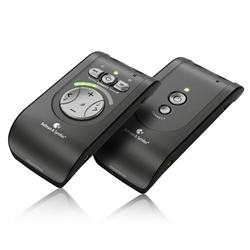 Domino Pro Personal Listening System
Same as Domino Classic but also has these features:
Omnidirectional + directional microphone
80-foot range, a key lock, volume memory for multiple users, and a mechanism to prevent unintentional activation
Assistive Listening Devices for TV
In addition to personal sound amplifiers, there are popular assistive listening devices designed specifically for watching television.  Called wireless TV headphones, these systems connect to the television via a special transmitter, which transmits sound to a headphone.  Like personal sound amplifiers, wireless TV headphones help to make everyday life more full and enjoyable for people with hearing loss.