Even if your home insurance policy covers most types of water damage, using a water alarm in potentially leaky places is one of the most effective ways to prevent mold, mildew and serious water damage.  Experience shows that a few strategically placed water alarms around your house or apartment are well worth the investment.  In fact, you don't even have to spend a lot of money!  Here's a guide on using a water alarm and a list of some of the most effective and inexpensive water alarms on the market today.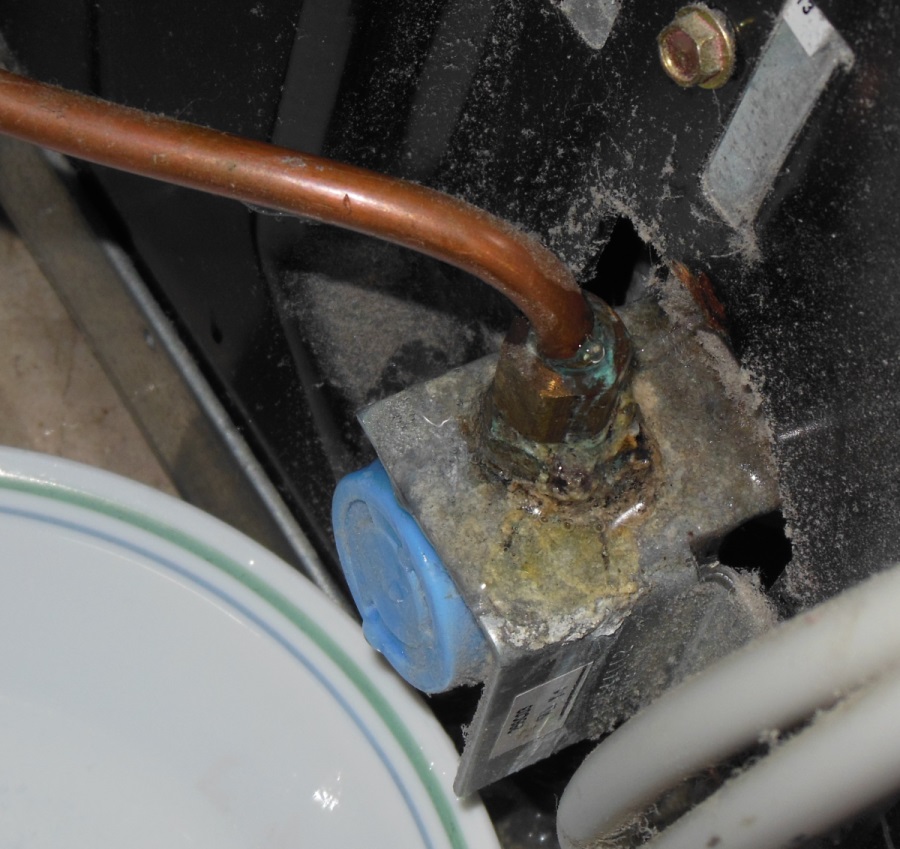 Where to Use a Water Alarm
Place water alarms in areas of the house that are susceptible to leaks from "natural causes" (such as rain, melting snow and ice, freezing temperatures or rising ground water).  The attic, basement, crawlspace and garage are typically vulnerable locations.
Water alarms should also be used where there is old plumbing and leak-prone appliances, including:
Hot water heaters
Washing machines
Toilets
Refrigerators and icemakers
Whole house humidifiers
Water Alarm with "Local" Alerting
A water alarm with "local" alerting (e.g., a siren or loud ringing or beeping) gives the homeowner an early head's up that there's a water problem.  The water alarm (or its sensor) sits on the floor next to a leak-prone appliance or in a vulnerable area of the house. When its moisture sensors get wet, a loud alarm is sounded.  Alkaline batteries power most local alert water alarms.
Key Benefits:  Inexpensive (most under $50); easy to set up; sirening as loud as 130 dB.
Disadvantages:  Need one alarm (or sensor) for every location/appliance; someone needs to be present to hear the siren and react.
Popular Models with Local Alerting
WaterSiren Plus – Alarm unit can be placed directly on the floor or mounted on the wall with the sensor positioned where needed.  The sensor is attached to a 6-foot wire so it works well in places that are hard to reach.  This water alarm can also be used to close (or open) an alarm contact which can trigger an alarm system or a telephone dialer.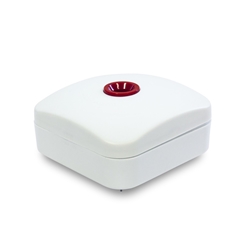 Square Water Alarm – Low profile, anti-tip design.  Has two expansion ports for connecting an unlimited number of additional remote sensors.  Alarms at 110+ dB for up to 72 hours.  Size:  3-1/4" square.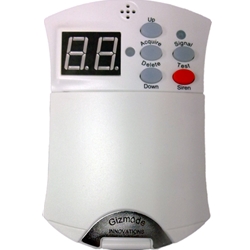 The Flood Screamer —  Easy-to-use central monitoring system that supports up to 32 water "pucks" (sensors).  Place water pucks or other sensors in strategic locations where water damage may occur.  In the presence of moisture, water pucks send a wireless signal to the Flood Screamer which alerts you of the problem by sounding a 130dB siren.  LED display indicates which zone the event occurred in so it can be easily located.
Water Alarms with "Remote" Alerts
For homeowners who want to be notified of a water problem when they're not home, there are water alarms that send out alarm alerts via a phone call, text message and/or email when there's a water problem at the house.  Remote alerting is a very useful feature to protect an unoccupied vacation home. Some models also sound a siren so anyone who is in the house will also be alerted.
Key Benefits:  Great for remotely monitoring vacant homes; many are multi-functional and can monitor for freezing temperatures and other conditions; easy to set up. 
Disadvantages:  Need a mode of communications at the site (e.g., landline phone, cellular service, Internet service and router); more expensive than a water alarm with local alerting. 
Popular Models with Remote Alerting

Uncle Albert Wireless Freeze and Water Alarm – Monitors for water and freezing temperatures and calls up to 6 different phone numbers if there is a problem.  Comes with one leak sensor and one freeze sensor, a wireless transmitter for each, and an alarm dialer.  A local audible alarm also sounds. Note:  Dialer needs landline phone service or a cellular terminal to make calls.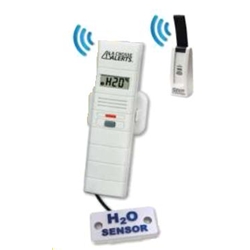 La Crosse Alerts Online Water Leak Detector with Temperature / Humidity System  — This system lets you use your smartphone, tablet or computer to receive text message or email alerts to monitor for water leaks plus high or low temperature and humidity levels that could lead to frozen pipes and mold.  Powered by alkaline batteries.  Note: Gateway must be connected to an Internet router.
DIY Cellular Alarm for Homes – A dual-sensor alarm that sends text message notifications to your cell phone or mobile device for power outages and two other conditions.  The system comes with one water sensor and one sumpbobber, but you can swap for any of the optional sensors to monitor for things like temperature, humidity and smoke. Note:  Requires Verizon cellular signal at the site.  First year of service is discounted by 50%.
Flood Protection for Specific Appliances
A water alarm is a good tool to receive early notifications of leaks so you can remedy the situation before there's extensive damage.  However, if you want to prevent water leaks or floods, there are a few affordable single-appliance devices that turn off the water supply automatically when that appliance malfunctions.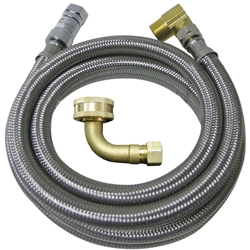 Watts FloodSafe Auto-Shutoff Connector Hoses – These patented shutoff hoses protect against catastrophic water damage by turning off the water supply to the appliance as soon as excess water flow is sensed, as shown in this video. There are no mechanical moving parts during normal operation and no power source is required.  Braided stainless steel FloodSafe hoses are available for:  washing machines; dishwashers; faucets; and toilets.
Beyond Water Alarms
Individual water alarms work well and are priced to fit everyone's budget, but if you want additional peace-of-mind and protection against potential water damage, consider getting a system that provides whole-house protection. For information on the various wired and wireless models available, including new wireless Z-Wave technology, go to this comparison chart of automatic water shut off valves and look for systems labeled "Whole House."