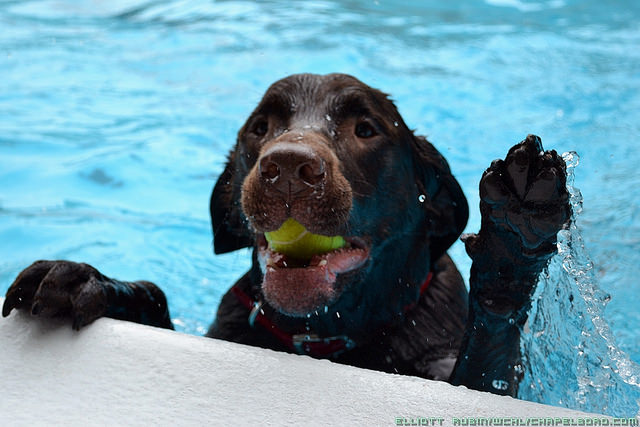 Many dogs love to splash in the water on a hot summer day, but since not all dogs are natural swimmers, it's up to you to keep your dog safe when she's by the swimming pool, beach or lake.  Depending upon your dog's breed, age or health, a dip in the pool or leap off or a dock could be either a frolicking good time or a brush with death.  In fact, over 5,000 dogs drown each year in backyard pools alone!  To keep your dog safe this summer when she's near the water, here are six "layers of protection" you can try:
1)  Supervision
Animal experts agree that supervision and training are the best ways to keep your dog safe around water.   Most dogs really do know how to do the "doggie paddle" and have the natural ability to float and swim.  However, breeds with low body fat, smaller dogs with short legs and aging pets can have trouble.  Always familiarize your dog with the layout of the pool or lake and make sure she knows where she can climb out safely.  Overexertion caused by panic is number one cause of pet drownings.
2)  Gate Alarm
Most communities have laws mandating pool fences that are at least 48 inches high.  While these barriers are generally effective in keeping dogs out of the pool area, a dog can easily push through a gate if it isn't latched tightly or the latch is broken.  As a precaution, consider installing a gate alarm that will alert you if your pet opens the gate.  An outdoor surveillance camera that sends an email or text message alert to your mobile device if there's activity in the pool area is another way to receive alerts that your dog or a child is near the water and at risk of drowning.
3)  Water Safety Ramps
Pool steps can be difficult for dogs to see at night or practically invisible to a pet that is floundering in the water and has slipped beneath the water's surface.  Give your dog an easy way out with one of these inflatable, floating dog ramps that attaches easily to the side of a pool or edge of a spa, dock, bulkhead or boat transom.
4)  Water Immersion Alarm
A water immersion alarm has a wireless transmitter that attaches to your pet's collar.  If your dog slips or jumps into the pool or lake, an immediate alarm sounds.  The same water immersion base station can be used to protect young children and non-swimmers.  These devices work best in any kind of fresh or chlorinated water.  They can also be used with salt water, but only in conjunction with a life jacket.
5)  Dog Life Jackets
More and more dog owners are outfitting their pets with life jackets, especially if the dog is a poor swimmer or riding on a boat.  A life jacket will help your dog stay above the water until she can be rescued.  Most jackets have a handle on the back to make it easy to lift the dog out of the water.  Note that since the sizes and styles of animal life jackets vary greatly, it is recommended that you take your pet with you when shopping so you can be sure to get a good fit.
6)  Safety Pool Cover
A curious dog or child can accidentally slip under the pool cover, disappear out-of-sight and drown in minutes.  To protect pets and children from being trapped under the pool cover, a safety pool cover is recommended in the off-season or anytime your pool is not in use.  These well-fitting, taut mesh or solid covers are anchored to the deck with straps and able to hold 485 pound per five square feet, per ASTM standards.
Enjoy the great outdoors this summer, but be sure to keep your dog safe when she's around the water by following these guidelines for six "layers of protection."