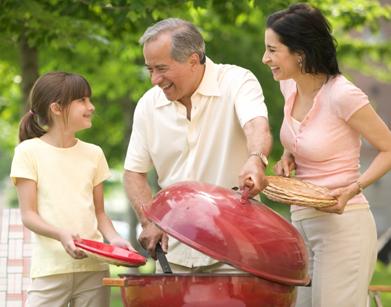 If your dad likes to show off his cooking skills on his backyard grill or at the weekend tailgate party, one of these cool grill accessories will make a great Father's Day gift for him.  Most men love electronic gadgets, and they like to be very precise about their cooking, so these BBQ tools are sure to be a hit.  Remember, Father's Day is celebrated on June 19th this year.
Laser infrared surface thermometer – Help dad take the guesswork out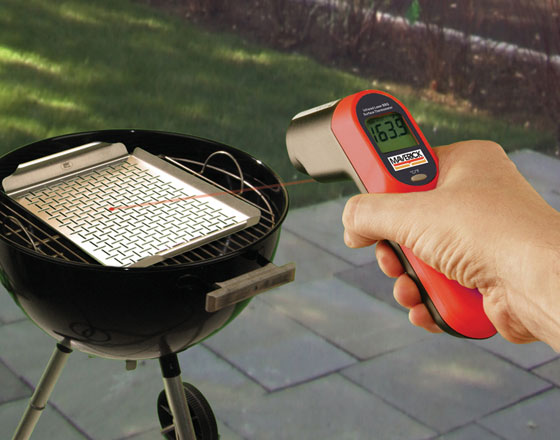 of cooking with this unique BBQ tool.  It's a laser pointer that gives an accurate reading of the surface temperature on his grill or in a pan so he can better calculate cooking times.  Laser operates from up to five feet away without contact.  Battery powered.  Costs about $55.

Fork thermometer – A digital grilling fork checks the readiness and doneness of meats, fish and poultry instantly.  The fork measures the internal temperature of the food through its sensory tip and electronically sends this reading to the LCD.  Some models are multi-purpose with built-in flashlights, corkscrews or bottle openers.  Battery powered. Costs about $25 – $30.
Remote wireless cooking thermometer – For the busy chef who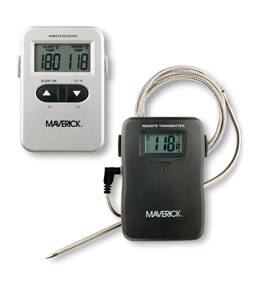 doesn't want to be tethered to the grill, these programmable thermometers (with transmitter and receiver) monitor the internal temperature of foods as they cook from up to 100 feet away.  Dad can carry the wireless receiver in his pocket — it displays alert and actual temperatures and beeps when meat is done.  Use outdoors on the grill or inside in the oven.  Battery powered.  Costs about $30 – $55.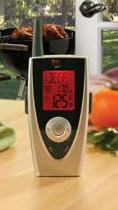 Talking remote thermometer – Instead of the usual "beeps," this nifty remote wireless cooking thermometer uses voice prompts to alert the chef.  When internal temperature is within a 10◦F range of the target temperature, it says "Your food is almost ready," and when the target temperature is reached, it says "Your food is ready."  Use outdoors on the grill or inside in the oven.  Battery powered.  Costs about $55.
Propane tank gauge – If dad cooks on a propane gas grill, he'll definitely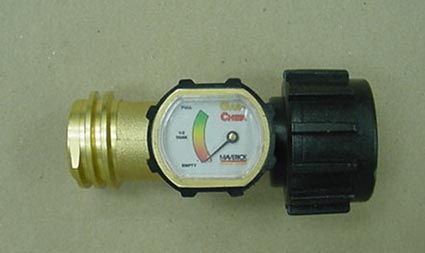 appreciate this easy-to-connect device that takes the guesswork out of knowing how much gas is left in the tank.  Propane gauges also make gas grilling safer.  They detect leaks in the system and reduce gas flow by over 95% if there is a leak, warning you with an audible alarm.  Basic or electronic models both cost about $30.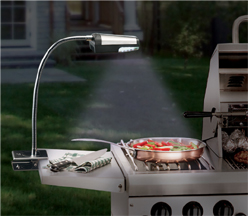 Grill light – Don't make dad cook in the dark!  A cordless portable grill light that clips onto the grill shelf will provide hours of convenient lighting so he can check the progress of what he's cooking.  Choose fluorescent or LED bulb models.  Most grill lights are alkaline battery powered and have a bendable gooseneck.  A solar-charged NiCad battery powered model is also available.  Prices range from about $30 – $75.
Grill fan – Keep dad cool while he grills with a handy portable fan.   He can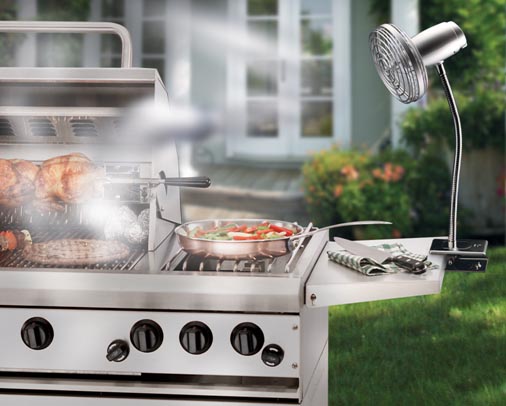 also aim the fan over the grill and blow the smoke away.  Most models clip onto any shelf and have bendable goosenecks that can tilt to any angle.  Battery powered.  Weatherproof stainless steel models cost about $45.
Grill accessories Grill accessories like these are available online and make great gifts for dad and those men in your life who are hard to buy for.  And since the weather is usually warm and sunny in mid-June when we celebrate Father's Day, dad can head out to the backyard and try out his new BBQ tool right away!