Owning a pool, spa or hot tub requires plenty of work in order to ensure a safe, healthy and enjoyable
environment for your family and guests. At DIYcontrols.com, we want to help take the drudgery out of those everyday maintenance tasks. Each of these pool gadgets is easy to install or set up and super-simple to use, so you can spend less time on the upkeep and more time having fun in the sun!
Automatic Water Leveler
Maintaining the correct water level in your swimming pool or spa is one of those time-consuming but necessary chores, helping to prevent your pump from running dry and suffering from motor burnout.  With a Pool Sentry Water Leveler, you set the desired water level using the built-in float mechanism. When the water level drops, it automatically refills the pool with just the right amount of water. Pool Sentry can be used on almost any style swimming pool, as well as most hot tubs, spas and fish ponds. It's great for when you're away on vacation, at rental or vacant homes, or to maintain water levels in leaky pools.

DIY Test Kit

Testing the chemistry of your pool water for pH, alkalinity, bromine and chlorine is an essential step for maintaining a clean, safe swimming environment all summer long.  Do-it-yourself pool and spa test kits that use test strips make water testing easy and accurate.  Look for models with digital and automated color matching readouts for best results, like these AquaChek® TruTest® systems that have both a numerical readout along with "low", "ok", and "high" indicators.

Battery-Powered Pool Cleaner

Give your hot tub or spa a clean sweep in minutes with the battery-powered Swimtime Aqua Broom. This easy-to-use gadget lets you vacuum away grit, pebbles and other small debris from your hot tub, spa or small pool into the unit's own reusable, easy to clean filter bag. The Aqua Broom is hand held and weighs less than 3 pounds. To clean deeper areas of your spa or pool, attach AquaBroom to a telescoping pole (not included).
Floating Pool Speaker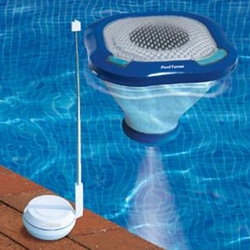 Enjoy your favorite tunes while doing pool maintenance, swimming or soaking in the hot tub — and keep your iPod or digital music players safe from splashing water. The Swimline PoolTunes Floating Pool Speaker and Transmitter is waterproof and submersible in up to 3 feet of water (up to 30 minutes). Just plug the transmitter into the earphone jack on your iPod or other digital music player with a standard mini style output jack. It will broadcast music wirelessly through the speaker as far as 100 feet away. Also features an LED light for nighttime pool parties.
Solar Pool Heater

Although not technically a "gadget," replacing your current electric or gas pool heater with a solar pool heater is one of the most practical investments you can make. It offers an easy way to lower the operating costs of your in-ground backyard swimming pool by using free energy from the sun, and is better for the environment than conventional pool heaters that use fossil fuels. SmartPool's SunHeater Solar Pool Heating System features lightweight solar collector panels that are installed easily on a roof, rack, fence or on the ground.  Your existing pool pump pushes pool water through the SunHeater's many tubes where it is heated by the sun and then returned to the pool.
More Pool Gadgets to Keep Swimmers Safe
Swimmer safety is another important responsibility of pool ownership that cannot be overlooked. Adding safety features that provide layers of protection, such as a pool fence, a pool door or gate alarm, a pool alarm, or all of the above, will help make your backyard pool, spa or hot tub a safer place for everyone and protect family, friends and pets from accidental drowning.