Handy homeowners can tackle many spring cleanup chores themselves and save plenty of money in the process. With the threat of frigid temperatures and winter storms behind you, now is the perfect time of year to inspect your property for damage, make any needed repairs and pave the way for a hassle-free summer.
Performing home maintenance tasks routinely will prevent bigger problems from occurring and help you avoid the need for costly repairs down the road. To help you get started, we've put together a DIY-ers guide to some of the top home maintenance projects you should address this spring.
Clean Blocked Gutters
Clean branches and leaves out of gutters and downspouts to prevent spring rains from overflowing or backing up and leaking into the house. A do-it-yourself gutter cleaning tool kit lets you remove leaves and debris from your gutters and rinse them clean without having to get up on a ladder. While you're at it, check for loose or leaky gutters and and seal any holes with a gutter sealant. Make sure downspouts drain away from the foundation.

Inspect the Roof
Winter wear and tear can take a toll on the roof, so take advantage of early spring weather, grab a ladder and make a visual inspection. Look for missing or broken shingles and inspect flashings and joints around chimneys and skylights. If your roof is less than 20 years old and the damage is limited to a few cracked or missing shingles, you should be able to make repairs yourself following these step-by-step instructions for replacing shingles and re-caulking. If your home has an older roof, you may want to start saving for a replacement.
Interior water damage often originates at the top of the house. Examine your attic for water stains or drips. If you see evidence of leakage, wet that section of the roof with a garden hose and check the attic again for drips. To monitor a suspect area in the attic, install a simple water sensor alarm that will alert you to new leaks.
Drain the Hot Water Heater
Sediment can build up in your water heater tank and compromise its energy efficiency, shorten its life and lead to clogs in fixtures throughout the house.  Draining it twice a year and flushing out deposits on the bottom will help prevent problems.  To avoid catastrophic flooding if your hot water heater does spring a leak, hook up a leak detection and automatic shutoff system that automatically shuts off the feed water intake and sounds an audible alarm if a leak is detected.
Prevent Basement Flooding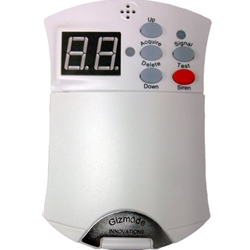 Spring thaws and heavy rains are a major cause of basement flooding. If your basement is prone to flooding, installing a sump pump will draw water out from under the basement and pump it far away from the foundation. This do-it-yourself sump pump kit includes everything you need to install a sump pump in less than an hour.  Another good idea is setting up a water alarm and flood sensor that will alert you if water is collecting in the basement, before extensive damage is done.
Seal Doors and Windows
A typical family spends about a third of its annual heating and cooling budget — roughly $350 — on air that leaks into or out of the house through unintended gaps and cracks.
Look for air leaks around doors and windows and for places where caulking has become brittle or loose. Also check for cracked windows and torn screens. Replace weather stripping as needed, reseal joints and openings, repair damaged screens and replace broken windows to keep heat out.
Replace Batteries in Smoke Detectors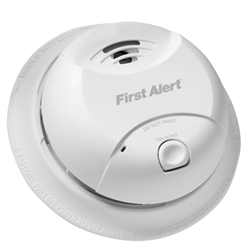 According to the National Fire Protection Association, dead batteries caused one-quarter of the smoke alarm failures. A good rule of thumb is to change the batteries in your smoke and carbon monoxide detectors when you change the time on your clocks for the start of Daylight Savings Time. Smoke alarms with non-replaceable 10-year batteries offer a convenient option for those who prefer an alarm with a decade's worth of uninterrupted and tamper-proof protection. You can also upgrade to hard-wired smoke detectors which are considered safer because they are typically interconnected. This means all the smoke detectors in your home will go off at the same time, regardless of the location of the fire. Hard-wired alarms will continue to operate on A/C power, even with a dead backup battery.

Check Outside Faucets
Check your outside faucets for any freeze damage. Turn the water on and place your thumb or finger over the opening. If you can stop the flow of water, the pipe inside your home may be damaged and will need to be replaced.
This is also a good time to check outdoor hoses and replace those that show signs of dry rot. If you're looking for an easy way to conserve more water and cut your monthly bill this summer, consider purchasing an outdoor
garden hose water meter
to monitor exactly how much water you are using. Simply connect one end of the
Save A Dropâ"¢ Water Meter
to your outside water faucet and the other end to your garden hose. Or add the
Save A Dropâ"¢ Green Nozzle
to your hose to take the guesswork out of delivering the right amount of water to all of your plants and flowers.
More DIY Home Improvement Projects

Still have time on your hands after working your way through this list of home maintenance tasks? Check out these "how to" articles for more do-it-yourself home improvement projects for: