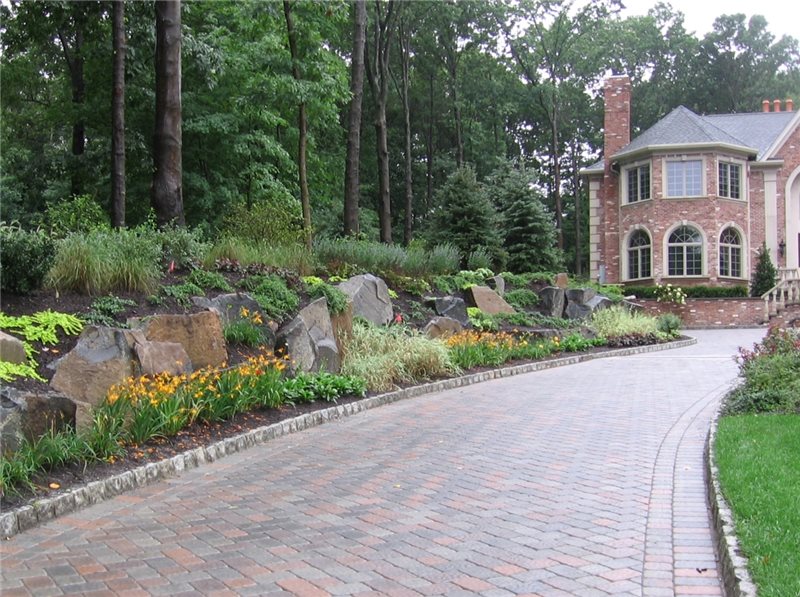 As a homeowner, you have no doubt had people pull into your driveway or knock on your door unannounced. This can be unsettling or even alarming, especially if you are home alone. Monitoring your property may be a challenge if you have several entrances or a long driveway.
A driveway alarm or driveway alert may offer the prefect solution. Installing a driveway alarm is an effective and affordable way to keep your home and family safe, and make sure you are never surprised by the arrival of unexpected visitors or strangers again.
What is a Driveway Alarm?
A driveway alarm features a monitor that sends out an alert as soon as a vehicle enters the driveway.  When the driveway alert's sensor is triggered, its receiver sounds an audible beep or chime and/or flashes a light. Some models also alert with a voice message. For people with hearing loss, there are driveway alarms with an optional bell that can be installed indoors or outside.
Some driveway alarms detect almost any type of movement, including people, vehicles and animals. If you want to be alerted to all of the action on your driveway, look for a driveway alarm system that uses infrared motion detector sensors or break beam sensors. The other type of driveway alarm detects the movement of vehicles only. These systems use a metal sensing sensor or a probe that detects the movement of large metal objects like cars and trucks.
Why Do You Need One?
Everyone has a different reason for installing a driveway alarm. Some common reasons include:
Living alone or a family member is frequently at home alone
Monitoring potential trespassers or intruders
Wanting to know when deliveries or visitors arrive
Property has multiple entrance points
Protecting children playing in the driveway
Knowing when teen drivers arrive home
Monitoring activity in an unoccupied vacation home
A driveway alarm can serve as the building block of a do-it-yourself security system. If you already have a home security system, a driveway alert system provides an added layer of security for you and your family. For independent seniors who may be on a budget, a driveway alarm is a cost-effective first line of defense against intruders. No matter your reason for installing an alert system, you will feel safer knowing who or what is entering your driveway.
Choosing a Driveway Alert System

Driveway alarms can be hard-wired or wireless. With a wireless system, installation is fast and easy. Hard-wired systems require a sensor probe to be buried in the ground parallel to or under the driveway, along with a wire that connects the probe to a control box located inside the house.  Although more difficult to install, hard-wired driveway alarms offer a number of advantages, including reliability and no concerns about interference or range.
There are many driveway alert systems available to fit any budget or security need. Here are some of the most popular alarms available in the diycontrols.com online store:

Dakota Alert 2500 Wireless Break Beam Sensor Driveway Alarm
The Dakota Alert 2500 Wireless Break Beam Sensor Kit uses solar power and detects the movement of people and large animals, in addition to cars and trucks. The break beam sensors are powered by lithium ion batteries that are recharged by the solar panels. It is simple to install and requires no wiring, and the receiver supports up to four sensors to create up to four zones (additional sensors sold separately.) Four different alert tones indicate which sensor was activated.
Safety Technology Wireless STI-V34150 Wireless Driveway Monitor with Voice Receiver
Safety Technology's Wireless Alert Series STI-V34150 Wireless Driveway Monitor features a vehicle-monitoring driveway sensor that transmits a signal to the included 4-Channel Voice Receiver, causing the receiver to sound a programmable voice message. The receiver offers ten tones/tunes and 53 selectable words and is available in English or Spanish . The weather resistant, battery-powered sensor mounts next to the driveway (2 C Alkaline batteries required, not included). Additional sensors may be required for driveways exceeding 12 feet.
Ring HD Security Camera with Floodlights and Siren Alarm

The Floodlight Security Camera from Ring is ideal for monitoring movement outside the home and keeping an eye on your property from anywhere, anytime. It features two 3000K LED floodlights to illuminate the area when motion is detected. Motion triggers the camera to begin a live stream with a notification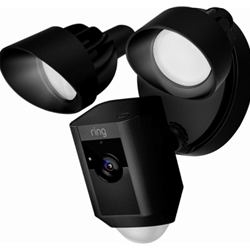 sent to a connected iOS or Android device. The camera has a 140° field of view for a wide coverage area, and integrated two-way audio allows communication with visitors.
Dakota Alert Hard Wired Vehicle Sensor
If you want an alarm that detects only the movement of vehicles and doesn't require batteries, consider a hard-wired driveway alert like the Dakota Alert DCPT-2500.  Hard-wired systems use a metal sensing probe that you bury parallel to or under the driveway to detect the movement of iron or steel objects. Very effective for detecting cars and trucks while eliminating false alerts, it is ideal for locations with deer or other wild animals. The transmitter is easy to hide and can be further camouflaged using the wooden birdhouse facade (sold separately).

Want to Know More About Driveway Alarms?
If you'd like more information about the many ways you can use driveway alarms to secure your home, business or other property, take a look at these articles: Best Driveway Alarms — Get Alerts When Guests or Intruders Arrive and Ways to Use a Driveway Alarm: Send Us Your Ideas. Or check out our full range of driveway alarms here.