Here's a roundup of some of the most innovative pet supplies we've seen. Each product is designed to make taking care of pets easier for you and more enjoyable for them. From automatic feeders and water fountains to pet-controlled sliding door openers, this list of pet supplies includes something for every pet owner. Please take your time browsing. And if there are no pets in your family, remember that interesting pet products like these always make great gifts for your animal-loving friends and family.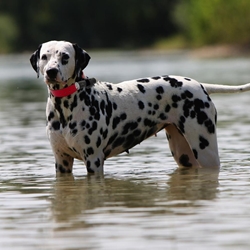 Automatic Pet Feeders Help Combat Obesity
This programmable pet feeder makes it easy to dispense pet food in precise amounts up to three times a day. It's great for times when you're busy or out for the day. Also helps prevent overeating. Holds up to 11 pounds of dry food and can be used for dogs or cats.  $60.
What we like: Easy to adjust the quantity of food per meal based on your pet's specific needs.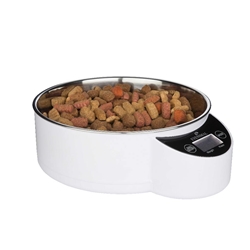 This "intelligent" pet bowl has both an electronic weight scale and graduated liquid scale, making it easy to control the quantity of food you give your pet. Pour food directly into the 1.8 liter bowl and adjust immediately the quantity recommended for his diet. Gives weight in grams and ounces and liquid measurements in ml and fluid ounces.  About $35.
What we like: LCD screen shows the exact amount of food you dish out.
Refreshing Pet Water Fountain Encourages Hydration

Keep your pet healthy by encouraging her to drink. Designed to prevent stagnant water, this unique bubbling pet water fountain is ideal for cats and small dogs. Simply fill the removable dome with water and plug it in. Holds up to 50 ounces.  About $35.
What we like: The continuous bubbling stream attracts your pet's attention so she'll drink more water throughout the day.
Electric Dog Fences for an Unlimited Number of Dogs
Designed for small yards, the Classic Dog Fence is an effective way to give dogs complete freedom within a perimeter of up to 1,500 feet using the special "antenna wire." The wire can be placed on the ground; buried under the ground; or attached to a fence above the ground. When your dog approaches the wire boundary, he is warned first by beeping sounds emitted from the collar, followed by a static stimulation if he continues to advance. Pets learn quickly the boundaries of the yard and where they can go.  $130.
Supports an unlimited number of dogs. Additional collars sold separately.
Similar to the Classic Dog Fence, but can be adjusted for larger yards up to 6 acres (or a maximum perimeter of 2,600 feet) using the selector on the transmitter. Also has an easy-to-read LCD screen.  $160.
Supports an unlimited number of dogs. Additional collars sold separately.
What we like about both systems: Eight stimulation levels are available on each collar so you can adjust it your dog's size, sensitivity, temperament.
Portable Bark Controller – Use it to Stop Neighboring Barkers
This innovative device looks like a lantern but is actually a very efficient anti-bark system that emits a harmless ultrasonic sound when it detects the sound of barking. Dogs can hear the sound, but humans cannot. Surprised by ultrasound, dogs should stop barking as they associate their bark with the unpleasant noise.  About $50.
What we like: Looks like a handheld lantern and designed for outdoor use — use it to discreetly train your neighbor's noisy dogs to stop their annoying barking.
Bark Collars with Customizable Settings for Dogs of Varying Sizes
Finally, there is a bark control collar designed for the special needs of extra small and teacup breeds of dogs up to 8.8 pounds.  This lightweight, waterproof collar uses static stimulation to reduce the number of nuisance barks. Features three progressive levels of corrections so you can customize the level of stimulation depending on your dog's temperament, starting with just an audible beeping sound.  Under $90.
What we like: Weighs only 0.6 ounces and is small enough to comfortably fit even the tiniest dogs.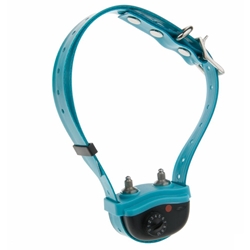 This bark collar automatically adjusts the level of static stimulation, so dogs quickly learn to stop barking to avoid receiving another correction. At the first bark, a warning beep sound is emitted. If another bark is detected within 30 seconds, a beeping sound and a static stimulation are emitted (light, progressive or strong according to the operating mode you select). If your dog stops barking during 30 seconds, at the next bark, the collar will start its operating cycle from the beginning (beep sound only). Fits neck sizes 6.7″ to 21."  Under $65.
What we like: Has four operating modes to choose from and an external settings dial, including a "beep sound only" mode.
If you are looking for an effective but more humane way to discourage excessive or nuisance barking, the Bark Control Soft is the answer. It uses a combination of unpleasant ultrasonic beeping sounds and/or vibrations to teach dogs not to bark to avoid receiving more stimuli. The ergonomic design is ultra light in weight and fits neck sizes from 17″ to 21.65." Has three operating modes: ultrasounds, vibrations, and ultrasounds + vibrations.  About $53.
What we like: Provides pet owners with an effective alternative to static stimulation.
Pet Cams to Wear or Watch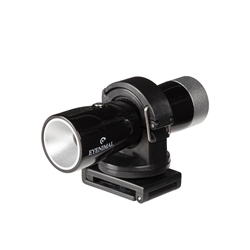 This sturdy, 100% waterproof "sport" model pet camera fastens to your dog's collar so you can record outdoor activities that you and your pet enjoy together, like hiking, hunting, playing, etc. This pet cam has three video recording modes (continuous, when the dog is moving, when it is pointing) and features a 4GB flash memory, video capture resolution of 736 x 480 pixels and an integrated microphone.  Around $130.
What we like: Comes with a special clip to attach pet cam to a baseball cap (also included) for hands-free recording of your dog in action.
Ever wonder what your pets are doing while you are away?  Now you can find out.  Watch and interact with your pets from virtually anywhere on your smartphone, touchpad or computer with the Pet Vision Live digital audio video camera. The two-way audio function allows you to listen in and talk, console or scold your pet if they're lonely or getting into trouble. Lens rotates 355o horizontal and 90o vertical.  Under $100.
What we like: The infrared night vision feature allows you to view your pet in low light or darkness.
Pet Grooming Tools You Can't Do Without
Here's a better way to fight off fleas without messy and potentially harmful chemical treatments. This new electronic anti-flea comb kills fleas, removes foul odors from your pet's coat and leaves it shiny. The teeth of the Electronic Flea Comb kill parasites instantly using an electric shock that is non-perceptible to animals and humans. Powered by two AA alkaline batteries.  About $30.
What we like: Since the Electronic Flea Comb uses no active ingredients, you can use it as often as necessary without harming you or your pet.
Deter Pesky or Threatening Dogs
You'll feel safer while walking, jogging or cycling when you're carrying the handheld Dog Repeller by Eyenimal that drives away unwanted dogs by emitting an annoying ultrasonic sound that only they can hear. If you feel threatened, press the button to sound an extra loud audible alarm to attract the attention of passersby.  Get one for children who walk to school, mail carriers and other outdoor workers who encounter pesky dogs. Effective on dogs of all size and breeds. Range is 48 feet.  Under $25.
What we like: A convenient flashlight is built in.
Pet-Controlled Sliding Door Opening System
This innovative system allows you to control when their pet comes out of its crate.  With the push of a button on a small remote control, you can open your pet's crate from several floors up or up to 50 yards away.  EasyOut is the only product on the market that allows the user to release their pet from his/her crate remotely.  Easy Out works on wire pet crates and pens with basic lateral motion door latches that require no lifting or squeezing to unlock.  Starts at around $60 for a single-latch system.
What we like:  Regular manual operation of the latch is not affected, so you can still open/close it by hand whenever desired.
More Pet Products…
To read about more innovative pet care, pet safety and pet training products, please visit the pet pages of the diycontrols.com store.