If you are thinking about getting a smart home automation system but were waiting for a system that is efficient and inexpensive, take a look at the Fibaro Home Center Lite. Touted as one of Europe's most advanced and stylish home automation systems, the Fibaro Home Center Lite is now available in the United States. Homeowners on the "other side of the pond" praise the Fibaro system for its easy installation (in other words, no wires, no holes in the wall, and no ripped-up carpeting) as well as its sleek and compact design. They also like having the ability to control the Fibaro smart home system from anywhere using a smartphone, tablet or PC.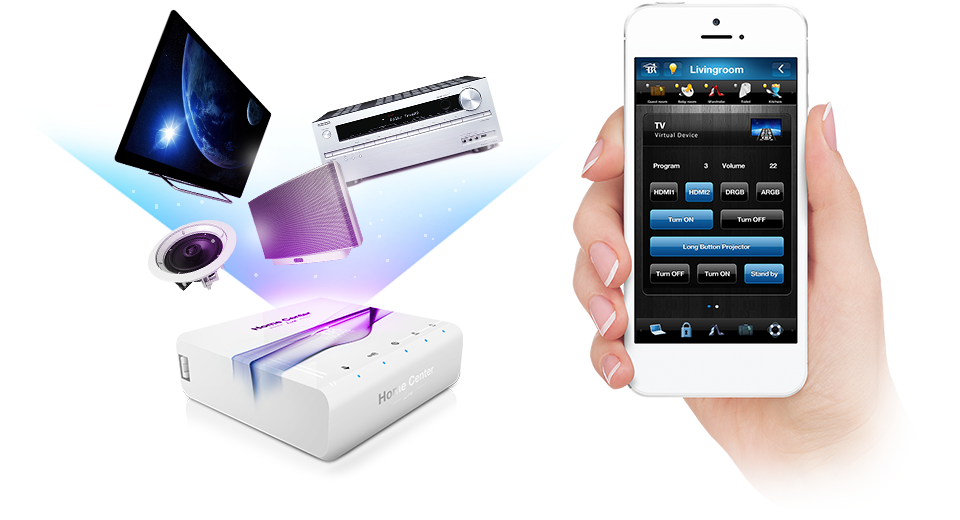 The Wonder of Z-Wave
Instead of miles of wire or cable, the Fibaro Home Center Lite controller, sensors and modules communicate via "Z-Wave." Z-Wave is a wireless communications protocol designed for home automation.
There are millions of Z-Wave supported devices available from roughly 300 manufacturers around the world. The Home Center Lite controller supports up to 230 sensors and modules and is compatible with all certified Z-Wave devices, regardless of manufacturer.
Non-Invasive Installation and Simple Setup
Because Z-Wave sensors and modules are battery-powered and wireless, the Fibaro system is easy to install in both older and new construction homes. The folks at Fibaro aptly call it "non-invasive." The petite Home Center Lite controller – which measures a mere 3.54″ x 3.54″ x 1.3″– connects to your router with an Ethernet cable and plugs into an electric outlet.
Setup and adding devices is simple too. The system provides a comprehensive approach to smart home management through its "Rooms," "Devices" and "Scenes" configurations that you customize. You can even track your family members with its geo localization GPS feature.
Sensors that are Beautiful and Intelligent
Fibaro is recognized for having some of the most advanced Z-Wave modules and sensors available in the world. Not only do all Fibaro sensors do multiple things, they look good too and blend with the décor of any room.
This multi-functional motion sensor combines a PIR sensor (to detect motion), a light sensor, a temperature sensor and an accelerometer (to detect tampering).  Another cool feature is how the multicolor LED pupil changes color when motion is detected and reflects the room's current temperature — blue for coldness, red for heat and green for normal room temperature.  And its small size makes it easy to position in any room.  (Click here for a video demonstration.)
Place the Fibaro Z-Wave Flood Sensor any place in your home that is prone to water leaks or flooding and it will alert you with a siren and LED lights if it detects moisture. It also features a temperature sensor and tilt sensor, so you will receive temperature and tamper alerts. It can also be connected to your home alarm system.  (Click here for a video demonstration.)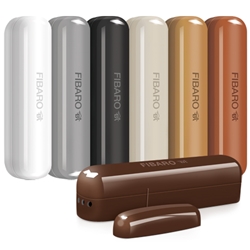 If you want a door and window sensors that match the color of your woodwork, these small but sturdy sensors are for you!   They come in white, gray, black, beige plus three shades of brown. Use them to monitor any open/close object, such as a door, window, gate, garage, drawer, cabinet, etc.  You'll also be alerted when the battery is low battery or if someone tries to tamper with it.  These sensors also feature an input for a temperature sensor.
Use this advanced wireless 4-color LED strip controller with LED lights as well as halogen lights and fans. It also provides dimming control of four LED channels and can receive input from up to four 0-10V analog sensors.
A System that Grows with Your Needs
The Fibaro Home Center Lite is the smart home system that expands and adapts to your needs as your home or family changes. You can:
Integrate it with your alarm system;
Create "Scenes" for each room to enhance comfort and convenience – for example, turn on/off lights and appliances, adjust the heat, turn on music or TV, and alert you when someone comes or goes;
Monitor your home's current energy consumption and the power consumption history using the Home Center Lite's interface;
And because it is completely wireless, you can take your Fibaro smart home automation system with you if you relocate to a new house or apartment.