If you're looking for original gift ideas for this holiday season, look no further. Here are some unique and useful DIY gifts that are sure to thrill family and friends!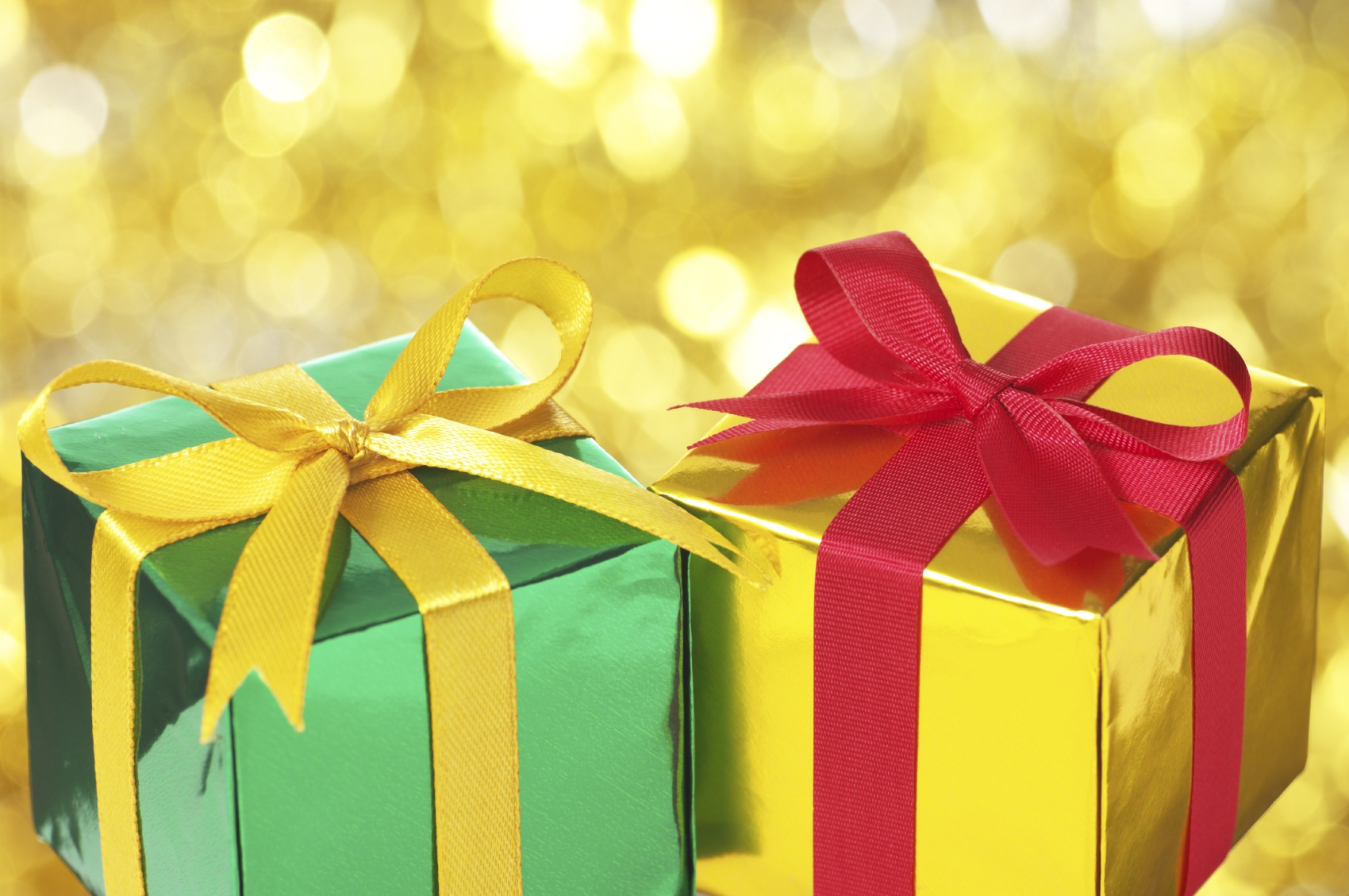 For Protecting Little Ones
Child Pool Alarm by Safety Turtle – Children love wearing the colorful Safety Turtle wristband, and parents love the extra layer of protection that the Safety Turtle water immersion system provides young children when they are near open water. Once activated, the alarm continues to sound until it is reset. A special turtle attachment for pet collars is also available. Keep precious tots and pets safe for only $176.98.
Child Locator / Homing Device – Find your lost child in minutes with a Loc8tor Plus handheld location device.  Slip one of the small, battery-powered homing tags into your child's pocket (or attach a tag to your pet's collar or to anything else you don't want to lose).  The tag will signal the locator handset and guide you to within an inch of your lost child, pet or missing possession!  The Loc8Tor Plus Pack, which includes three homing tags and a "panic alarm" tag so a child can call out for help, costs $169.95.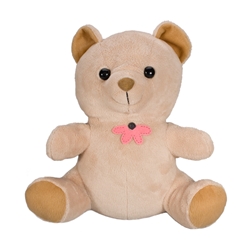 Teddy Bear Nanny Cam with Longest-Life Battery – This adorable teddy bear is really a sophisticated covert surveillance camera and DVR!  The KJB Xtremelife Teddy Bear features the longest-life battery on the market — up to ONE YEAR of operation on a single battery charge because the processor is in "sleep mode" until motion is detected.   Place it anywhere (even outside) with no worries about running wires or short battery life.  Comes with a 2GB SD card, AC adapter, RCA video cables and remote control.  A great gift for any family.  Priced at $649.00.
For Pet Lovers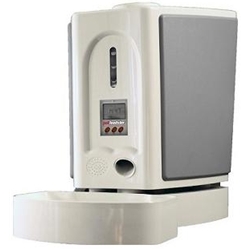 Automatic Pet Feeder for Dry or Moist Food – Pet owners will definitely appreciate receiving the Pet Feedster Automatic Pet Feeder.  It automatically dispenses a precisely measured meal of moist or dry food at the same time every day, keeping animals happy and healthy by controlling food portions and eating time.  The Pet Feedster is great for vacations or long work days, as well as for elderly or physically challenged pet owners.  Can be used for cats, dogs or other pets.  Sells for $239.00.
Ultrasonic NoBark Collar – If there's a desperate pet owner with an out-of-control barker on your shopping list, the DogTek NoBark Sonic Collar is the gift for them!  The NoBark Sonic Collar helps train dogs to stop excessive barking by emitting a loud, ultrasonic sound that only dogs can hear. This unpleasant, high-pitched noise startles the dog, disrupts his barking, and discourages him from continuing.  A truly original gift for only $54.00.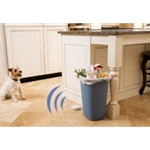 Wireless Indoor Pet Barrier – Here's another training device that dog lovers will appreciate.  The PetSafe Pawz Away Indoor Pet Barrier system with one zone protects areas 2 – 12 feet in diameter.  It comes with a collar and transmitter that sends out an audible tone and mild stimulation.  Put the transmitter near anything you want the dog to avoid (like the trash can).  When Fido gets too close, he'll receive a "correction" and learn quickly to stay away.  The indoor pet barrier set costs $59.95.  Extra PetSafe collars and transmitters can be purchased separately.
For Grandparents and Seniors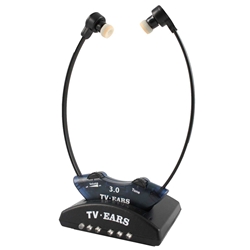 TV Ears Sound Amplifier System – For people who have hearing loss, or live with someone who is hard of hearing, TV Ears makes television viewing enjoyable for everyone!  A TV Ears wearer can adjust the volume of their headset without affecting the sound coming out of the TV set.   It even works on "mute" for private viewing.  The TV Ears set comes complete with a small transmitter that attaches to the television and a lightweight, wireless headset powered by a rechargeable battery.  Affordably priced at $120.95.
Wireless Mailbox Alert – Receiving mail is something that grandparents look forward to each day.  With this handy device, they'll know exactly when the mail has arrived because the moment the postman opens the mailbox, the Safety Technology Mailbox Alert will chime and flash.  With a Mailbox Alert, there will be no more unnecessary trips to the mailbox.  Mailbox Alert is simple to install, comes with a long-lasting lithium battery, and works wirelessly up to 1,000 feet (line of sight).  Only $78.99.
Two-Way Personal Emergency Response Pendant – Seniors living alone need a reliable way to call out for help in case of an emergency.  With a Freedom Alert Personal Emergency Response System, your senior can dial up to four pre-programmed emergency phone numbers with just the push of a button and have a two-way conversation with family, friends or neighbors.  If no one answers, the Freedom Alert can dial  911.  Works on any standard phone line and sells for $279.95 with no extra monthly fees.
For the Guy Who Has Everything
Portable Smartphone Charger with Flashlight – Give your guy on-the-go charging for his iPhone or Android smartphone with a Datexx PowerNow BT2400. This convenient device is powered by a lithium ion rechargeable battery and connects via the phone's USB cable.  It can also charge other USB devices, such as Bluetooth headsets and portable GPS devices.  The PowerNow BT2400 doubles as an LED flashlight and costs only $28.99.  Makes a great stocking stuffer!
Night Vision Surveillance System – Undoubtedly, the guy who has everything has a lot to protect, so he'll appreciate an outdoor surveillance system to guard his home and property.  SVAT offers a smartphone compatible system with 8 high res night vision cameras that's extremely easy to set up and use.   Footage can be viewed from anywhere in the world on a smartphone or computer and email alerts are sent instantly if activity is detected.  Comes with a 500 GB HDD DVR and sells for $599.99.
Dual Car Camera and GPS Logger – We'll bet your guy doesn't have one of these!  The KJB dual car camera records images inside and outside the car.  Use it to record road, weather and traffic conditions from the dashboard to supply evidence to insurance companies and police.  Or, upload a video of your travels to YouTube.  The built-in GPS continuously receives and logs your exact location, speed and direction to an SD card and the built-in G-Shock sensor detects accidents and automatically records the previous 30 seconds leading up to the impact.  A truly original gift idea for $330.00.
For Any Homeowner
Wireless Remote Home Automation Kit — For less than $75, you can give someone a home automation system like the SkylinkHome SK-3 that remotely controls any light, device or appliance.  There are an infinite number of ways to use this one-of-a-kind gift, such as: starting the coffee maker in the morning;  turning on interior lights before entering a dark house; dimming the light in the baby's room after she falls asleep; turning the outdoor Christmas tree lights on and off.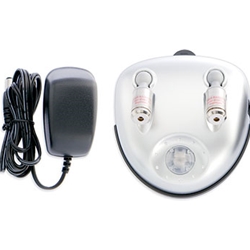 Laser Beam Garage Parking Guide – This innovative device makes it easy for anyone to park correctly in the garage every single time!  A bright red laser beam on your hood or dashboard guides the car to a pre-selected parking "sweet spot." The Park Right Garage Laser is clever gift for new drivers, bad drivers and homeowners with garages that are too small or too tight.  Plugs into any AC outlet and sells for only $29.95.
Emergency Water Shut-off System – With a WaterCop "Sergeant" Water Shut-Off System, homeowners on your gift list can protect their entire house against catastrophic leaks and water damage caused by common plumbing and appliance problems.   The WaterCop "Sergeant" package, which includes a main line electric shut-off valve and three wireless flood sensors, is available for $565.00.  Additional sensors can be added.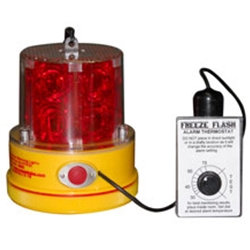 Low Temperature Alert Warning Light – Here's an original gift idea for traveling homeowners to help protect their vacant house from freezing pipes and water damage — a battery-powered Freeze Flash Alert Warning Light.  The warning light gets placed in a highly-visible window in the home.  If the heat goes off and the inside temperature drops below 30oF, neighbors will be alerted by a flashing red light. Available now for $69.99.
For the Vacation Cottage
Deluxe Freeze Alarm – Give those vacation homeowners on your list some peace-of-mind with a Deluxe Freeze Alarm.  This is one of our most popular models.  If the power goes out or the temperature in the cottage gets too low, it will automatically call up to three phone numbers.  It also allows homeowners to adjust heat or A/C remotely by phone and it accepts flood sensors and motion detectors to monitor for water leaks or intruders.  Priced at $175.00.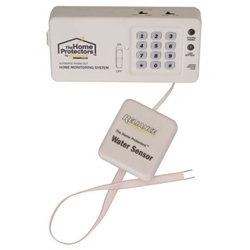 Basic Freeze Alarm with Flood Protection – Although freezing pipes are less of a concern for vacation homes in warmer climates, water damage can also result from leaky pipes, appliances and roofs.  The Reliance Controls THP201 PhoneAlert is an affordably priced freeze alarm ($74.99) that comes with a flood sensor you can place anywhere you have a concern, such as by the boiler, near the sump pump or in the attic.  If there is a power outage, freezing conditions or flood, it automatically calls up to three phone numbers of your choice.
Remote Control Thermostat for Electric Heating Systems – If you know someone with electric heat in their vacation home, here's a wireless thermostat upgrade they will like.  Made by the industry leader, the Honeywell EConnect wireless thermostat has a list of benefits, including:  easy, no mess installation; precise temperature control; and the ability to adjust temperature from anywhere via a smartphone or computer.  Homeowners will love the added convenience and comfort of this thermostat.  Sells for $248.99.
For Techies Young and Old
Wi-Fi Home Controller – This is the ultimate gift for all technology enthusiasts – a Vera 3 multi-purpose controller for managing home and small business security systems, energy consumption, home theater equipment and other household electronics conveniently via a smartphone or computer.  Vera 3 has a user-friendly interface, an expanding library of apps, and is guaranteed compatible with all Z-Wave devices.  Get one for less than $300.00!
Multi-Featured Internet Thermostat — Internet thermostats let you adjust the heat or A/C in your home from anywhere using a smartphone or PC.  Give someone a BAYWeb Professional Internet Thermostat, and they can do even more cool stuff, like "occupancy sensing" to reduce fuel bills; add motion detectors and sensors; download an energy management app; and much more.  Loaded with features and just $300.00!
Pen Style Camcorder with 8GB of Memory — Here's an authentic covert video recording device disguised as a pen – just like the old spy movies!  Slip it into a shirt or jacket pocket or lay it on a desk and discreetly record up to 60 minutes of high-res (1600×1200) digital video.  The KJB Security DVR776 Pen Camera has 8GB of internal memory and features a USB jack for data transfer and charging.  Works with PCs and Macs.  Use it for personal surveillance or to record business meetings.  Only $155.95.
For the Security Conscious
DIY Wireless Home Alarm System – Today's do-it-yourself home alarm systems are surprisingly easy to use and install, so they make great gifts for anyone worried about theft or intruders.  Choose a wireless system like the Securityman AirAlarmIIDL.  The starter kit sells for $169.99 and includes an LED touchpad, 2 wide-angle motion detectors, 3 magnetic door/window sensors, and a smoke sensor.  Expands easily and can accept up to 60 sensors.

Rex the Electronic Watchdog – Here's a watchdog that you never have to walk or feed but is always on duty guarding and protecting! It's Rex Plus, the electronic watchdog.  Rex Plus can "see" through thick doors, walls and glass. When he detects movement, Rex Plus will begin barking to scare off intruders and alert you.  When he is not protecting, switch Rex Plus to the tranquil sound mode.  Plugs into any wall outlet.  Priced at $71.95.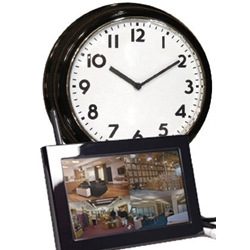 Hidden Camera Wall Clock and Receiver – This authentic looking wall clock is actually a covert surveillance camera that records action to an SD card.  Watch the video remotely via the Internet or connect it to your computer, TV, DVR or VCR to watch and record.  The SleuthGear Wall Clock system by KJB is the real deal!  Use it in your office for security surveillance or at home as a nanny cam.  The complete package with software sells for $378.99.