Almost everyone has a budget for holiday gift buying, so we're making it easy for you to find affordable gifts for family and friends.  All of the gifts in this article are truly unique and priced under $100!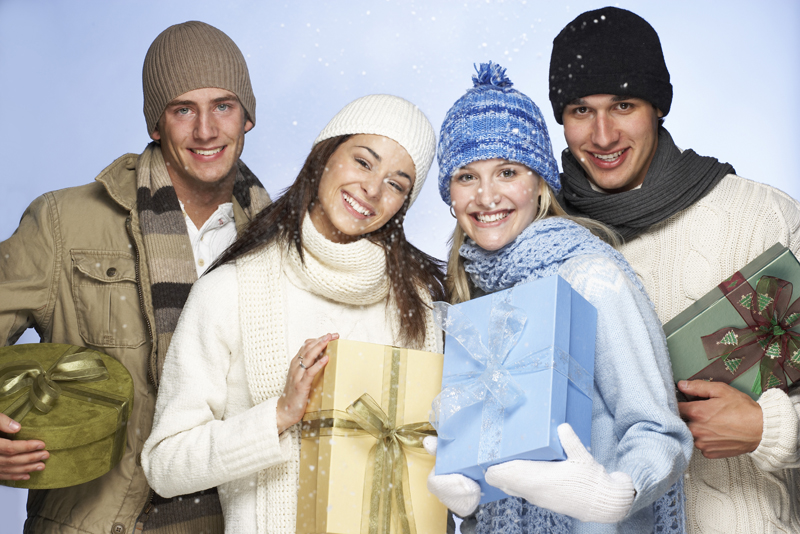 Gifts Under $25
"Budget" Home Security – For less than $15 each, you can give all of the homeowners on your shopping list an inexpensive home security "system."  Whether or not their home is really armed with an electronic security system, these alarm system warning decals and lawn sign will make burglars think the home is protected and help prevent break-ins!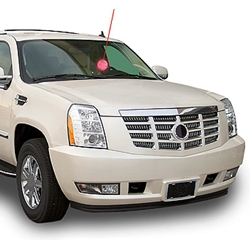 Park Right Ball-on-a-String – Are there teen drivers on your shopping list who need a little help parking in the garage?  This clever invention helps guide them into the garage and creates a flashy light show when they park correctly!  The Park Right Ball-on-a-String attaches easily to the garage ceiling and comes complete with an eye hook, 8 foot line, and 3 replaceable batteries.  Buy one as a stocking stuffer for just $14.95.
Washing Machine Flood Shutoff Connectors – Here's a simple but effective way to protect against catastrophic water damage caused by a burst washing machine hose.  FloodSafe® Braided Stainless Steel Washing Machine Connectors automatically shut off the water supply to plumbing fixtures/appliances if excess water flow is sensed.  There are no mechanical moving parts and no power required.  This is a great way to give any homeowner peace-of-mind for $21.99
Gifts Under $50
Portable Smartphone Charger with Flashlight – All of the smartphone users on your list will appreciate this on-the-go charging device so they can keep texting, surfing, Tweeting and talking.  The Datexx PowerNow BT2400 is powered by a lithium ion rechargeable battery and connects via the phone's USB cable.  Charges iPhones and Android smartphones and other USB devices.  Doubles as an LED flashlight and costs only $28.99.
Comfy Cruise Heated Travel Blanket – This cozy fleece electric blanket plugs into a vehicle's 12-volt plug and keeps anybody warm and toasty without having to crank up the car heater.  It's also a great way to keep babies or seniors warm when someone else opens a window or turns the air conditioner up too high. Use the Comfy Cruise Travel Blanket in your car, truck, minivan, RV or boat.  Has a generous 7-foot power cord and measures 42″ x 58."  On sale now for only $32.00.
Emergency/Motion Sensing Rechargeable LED Light — The plug-in LED light by Datexx means they'll always have light when they need it most.  During power outages, it's emergency lighting in a hallway or room.  Unplug it and it's a portable flashlight.  Or use it everyday as a motion-activated night light.  The LED stays cool to the touch so its safe to use around children and pets.  Seniors especially will love this useful gift – get it now for $35.00.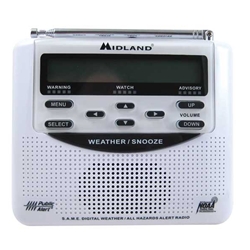 Silent Call Weather Alert Radio – This radio is great for all of the weather watchers on your list.  The Silent Call Weather Alert Radio has a special receiver that tunes to NOAA's 24/7 National Weather Service broadcast and provides up-to-the-minute storm and "hazardous conditions" information.  Capable of sending voice, siren or tone warning alerts.  Uses AC power or three AA batteries for backup power.  Just $44.95.
Poolguard Gate Alarm – The gate to the pool area is often the weakest link in keeping youngsters out of the pool.  With a Poolguard Gate Alarm, a siren will sound in 7 seconds when the gate or door leading to the pool area is opened.  Families with above- or in-ground swimming pool will appreciate this extra layer of protection to prevent accidental drownings in their backyard.  Specially priced for the holidays at only $49.99 (a $25.00 savings)!
Gifts under $75
Wireless Indoor Pet Barrier – Here's a training device that dog lovers will appreciate.  The PetSafe Pawz Away Indoor Pet Barrier system protects areas 2 to12 feet in diameter.  It comes with a collar and transmitter that sends out an audible tone and mild stimulation.  Put the transmitter near anything you want the dog to avoid (like the trash can).  When Fido gets too close, he'll receive a "correction" and learn quickly to stay away.  The indoor pet barrier set costs $59.95.  Extra PetSafe collars and transmitters can be purchased separately.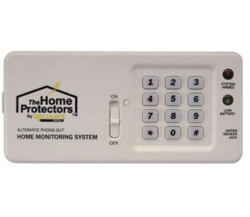 Freeze Alarm – Many vacation homeowners talk about getting a freeze alarm to alert them in advance of power outages or a furnace failure in their vacant home, but most put it off until it's too late!  With this modestly priced freeze alarm by Reliance Controls, you can save them thousands of dollars in repairs that freezing pipes in their vacation home could cause.   Available now for only $64.99.
Amplified Answering Machine – If you know someone with hearing loss, this amplified answering machine makes it easier for them to retrieve, listen and understand their telephone messages.  The Amplicom Amplified Answering Machine has an adjustable volume of up to 40decbels.  Users can also control tone and playback speed.  Stores up to 24 minutes of digital recording with flash memory.  On sale now for $70.00.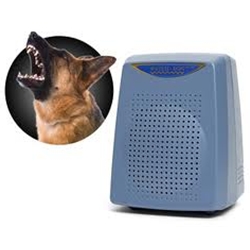 Rex the Electronic Watchdog – Here's a watchdog that you never have to walk or feed but is always on duty guarding and protecting! It's Rex Plus, the electronic watchdog.  Rex Plus can "see" through thick doors, walls and glass. When he detects movement, Rex Plus will begin barking to scare off intruders and alert you.  When he is not protecting, switch Rex Plus to the tranquil sound mode.  Plugs into any wall outlet.  Priced at $71.95.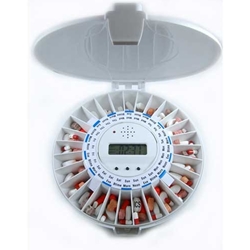 Automatic Pill Dispenser with Alarm — The Med-E-Lert Automatic Pill Dispenser with Alarm is a medication reminder and automated pill dispenser in one device!  The Med-E-Lert holds up to one week's supply of pills (up to 4X per day) in 28 compartments.   It's easy to program and alerts with a tone and blinking red light.  The tamperproof locking key system helps prevent over-medication.  A thoughtful gift for elderly parents, caregivers or anyone on multiple medications — $74.99.
Gifts Under $100
Digital Wireless Baby Monitor – Here is a video baby monitor that can grow with the family!  The Q-See Digital Wireless Baby Monitor is a portable surveillance solution for monitoring baby, older children playing inside or outside, or for any other situation that needs to be monitored without actually being in the room. There are no wires to set up, transmits up to 300 feet, and has night vision capability.  Expandable too – can support up to three cameras!  Discount priced at $84.99 – save more than 50%.
.
Refrigerator/Freezer Power Outage Alert Set – No one wants to lose an entire refrigerator or freezer full of food because of a tripped circuit breaker or power outage.  The Refrigerator/Freezer Power Outage Alert Set alerts you anywhere inside your house with both audio and visual sensors when a certain outlet elsewhere in the house loses power!  Operating range is 300 feet.  Great for homes with appliances in the basement or garage.  Available for $79.99.