If you want to protect your home, business or property against theft and vandalism, a do-it-yourself video surveillance system is an affordable and effective line of defense.  Today's DIY video surveillance systems are easy to set up and easy to operate.  Many systems offer advanced features like instant email alerts, anytime viewing from a smartphone or computer, and months and months of recording storage.  Prices on video surveillance systems have come way down in recent years, making a DIY kit an attractive choice for many homeowners and businesses.
This brief questionnaire is designed to help you pinpoint the best video surveillance system for your location.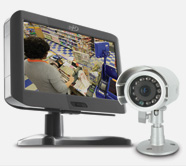 1)  Do you want to monitor indoor or outdoor activity?
For outdoor surveillance, cameras clad in weather-resistant housing are a must.  Note that outdoor cameras work equally well indoors, but cameras designed to be used only indoors cannot withstand rain, snow and ice.  Your best bet is to choose cameras rated for outdoors or indoor/outdoor usage so you have the option of placing them anywhere.  To ensure crisp and detailed video, choose cameras with high-resolution night vision that are able to record in complete darkness.
2)  Wireless or wired?
Although wireless cameras are easier to set up and generally less expensive, wired cameras are usually superior in quality and more tamper-resistant.  Wired cameras also generally outperform wireless when it comes to software-based motion-detected recording (that is, the system only records when it senses motion to conserve storage space on the hard drive).  Wired cameras also ensure better performance because they are not affected by radio signals the way wireless cameras are.  For outdoor use, wired cameras are always recommended because they tend to be more durable and weather-resistant.  They are also best for applications where 24-hour monitoring is required.
3)   How many cameras will you need?
To determine how many cameras you will need, survey your building or property and figure out the best places to mount cameras to get optimum coverage.  Cameras with a 75-foot or 100-foot range will allow you to monitor a larger area with fewer cameras.  The number of channels on a DIY video surveillance system determines how many cameras it can accept.  Many kits come with 4 cameras or 8 cameras.   Some kits have extra channels so additional cameras can be added later on.  Or, you can get a kit that comes with 16 cameras so you can monitor all around your property.
4)  Viewing Options:  Do you want to view activity remotely (in real-time or playback) via a computer or smartphone?  Or, do you only want to record and view activity or footage locally?
A web-enabled DIY video surveillance system will allow you to view live action or recorded footage from anywhere at anytime on a computer or smartphone.  Choose a complete video surveillance system that includes a DVR.  The DVR will record activity and store the footage on a hard drive (which can be very useful later for identifying suspects).  Note, however, that  you'll need a 24/7 Internet connection for real-time remote viewing.
If you have an Internet-connected computer on the premises that is always on, you have the option of installing a USB DVR convertor box that turns your computer into a DVR recorder so you don't need an additional DVR.  You can store video right on your hard drive and view it remotely through the Internet.
5)  Would you like to receive email alerts when the video surveillance system senses activity?
One of the most popular features of a web-enabled DIY video surveillance system is the ability to send email alerts to your computer or smartphone when a trespasser is on your property.  If instant notification is a feature you want, remember that you'll have to provide 24/7 Internet access at the location you are monitoring.
Today's do-it-yourself video surveillance systems are as easy to operate as a computer and much more affordable than professionally installed equipment.  A smartphone-compatible system with 4 high-res night vision cameras by SVAT Electronics, for instance, can be purchased for under $350.  For information on installing security cameras, take a look at this handy tip sheet.