Programmable thermostats provide a range of money-saving benefits to commercial (non-residential) buildings, but their energy management needs are uniquely different than those of homeowners.  This article — the last in a four-part series on programmable thermostats – will address non-residential applications and discuss how advanced off-the-shelf programmable thermostats can reduce both energy and man power costs for commercial operations.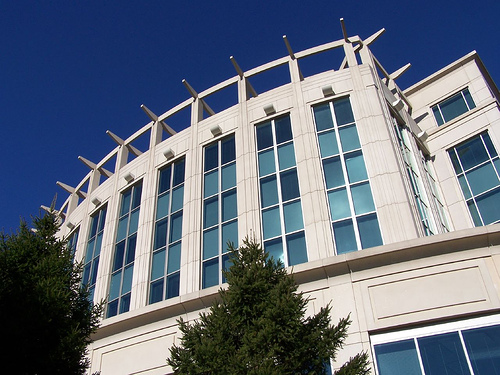 Energy Management a Challenge in Commercial Buildings
In commercial buildings like schools, stores, offices, rental properties, churches and government buildings, managing and controlling energy to heat and cool can be challenging.  Energy management is often compounded by a number of factors, including:
–         Size of the building
–         Number of buildings
–         Geographic location
–         Ability of occupants to adjust temperature
–         Variations in weekly/annual usage
–         Type and age of the HVAC equipment
These factors can make centralized energy management difficult, but it's not an insurmountable task for today's programmable thermostats.  In fact, there are now off-the-shelf programmable thermostats that are as efficient and multi-functional as custom-designed energy management systems and much more affordable, priced at under $300 per unit.
Small Buildings — Residential Thermostats Do the Job
In a small commercial building with a single zone, energy management can be handled satisfactorily with a residential programmable thermostat.  Even though they're designed for home use, a feature-rich programmable residential thermostat typically provides 7-day, 4-period programming along with detailed energy usage data and runtime graphs that are useful for making energy conservation decisions.
► TIP:   Some residential thermostats, like the Venstar ColorTouch T5800, also give you the ability to monitor and control temperature from anywhere via a smartphone, tablet or computer.  Choose one that is compatible with the communications connections available at your location (phone, Internet or WiFi).
► TIP:   If heating and cooling is uneven in your one-zone building, opt for a programmable thermostat that accepts temperature and/or duct sensors that can be placed in hot or cold spots to help balance overall temperature.  The BAYWeb Professional Internet Thermostat has this capability.
Multiple Locations — Cloud Technology is the Answer
For commercial operations with multiple buildings, or multiple thermostats in one or more buildings, having the ability to monitor and control temperature from one central location saves on energy consumption and eliminates the expense of sending a person to each site to make changes.  With the advent of "cloud technology," controlling temperature in multiple geographic locations is easy to do with certain advanced programmable thermostats.
► TIP:   The BAYWeb Professional Internet Thermostat is an affordable off-the-shelf solution that allows you to set up location groupings for over 1,000 buildings and control temperature in each from one "master" thermostat.  You can also have multiple master thermostats and create thermostat groupings for each.  (Of course, you can always control any BAYWeb thermostat individually.)
With the BAYWeb Pro, you can view all thermostat locations on a Google Map screen to quickly and easily make scheduling changes.  BAYWeb thermostats use Cloud-EMS™ software that you access through a web browser or an app on your smartphone or tablet. There are no initial or ongoing costs for this service.
Other Energy Management Needs
Limiting Occupants' Ability to Change Temperature
Whether you are a landlord of office suites or rental apartments, limiting the ability of occupants to adjust the thermostat is critical to effective energy conservation.  The solution is a programmable thermostat that allows you to program high and low temperature set-points so occupants can't change the temperature above or below the levels you program.
► TIP:   To totally restrict workers or tenants from changing temperature, use a programmable thermostat (like those by Bay Controls) that have a keypad "lockout" feature so only an administrator or other authorized persons can make temperature changes via the Internet.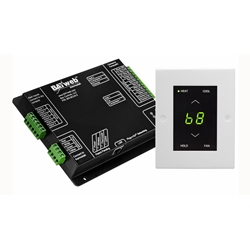 Advance Temperature Scheduling
Many commercial operations – like schools — want the ability to do long-term temperature scheduling so they can plan ahead for holiday closings and vacations.  A programmable thermostat like the BAYWeb Professional lets you schedule temperature in your buildings for months in advance.
Automatically Adjust Temperature Based on Occupancy 
To increase the efficiency of your programmable thermostat so it automatically adjusts temperature based on whether or not someone is present, choose a model that accepts motion detectors (also called "occupancy sensors").  If the motion detector senses inactivity after a certain amount of time, it will over-ride the schedule and adjust temperature accordingly to save energy.  Conversely, if the detector senses activity at an unscheduled time (such as when employees need to work on the weekend), a comfortable room temperature will be provided without having to reprogram the thermostat.
Summary
With the rising cost of electricity and fuel, energy management is of increasing importance to commercial building owners.  Today's advanced off-the-shelf programmable thermostats, which cost between $175 and $300, are a viable alternative to expensive custom energy management systems.