Many of today's programmable thermostats are so incredibly multi-functional, they've aptly been labeled "smart."  But do you really need all of that functionality?  Your best bet is to choose a programmable thermostat that's easy to use and fits your family's lifestyle.  Here are three popular features found in most smart programmable thermostats.  Review them carefully and decide which features you want and choose the thermostat that makes the most sense for you.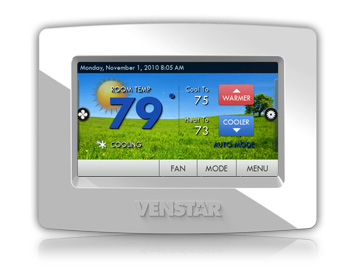 Program-it-Yourself or Auto-Programming ("Learning")
Most programmable thermostats allow you to program up to 4 periods of temperature changes a day for each of 7 days.  7-day programming is ideal for people with varying work and school schedules.  Some thermostats have 5/2 day programming, which allows you to set separate schedules for weekdays and weekend.  A "learning" thermostat is another type of programmable thermostat that does auto-programming and then creates a temperature schedule for you, based on the data it collects through its built-in occupancy sensor.
► TIP:  Auto-programming works well if your family's schedule is consistent from day-to-day and week-to-week, but it may not allow for the reality of unexpected schedule changes.  Also, because a "learning" thermostat's temperature schedule is based on movement, it may not be accurate if it's located in a remote place.  Another consideration is that it won't pre-heat the house in the morning or pre-cool in the evening.
► TIP:  Advanced program-it-yourself thermostats, like the Venstar ColorTouch, are easy to use and make programming fast and simple.  Many homeowners who want to customize and fine-tune their temperature schedule prefer program-it-yourself thermostats over "learning" thermostats.
Remote Temperature Control (Phone, Internet or WiFi)
Having the ability to adjust the temperature in your home from anywhere can be a useful feature.  If remote temperature control is something you want, you'll need to ensure that the programmable thermostat you select is compatible with the communications setup in your home.  The choices are: landline phone, high-speed Internet via a router cable, or high-speed Internet via a wireless connection.
► TIP:  Be sure to consider which communications method is easiest for you to use.  For instance, if you don't have a smartphone or sit in front of a computer most of the day, a phone-enabled programmable thermostat will probably work better for you than an Internet thermostat.
Energy Usage Information
If you love graphs and charts, then the energy usage information you get from many of today's smart programmable thermostats is for you!  You'll be able to login to a special web portal and see how much energy has been used to heat and cool your house.  You also get runtime graphs that can help you evaluate different options for conserving energy.
► TIP:  Some programmable thermostats (like the Venstar ColorTouch) can show energy usage right on the display, so you don't have to go through the extra step of connecting to a computer or smartphone to view the data.
► TIP:  If you have a vacation house, a smart thermostat like the BAYWeb Internet thermostat can be set up to alert you through your PC, smart phone or tablet device if the energy usage ever exceeds a specified threshold.
Summary
A programmable thermostat can be a worthwhile investment for any home if it's properly installed and programmed, saving you about $180 a year if correctly set, according to energystar.gov.  Be sure to choose a model that fits your lifestyle and is easy to use.  You can also save hundreds of dollars by buying your programmable thermostat directly and installing it yourself.  However, if DIY installation is beyond your expertise, it's best to call in a professional HVAC contractor.