Regardless of where you live, the weight of standing water on top of a winter pool cover can greatly reduce its lifespan, which is why a pool cover pump is an important accessory for winterizing a pool.  Accumulations of rainwater, melting snow and ice can freeze and cause serious damage to a pool cover's material.  Even in locations where winter temperatures rarely drop below 32°F, a pond of still water sitting on top of a pool cover provides a breeding ground for harmful bacteria and mosquitoes.  A pool cover pump removes excess water from a pool cover quickly and efficiently.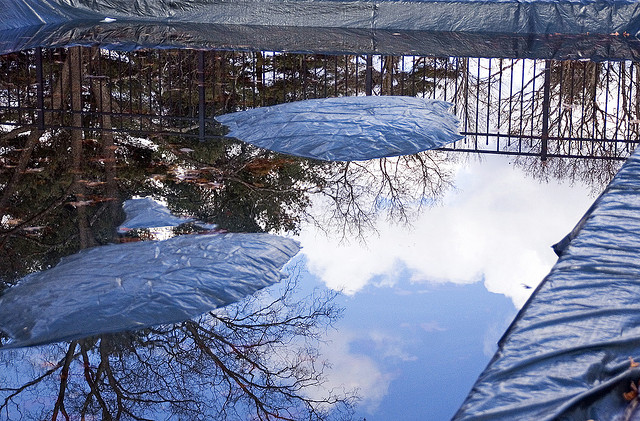 Types of Pool Cover Pumps
There are two basic types of pool cover pumps: automatic and manual.  Both types are compact and lightweight and attach easily to your garden hose in order to pump the water out.  (Note:  Be sure to position the hose to direct the discharge away from your house, yard and pool.)
Automatic Pool Cover Pumps
Automatic cover pumps are electric and have an automatic on/off switch.  When water is detected on the surface of the pool cover, the pump turns on automatically to remove the water.  When the cover is dry, the pump turns itself off.
Automatic pool cover pumps can pump anywhere from 250 to 2,500 gallons of water per hour (GPH).  The larger the pool, the higher capacity pump is required.  Many automatic pool cover pumps can be fully submerged in water and will collect leaves and debris from the cover in addition to pumping water.
Advantages include:
Higher capacity and faster pumping – Required for in-ground pools and larger above-ground pools.
Safer for homes with children and pets – Eliminates puddles from accumulating on pool covers which are a potential drowning hazard.
Continuous protection — Removes heavy water before it can damage the pool cover and/or pull an unanchored cover into the pool.
Manual Pool Cover Pumps
This type of pump needs to be physically turned off and on.  Some manual pool cover pumps are hand-operated and use the power of water pressure to remove standing water, instead of electricity or batteries.  Manual pool cover pumps drain about 200 GPH.
Advantages include:
Less expensive
Lightweight and very portable
Smaller size — Good for most above-ground pool and spa covers; also useful for emptying spas and hot tubs.
Tips on Choosing a Pool Cover Pump
A pool cover pump will prolong the lifespan of your solid winter pool cover and keep your swimming pool water clean and debris-free.  Choose a pool cover pump based on the type and size of pool you have (above ground or in-ground). The larger the pool and cover, the higher capacity pump is required.  Manual pool cover pumps work well for homeowners who are diligent about pool maintenance chores, but for most everyone else, an automatic pool cover pump is the best choice.
Other Ways to Use a Pool Cover Pump
In addition to being an essential item for winterizing a pool, a pool cover pump can also be used to:
Pump water out of flooded basements
Pump water out of boats and bilges
Empty spas, hot tubs and pools
Drain fish ponds and fountains
Remove unwanted standing water from other places.
Another bonus to having a pool cover pump:  come springtime, you will have a clean, dry pool cover and cleaner pool water, simplifying the much dreaded springtime pool opening process!