Talking on the household phone can be extremely frustrating for people with hearing loss, but today's wide selection of amplified phones for the hearing impaired offer a wide range of features that address just about every need.  Large keypads, adjustable volume and tone, extra loud ringers and hearing aid compatibility are just a few of the features that are available. If you are shopping for a hearing impaired phone for yourself or someone else with mild to severe hearing loss, use this overview to help narrow down your choices.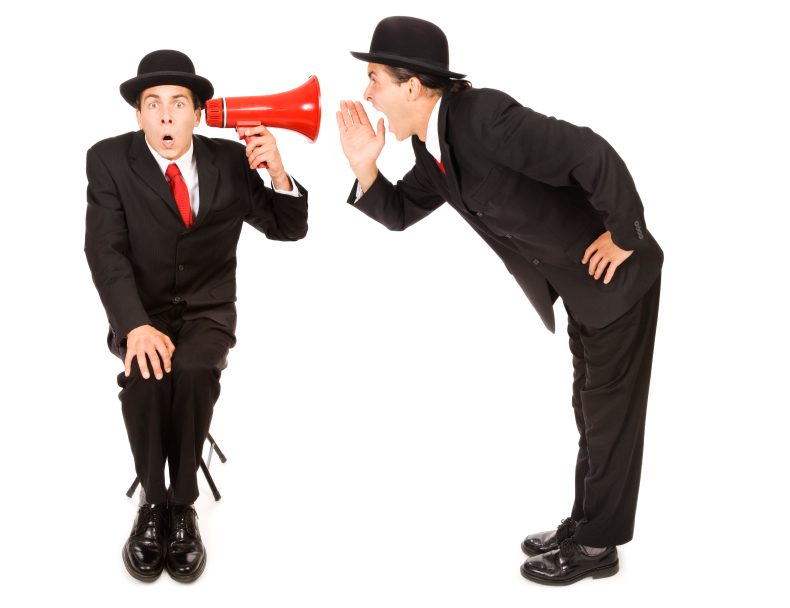 Amplification Level
The primary purpose of a hearing impaired phone is to boost the volume to a higher level than would be possible with a standard phone and also improve sound clarity and tone, making it easier for users to hear and comprehend telephone conversations.
Hearing loss is measured in decibels (dB). The softest sounds are made at zero dB, and the loudest are 120 dB. Normal speech is around 50 dB.
Phones for the hard of hearing have three levels of amplification.  Choose the one that matches the user's hearing loss:
Mild Hearing Loss (20 – 30dB) – For listeners who strain to hear phone conversations and find that they are missing words.
Moderate Hearing Loss (30 – 45dB) – For listeners who find that they frequently ask the other party to repeat themselves.
Severe Hearing Loss (50 – 60 dB) – For listeners who have so much difficulty hearing phone conversations, they often avoid using the phone.
Portability:  Corded, Cordless or Hands-Free
Corded amplified phones have a large base that is bulkier than a cordless phone but typically offer a large, easy-to-read keypad as well as a bigger phone number and caller ID display.  Many corded models, like the Amplicom PowerTel 760 Assure Amplified Corded Telephone, have other built-in features like an answering machine and speakerphone.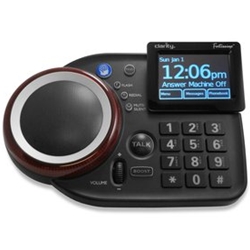 People who like to walk around while they talk or prefer a smaller base usually choose a cordless amplified phone.  Some amplified phone systems offer a cordless phone base that are "expandable" so you can have additional cordless phones in other rooms.  For instance, the Clarity Professional XLC3.4 Big Button Cordless Phone can handle up to four additional cordless handsets per base unit.
And for people with limited mobility, there is the new hands-free Fortissimo by Clarity that features a voice-activated speakerphone and offers multiple options for hands-free control, which can be particularly useful for those with multiple sclerosis, cerebral palsy, traumatic brain injury, spinal cord injury and many other forms of paralysis.
Hearing Aid Compatibility
Most hearing impaired phones are hearing aid compatible, but many newer cordless amplified phones are also TIA-1083 compliant.  Being TIA-1083 compliant greatly reduces the interference or audible "buzz" that hearing aid wearers often experienced when using a cordless phone and is considered a higher standard than just being hearing aid compatible.
Visual or "Talking" Caller ID
A caller ID feature allows users to screen incoming calls before answering.  Hearing impaired phones have either traditional caller ID screens or a "talking" caller ID announcement, which is a great for users with vision problems who have trouble reading the phone numbers on the small screen.
Amplicom's PowerTel 700 Series phones all have both "talking" called ID and "talk-back" buttons on the keypad that read back the numbers as they are dialed to prevent misdialing.
Photo Address Book

These days nearly all phones have a programmable address book for storing frequently-called phone numbers, but some amplified phones like the Clarity Photo Phone P300 makes it even easier for users to dial by providing nine one-touch speed dial buttons that you customize with photos of family and friends.
 Bluetooth Connection for Cell Phones
With a Bluetooth-connected amplified phone, users can make and receive cell phone calls from their hearing impaired phone and have all of the benefits of extra amplification and improved sound clarity. The Bluetooth feature, available in the ClearSounds iConnect A1600BT Amplified Bluetooth Freedom Phone, wirelessly connects your cell phone to your amplified phone.  It's a great feature for homes without a landline connection.
Other Cool Features to Look For

Multiple User Settings – Automatically adjusts volume and tone settings for each user in the household, available only in the Amplicom PowerTel 720 and PowerTel 760 phones.
Hearing Impaired Phones for Users with Vision Loss
Many of the amplified phones for people with hearing loss also have features that benefit users who are visually impaired. For instance, some models have visual ringers that use a flashing strobe light to signal incoming calls.  Other models have extra large, back-lit keypads or large LCD displays to make dialing easier.  As we age, hearing and vision loss often go hand-in-hand, so an investment in a multi-functional hearing impaired phone can solve for both disabilities.