Most parents know the rule that water safety is a priority when young children are around a pool or open water.  Adult supervision is the best way to prevent accident drownings, but being an attentive lifeguard can be pretty stressful!  According to the CDC, children ages 1 to 4 have the highest rate of drowning and most of these incidents occur in home swimming pools!  Having them wear a proper life vest or swim aid is one of the best way to protect them while they are learning to swim.  There are a variety of swim aids for young children.  Here are some of the most popular styles.
Puddle Jumper Deluxe Life Jacket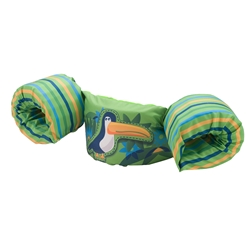 Comfort is why the Stearns Puddle Jumper Deluxe Life Jacket is such a big hit amongst parents and children!  Made from a soft, woven polyester that reduces chafing, the Puddle Jumper is designed so children can move and swim freely without the jacket riding up around their necks the way traditional life vests often do.  Best of all, its Coast Guard approved, so children can use it in pools, lakes, boats and the beach.  Fits children between 30-50 pounds.
Learn-to-Swim Tube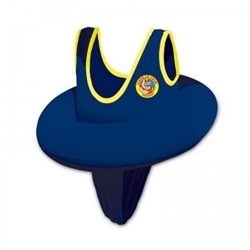 For toddlers and young children under 35 pounds, a learn-to-swim tube trainer is a safe way to introduce them to the water and build confidence.  Swim tubes are basically a rubber tube that the child wears like a piece of clothing.  The cloth tank top slips comfortably over the child's head and the bottom strap fits securely between the legs. Wearing a swim tube, children will enjoy freedom of movement while floating upright or in a swimming position.
"Swimmie" Arm Floats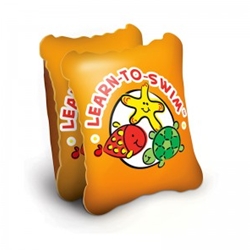 Floating in the water doesn't come naturally for many beginning swimmers. Learn-to-Swim Arm Floats – often nicknamed "swimmies" – are inflatable arm bands that offer beginning swimmers comfort and dependability.  Swimmies are great for beginning swimmers who already know how to keep their head out of the water.  They provide just enough buoyancy so children can relax in the water and focus on learning their strokes and kicks.
USGC Approved Life Vest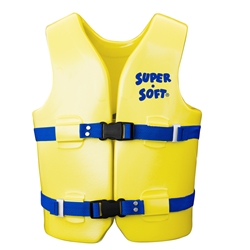 Although not specifically designed for learning to swim, a child's life vest can be used to provide buoyancy and security in the water.  Of the two types for children, Type III life vests are best for swimming.  They're designed for comfort and come in styles for different boating activities and sports.  The Super Soft Type III life vest works well for beginning swimmers who have experience in the water. It's made of soft, comfortable vinyl coated foam and has easy to close snaps and adjustable straps.  Note that children's life vest sizing is based on the child's weight and not their chest size, as with adults.  The Super Soft life vest comes in three sizes to fit children 30 to 90 pounds.
Other Ways to Promote Water Safety
Supervising young children at the pool or beach is a big responsibility, but outfitting them with a swim aid or flotation device gives you the assurance that they'll stay afloat if they get into trouble or deep water.  A water immersion pool alarm like the Safety Turtle wristband is another good way to protect non-swimmers.  If the wearer falls or jumps into the water, an alarm will sound immediately.  Pool owners should also keep a throwable ring buoy on hand that can be tossed quickly to anyone struggling in the water.  For more information on how to prevent child drownings, see these guidelines published by the CDC.