Around 48 million Americans have some degree of hearing loss, but only one in five persons who is hearing impaired wears a hearing aid.  The good news is that there are many affordable household devices and systems on the market today to help the hard of hearing.   If you know someone who struggles with hearing loss, here are some unique gift ideas to make their life easier and more enjoyable.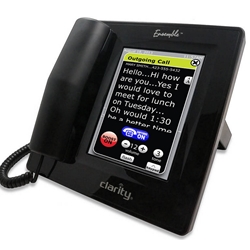 Amplified Phone — Makes Talking on the Phone Fun Again
Talking on the household phone can be extremely frustrating for people with hearing loss. Today's wide selection of amplified phones for the hearing impaired offer a variety of features that address just about every need, including large keypads, adjustable volume and tone, extra loud ringers and hearing aid compatibility. Be sure to consider the user's degree of hearing loss (mild, moderate or severe) and choose a phone with the appropriate amplification level.  Here are a few recommendations, based on amplification:
Phone w/ Colorscreen Converts Conversations to Text
For users with severe hearing loss, the Clarity Ensemble Amplified Captioned Phone with ClearCaptions uses state-of-the-art technology to convert what callers say into text, so hearing impaired users won't miss what is being said.  The 8″ color touchscreen display has adjustable font sizes/contrast make it easy to read captions.  Phone provides up to 50dB amplification and has three adjustable tone settings.  It also has a speakerphone for hands-free calling.
Digital & Cordless
For users with moderate hearing loss who want portability, the cordless Serene Innovations CL30 uses DECT 6.0 digital technology to amplify incoming sound up to 40dB and make every word sharp, clear and intelligible.  Other features include large, backlit buttons; talking Caller ID and keypad; one-touch emergency buttons; and a high performance speakerphone.
Photo Address Book for Easy Dialing
For people with mild to moderate hearing loss, the Clarity Photo Phone P300 provides up to 26dB of amplification and features nine programmable speed dial buttons you can customize with pictures of family and friends. The extra large, easy-to-use dial pad makes this phone especially good for users with vision problems.
Personal Sound Amplifier — Hear Better in Noisy Places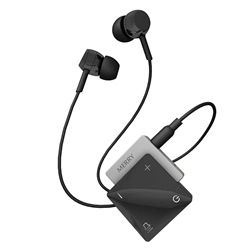 For hearing impaired people who won't wear a hearing aid or can't afford one, a personal sound amplifier makes it easier for them to communicate with family and friends again and follow dialogue on TV shows and movies.  Although designs vary, all personal amplifiers consist of a transmitter, receiver, microphone and either ear buds or over-the-ear headphones.  Personal amplifiers are small and portable, so they're easy to carry in a pocket or purse and pull out quickly in challenging listening situations for filtering out background noise, enhancing speech and increasing sound volume.
Alerting Systems — No More Missed Doorbells, Phone Calls or Wakeup Alarms
People with hearing loss often discover that they can't hear important everyday sounds like doorbells, telephones and alarm clocks. Fortunately, there's a wide range of notification systems and signalers designed to help people with hearing loss live and function normally at home or when traveling, including these popular alerting systems:
Visual Doorbell Alerts
When someone is at the door, the Nutone Wireless Doorbell notifies users by flashing a strobe signaler and sounding an audible chime.  The Sonic Alert Universal Sound Signaler flashes the lamp of your choice to alert for ringing doorbells, telephones, kitchen timer, babies crying, etc.
Telephone Alerts
Every time the landline phone rings, the Telestrobe Telephone Ring Signaler flashes a bright strobe light.  The flashing Dakota Alert Telephone Signaler also sounds an extra loud ringer (up to 95 dB).  For a visual signal that a mobile phone is ringing or has received a new text message, the Dreamzon LightOn cradle flashes a bright LED light.
Vibrating Alarm Clocks
Do you know someone who can't hear their alarm clock in the morning?  The super loud Bellman Vibrating Alarm Clock Classic will wake them with a powerful bedshaker, high-intensity LED light and audible alarm that increases in sound volume up to 100dB.  To waken one or two sleepers on varied schedules, the Amplicom TCL Vibe Digital Dual Alarm Clock features a loud audible alarm (75dB) and a silent vibrating wristband alarm that can be set for different times.
Other Great Gifts for the Hearing Impaired
Regardless of a person's age, all of the products listed above would make a welcome gift for someone who is hearing impaired.  Other popular gift suggestions for the hard of hearing include:  TV listening systems, fire and CO alerting system with strobe light and a baby cry transmitter.