With construction equipment theft exceeding $1 billion annually, a strategically-placed construction camera is one of the most effective ways to secure a jobsite and deter thieves and vandals. But many contractors say they don't bother with construction cameras because they're too expensive and a hassle to use. In response to these complaints, Sensera Systems has introduced two new 100% solar-powered and 100% wireless and web-based construction cameras that are affordable, easy to install and easy to use.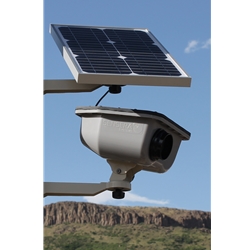 Needs No Electricity, Installs in Minutes
The MC-30 and MC-60 construction cameras are powered completely by the sun and require no electricity. That means they can be installed anywhere, even at jobsites without power.
Packaged as a complete system – including the solar panel, integrated battery system, brackets for pole mount – the Sensera MC-30 and MC-60 cameras are designed for easy installation by site staff in only 20 minutes. Compact and portable (less than 14 lbs.), these cameras mount on any pole, post or roof tripod and can be easily moved from site to site.
Multi-Functional, Including Time Lapse Imaging
Most jobsites have poor security and many are left unsecured over the weekend, making them vulnerable targets. The feature-rich Sensera outdoor surveillance cameras can protect your property when no one is around. They are also a great tool to monitor a project's progress.   The MC-30 construction camera provides:
Time-lapse camera documentation
High-resolution color still and video imaging
Data logging
Alerting via text/email
Power management
Image progress comparison
Annotation and more
Live Video-Streaming Too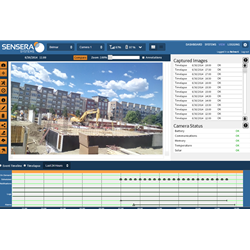 The MC-60 construction camera has all of the functionality of the MC-30 plus live video-streaming so view high-resolution on-demand images at any time.    The DVR enables you to record continuously either 720p video or high resolution still images every 30 or 60 seconds to capture an ongoing record of everything happening at your site.  And because its DVR records local to the camera, you don't incur additional cellular data usage.
Monitor from Anywhere, Reduce Costs Traveling to the Site
The wireless MC-30 and MC-60 construction cameras communicate via cellular or WiFi (both are built in). If your location lacks an Internet connection, use its cellular capability.
The cameras operate on Sensera's MultiSense™ Cloud Service (various data plans are available) and provide a 100% web-based user interface that allows you to access your camera from any PC or mobile device via web browser, with no software to buy, install or maintain. Project managers and investors can easily view activity and progress remotely on a smartphone, PC or tablet instead of spending time and money traveling to and from jobsites.
Key Benefits of Outdoor Surveillance
Installing a Sensera System's MC-30 or MC-60 construction camera at your jobsite is an affordable solution for real-time site monitoring, time-lapse viewing and enhanced security. Construction site cameras like the MC-30 and MC-60 provide a number of benefits, all aimed at improved project quality and improved project management, including:
Keeping stakeholders informed
Reducing site travel costs
Project marketing
Visual audit trail to reduce liabilities
Reducing project disputes, manage subcontractors and milestones
Other Tips to Secure the Jobsite
In addition to construction camera surveillance, here are some other recommendations for securing your jobsite to prevent equipment and material theft:
Increase lighting during off hours
Let employees know the boss is paying attention
Schedule supplies as needed
Keep good records
Practice effective inventory management
Secure your perimeter
Review your current security plan
Use theft deterrents and proven recovery systems.