Winter's cold, snowy weather presents homeowners with many challenges, including the possibility of frozen pipes in walls and unheated areas of the house such as crawlspaces, basements and attics. In extremely cold and windy conditions, frozen pipes can crack and burst in a matter of hours, spraying gallons of icy cold water and doing thousands of dollars worth of damage to your home's floors, walls, appliances and furniture.
How to Prevent Frozen Pipes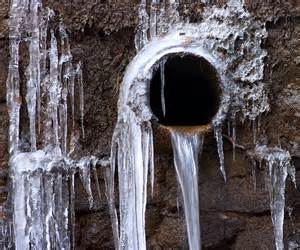 The first step to preventing frozen pipes is to keep the interior temperature above 55°F.  (In an unoccupied house, you can shut down the heating system as long as you completely drain the plumbing system.)  Next, insulate all pipes in unheated or uninsulated areas and seal all holes and cracks in outside walls.  Finally, invest in a freeze alarm.  A freeze alarm is a device that monitors the indoor temperature and alerts you when the temperature drops below a certain level (typically around 45° F) so you can intervene before the pipes freeze and burst.  Here are three of the most popular freeze alarm models.  While deciding which is the best for your situation, consider how they send alerts.
Good: Â Freeze Flash Temperature Warning Light
Imagine you are walking your dog down the street and you see a bright, flashing red light in your neighbor's living room window. Â It's mid-Feburary and you remember that their home is empty because they went to Florida to escape the cold. Â Luckily, you have their cell phone number so you call to let them know that you see a red light flashing in their window, so something must be wrong.
That's basically how the popular Freeze Flash Warning Light works. Â For people who live in a community with friendly, reliable neighbors, a Freeze Flash temperature warning light is an effective way to alert passers-by that the heat in the house has failed and the indoor temperature is plummeting. Â Set up is easy. Â Just position the Freeze Flash in a front-facing window and ask neighbors to contact you if they notice it flashing. Â Visibility of the super bright LEDs is 1,000 feet away at night! Â For around $80, the battery-powered Freeze Flash is an affordable solution for homeowners with trustworthy neighbors.
Better: Â Intermediate Freeze Alarm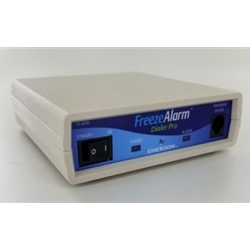 If your home is in a remote location where there are no neighbors, or no reliable neighbors, or you don't want burden friends and ask them to be your watchman, you'll need some type of "call out" freeze alarm. Â A call out freeze alarm monitors the inside temperature and contacts you directly by phone call, email and/or text message if the temperature drops below or above your set-points. Â One of the most popular call out freeze alarms for residential use is the Intermediate Freeze Alarm. It monitors high or low temperatures as well as power outages. Â People like it because it's inexpensive (often on sale for about $125), uses a landline* phone connection and calls up to three programmable phone numbers.
Here's how it works.  Say you set the low temperature threshold on your Intermediate Freeze Alarm to 45°F.  If your furnace fails or the power goes out and the temperature drops below 45°F, your Intermediate Freeze Alarm will begin calling your three emergency phone numbers indefinitely until someone picks up and acknowledges the call.  It also has a "Quick Status Check" feature that lets you call in to check current temperature, power and back-up battery status.  You can even change the settings by phone call.
* In homes without landline phone service, the Intermediate Freeze Alarm can communicate via a cellular network by adding a cellular terminal or Bluetooth terminal.
Best: Â Temperature@lert Cellular Temperature Monitor System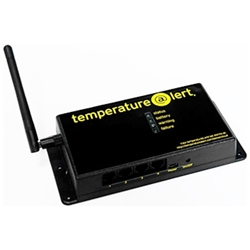 Let's face it, people are in love with their smartphones these days and many new devices are being designed to be controlled by a smartphone, including the latest generation of freeze alarms.  The Temperature@lert Cellular Temperature Monitor System is fast becoming a favorite amongst homeowners who want a cellular-based freeze alarm they can control with their smartphone or computer.  Because it communicates via a cellular connection*, it's ideal for homes without a landline phone or full-time Internet connection.  Another plus is you won't have to worry about your freeze alarm not working because the phone lines being downed by harsh weather.
Operation is simple.  Just plug the Temperature@lert Cellular Edition into an electrical outlet and it immediately begins sending temperature reports via the cellular phone network to the Temperature@lert monitoring system and dashboard website.  All of the data is stored securely and can be viewed at any time.  If the temperature in your home goes below or above your set-points, the Temperature@lert sends a text message or email alert to multiple smartphones or computers at the same time!  Settings can be changed through the web.  You'll also be notified if the temperature returns to normal and if there's a power outage.  For around $400, the Temperature@lert Cellular Edition is a very sophisticated but easy to use device.
*If you like the sound of the Temperature@lert Cellular Edition but don't have reliable cell service at your location, take a look at the Temperature@lert Wi-Fi Edition.  It's the same great freeze alarm but uses an Internet connection instead and sells for about $300.
Still Worried About Frozen Pipes?
These are three of the best selling freeze alarms on the market, but there are many other models to choose from that offer a range of features and capabilities.  If you are worried about frozen pipes but can't decide which of these freeze alarm is right for you, take a look at this Freeze Alarms Comparison Chart and read the article "Freeze Alarms: Why You Need One, How to Choose".   For technical support, contact the experts at diycontrols.com.  For as little as $50, you can protect your home and property from the damage and mess of frozen pipes.