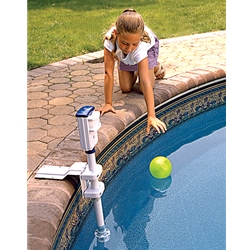 1)  First and foremost, get a pool alarm to protect the children in your household. A traditional pool alarm like the Poolguard or PoolEye mounts on the side of the pool, and for extra protection, you can have your child wear a Safety Turtle 2.0 wristband immersion alarm.  Read more about pool safety at Swimming Pool Safety Tips for Parents and Homeowners.
2) A pool alarm will also protect neighborhood children who may wander into your pool area. A really loud one like the 120 decibel alarms made by Smartpool could likely be heard by neighbors even if you're not home.
3) Dogs, cats, and other animals are just as susceptible to pool accidents as children are. Certain pool alarms, such as the PoolPatrol, can alert you when anything 8 pounds or heavier enters the pool.
4) It's the law. Most cities and/or states now have laws requiring pool alarms and/or door and gate alarms. Door and gate alarms with no delay like the Poolguard DAPT-WT Door Alarm are available to satisfy local codes.
5) You will be the envy of your non-tech-savvy neighbors when you brag about the new "high-tech subsurface wave detection device" that you just installed in your pool. They don't need to know that anyone who can drill a hole can install a pool alarm.
Check out the handy Pool Alarm Comparison Charts at DIYControls.com to help you pick out the right alarm for your pool. Then sit back, relax, and enjoy your new found peace of mind and bragging rights.