If your dog or cat spends a lot of time outdoors, these pet safety products will help protect them from the kinds of risks that can get them in trouble, like wandering away, dehydration when left outside on a hot day, and drowning in your backyard pool.  We even have a special "doggy ladder" to help tired or aging dogs who like to swim off a boat get back onboard easily and safely.
Prevent Wandering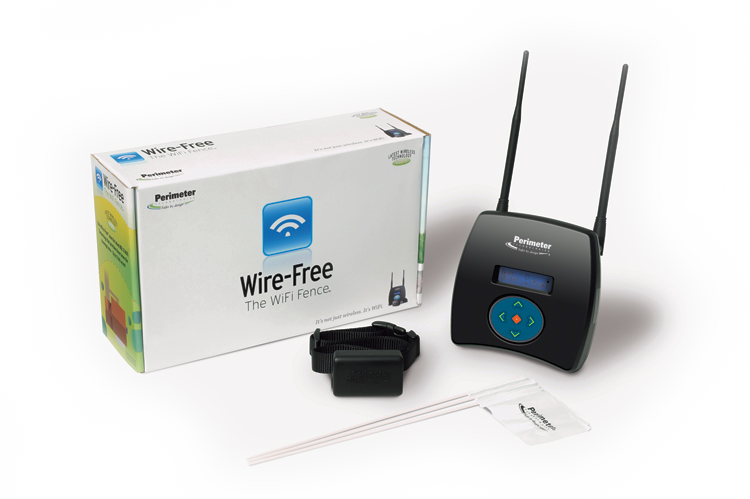 Wireless Pet Fences — Wireless pet fence technology uses radio signals to create a boundary so there are no wires to bury (like with a wired electric fence) or post holes to dig (like with a solid barrier fence). The radio signal is picked up by a receiver collar worn by the pet. When she gets too close to the boundary, the collar emits a warning tone. If she crosses the boundary, she receives a static correction.
Take a look at the Wi-Fi Wire-Free Dog Fence by Perimeter, one of the newest wireless fences on the market, uses digital frequency encoding that eliminates stray signal interference from neighboring dog fence systems as well as other signal generating devices.
In-Ground Pet Fences — An in-ground electric fence works like a wireless fence except that the boundary is created by a wire that is buried under the ground.  For small yards, consider the Eyeanimal Classic Pet Fence that gives pets complete freedom within a perimeter of up to 1,500 feet.  For yards up to 6 acres, there's the Eyeanimal Deluxe Pet Fence.
Prevent Dehydration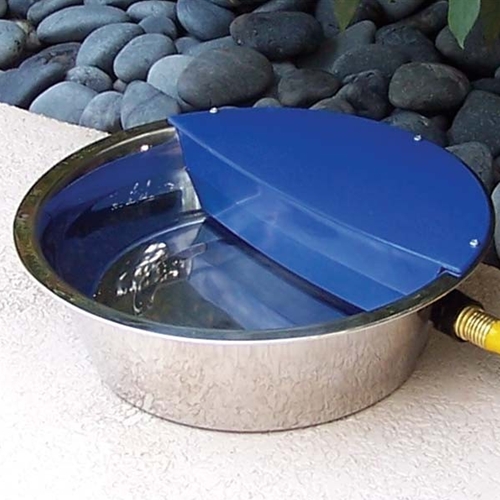 Outdoor Pet Waterers — Outdoor animals need an ongoing supply of fresh water so they don't succumb to dehydration, especially when the weather is warm.  One of the easiest ways to ensure that your dog or cat has an unlimited supply of cool, fresh water is with an outdoor pet waterer that refills automatically.
The Sir Aqua II (pictured here) has a 1.8 gallon heavy duty stainless steel bowl that attaches to any garden hose.   The built-in float and valve mechanism adds water as needed without overflowing.
During cold weather months, the electric K&H Stainless Steel Thermal Bowl keeps pets hydrated and prevents water from freezing.
If you prefer a bowl that can be mounted on the side of a wall or fence, take a look at the RPI TG40 1.5 Gallon Pet Waterer.  It's ideal for dogs of all sizes, as well as all medium to large outdoor exotic pets, including horses and other livestock.
Prevent Drowning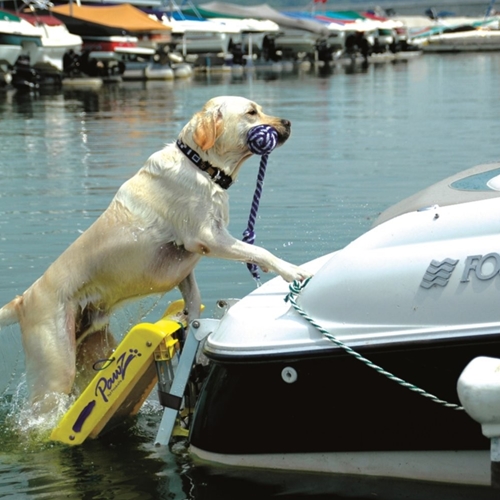 Pet Safety Products for Backyard Pools — If your yard has an in-ground swimming pool, keep unsupervised pets and stray animals out of the pool by enclosing it with a pool fence that's at least 48-inches high.  To receive an alert if the pool entrance is left open accidentally, install a gate alarm.
As an added precaution, get a pool alarm that sirens when a person or pet falls or jumps into the water. A water immersion pool alarm like the popular Safety Turtle system activates when a special tag worn on your pet's collar gets wet, eliminating the possibility of false alarms caused by wind or falling branches.
Water Safety on Boats — If your dog likes to take a swim off of your boat, remember that swimming is hard work for dogs and many tire quickly.  A doggy boat ladder like this one by Pawz attaches easily to almost all boat ladders with three or more steps and makes it easy for pets to get out of the water and back on board.
More Pet Safety Products
For additional pet safety products and training aids, go to the Pet Page on the diycontrol.com website.  There are some very unique items, including bark control collars, automatic feeders, and our favorite — the cat video cam that records a video of your pet's outdoor adventures!