Attention vacation rental property owners: Â  Imagine how much easier your job would be if you could monitor and manage your rental property from anywhere using your smartphone or computer? Â With these cool devices and a high-speed Internet connection at your rental site, you can use a smartphone, tablet or computer to:
Control heating and cooling;
Automate lighting;
Receive alerts if your smoke or CO detectors are alarming;
View real-time surveillance video of the activity outside your house.
Adding remote monitoring and control to your rental property doesn't have to be difficult or expensive.  All of the devices featured here are designed for do-it-yourself installation as well as priced for budget-conscious property owners.
Control Heat and A/C Remotely
Problem:  Energy can be one of the greatest expenses at a rental property. How can you control the thermostat if you're not there?
Solution:  With a remote-controlled programmable thermostat like the Venstar ColorTouch you can monitor and control the heat and central A/C in your rental property from anywhere via your smartphone or computer.  You can also use the free mobile app for monitoring.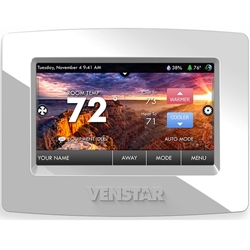 Key Benefits:Â Further, pre-heating or pre-cooling your house before tenants arrive… is a service they will definitely appreciate! Â Also, learn if tenants remembered to adjust the temperature upon check out, and if they didn't, lower the heat or turn off the A/C from anywhere using your smartphone. Â Limit high or low temperatures a tenant can set, or, restrict their access by requiring a passcode.
Price: Â Around $170.
Control Lighting from Anywhere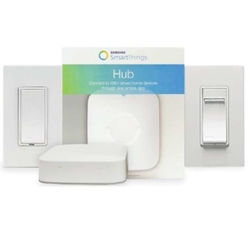 Problem: Â A dark house at night is a flag to burglars that no one is home.
Solution:  Control and automate the lighting at your rental property remotely with a smart home control kit like the Samsung SmartThings + Leviton Home Automation Bundle.  This expandable system connects wirelessly with a wide range of smart devices and makes them work together. It comes with the SmartThings hub, a Leviton universal dimmer and a Leviton switch as well.
Key Benefits:  Create a random on/off lighting scheme to fool potential intruders.  Works with all kinds of lighting, from latest dimmable LED and CFL technologies to traditional incandescent and halogen bulbs.  Compatible with many "smart" Z-wave, Zigbee, and WiFi sensors and modules, including lights, speakers, locks, thermostats, sensors and more.
Price: Â About $240.
Receive Instant Alerts if Smoke/CO Detectors are Alarming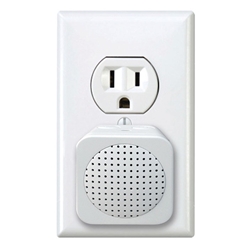 Problem: Â If both you and your tenants are out, how will you know if the smoke or carbon monoxide detectors in your rental property are activated?
Solution:  With a Kidde RemoteLync Smart Home Smoke/Carbon Monoxide Alarm Monitor, you will.  RemoteLync "listens" to existing smoke and CO alarms and automatically sends an alert to your iPhone or Android-compatible smartphone or tablet if one of these alarms goes off.  Plugs into a wall outlet and communicates via the home's wireless router.  One RemoteLync covers an average-sized home.
Key Benefits:  Receive instant notification of a home emergency when you are away from your rental property.  In addition, it is an easy plug-and-play setup. As well, it communicates with most UL-listed smoke and CO alarms manufactured after 1999. You won't have to install all new alarms throughout your home.
Price: Â Around $100 with no recurring service fees.
View Live Video of Tenants, Servicemen and Trespassers Coming and Going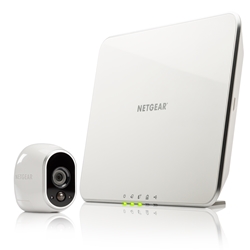 Problem: Â Coordinating things like cleaning services or deliveries is difficult when you don't know when your tenants have checked in or out.
Solution:Â  An outdoor motion-activated surveillance camera like the Arlo HD security camera watching over the entrance of your vacation rental property. You'll receive automatic real-time email or push notifications when tenants, service people, deliveries, visitors, and trespassers have arrived or departed.
Key Benefits:Â  First, it lets you watch live remote video streaming of the activity at your house on your smartphone. Â Also, it stores up to 7 days of video for later viewing. Â Another feature is that the wireless setup is simple, you can do it yourself. Â Night vision cameras work even in the dark. Â In addition, you can add up to 5 cameras to observe activity all around your home's perimeter.
Price: Â About $260. Â The free basic plan includes 7 days of secure cloud DVR storage. Â Also, you can upgrade to add more storage if you want.
Other Handy Devices for Rental Property Protection
In addition, there are many other remote monitoring devices on the market today that make it easy for absentee owners to protect their vacation rental property when they can't be there.  First, a freeze/heat alarm, for instance, is a must-have to make sure your rental home does not incur damage from frozen pipes or high heat and humidity.  Also, look for a model based on the type of 24/7 communications you have at your house — Internet, landline phone or a good cellular connection.  Another issue is keeping out burglars.  With a DIY wireless security system like the Oplink TripleShield is an affordable alternative to pricey professional alarm companies.  Finally, to protect against water leaks around appliances a water leak detector can be added.   Place it by hot water heaters or leak-prone areas, it is one of the best investments a homeowner can make.