If your upcoming vacation includes children, pets and water, it's a good idea to put together a water safety plan before leaving home.  Do some research to learn what types of natural or man-made water you will encounter where you are going and plan to bring the right equipment to keep your family and pets safe.   This is especially important if you are going to another country where there may not be water safety laws or protection like you are used to at home, such as lifeguards or safety fencing around pools and spas.  To ensure that your next family vacation is safe and fun, here are some water safety tips to help you plan.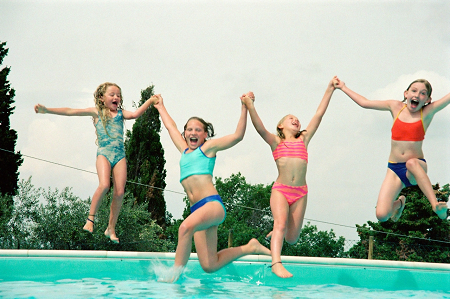 Begin by Doing Your Homework
Before leaving on vacation, take the time to investigate the type(s) of water and water activities that will be available where you are going so you can travel prepared.  For instance, your seaside resort may include an in-ground swimming pool as well as a beach, each of which presents a different kind of drowning risk for young children.
Make a phone call to find out if your hotel or beach has lifeguards.  Many do not (particularly in foreign countries) and simply post a "swim at your own risk" sign.  Clearly, these would not be good destinations for families with young children.  Or maybe the lake house you rented includes canoes or kayaks, in which case you will want to find out what kind of personal flotation devices are provided, if any.
Pack a Portable Pool Alarm
Did you know that drowning is the number one cause of accidental death in young boys under the age of 4 according to the CDC?   That risk increases in unfamiliar surroundings and places with less security.   So, if your vacation destination has a pool or a beach or you will be on a boat, a portable pool alarm can be an effective way to protect young children around open water.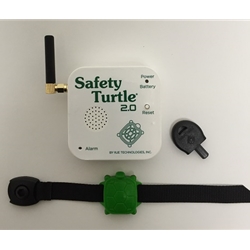 The Safety Turtle water immersion system is one of the most popular pool alarms.  It's also easy to pack and set up.  The Safety Turtle system comes with colorful transmitter wristbands that you secure on your child's wrist.  As soon as the wristband is immersed in fresh water (like when a child falls into a pool or wanders into breaking waves), a loud alarm sounds instantly at the wireless base station and continues until it is reset.  The Safety Turtle system can also be used to protect pets by attaching a special transmitter to their collar.
Take your Safety Turtle pool alarm with you to the beach, swim club, boat or neighbor's pool — it works in any fresh water.  Safety Turtle is completely portable and plugs into any USB or electric outlet (power adapters are included).
Bring Your Own Life Vests
A life vest serves as another layer of protection for children, adults and pets when they are in or near water or on a boat or dock.  However, an improperly worn or ill-fitted life vest can become a hazard, which is why it's a good idea to bring your own life vests with you on vacation.  There are various types of life vests.  Some are designed for a specific water activity, like kayaking or waterskiing, and other styles are specially-designed for babies and young children.  For travel, adults may prefer to bring an inflatable life vest that's compact and easier to pack.  The Coast Guard publishes useful guidelines for choosing the right type of life vest on their website.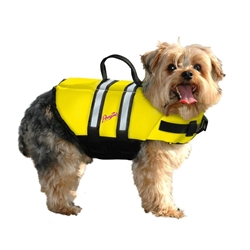 Consider getting your pet a life vest too.   Although most dogs are natural swimmers, senior dogs and certain breeds tend to tire easily.  An animal life jacket will help your dog stay above the water until he or she can be rescued.  Most animal life jackets have a handle on the back to make it easy to lift the dog out of the water.
Summary
Whether your next vacation will be at a beach, lake, pool or on a boat, having a water safety plan can minimize the risk of your child or pet drowning.  Research where you are going so there are no surprises when you get there and pack the right gear, including a portable pool alarm and life vests.
Once you arrive, be prepared to supervise your children at all times.  Remember that the leading cause of drowning in children is lack of adult supervision.  Parents and caretakers cannot be "too safe" when it comes to protecting little ones near water.