A pool safety fence is the first "layer of protection" to prevent accidental drownings in your backyard pool or spa, according the U.S. Consumer Product Safety Commission.  But professionally installed fencing can be expensive, which is one reason why convenient, cost-effective mesh pool safety fencing has become a popular alternative to wood, PVC or aluminum pool fences.  And for even greater cost savings, you can install a mesh pool safety fence yourself.    This article discusses the top eight advantages to using mesh fencing around your pool.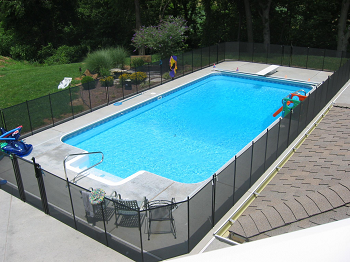 What is a Mesh Pool Safety Fence?
Mesh pool safety fences are made of strong, transparent mesh surrounded by a durable border. The mesh panels are attached to sturdy poles that form sections of fencing that are usually 12 to 15 feet long and at least 4 feet high.  The sections can be arranged to conform to the configuration of your pool making mesh fencing ideal for enclosing irregular-shaped pools.
The support poles get inserted into holes that are drilled into the pool deck.  The sections of fence are then hooked together, forming a secure barrier that is held in place by tension.
Advantages of a Mesh Pool Safety Fence

 
In addition to cost savings, there are other advantages to a mesh pool safety fence, including:
1)   Safer Because it Isolates the Pool from the House 
Because a mesh pool safety fence is installed right into concrete deck surrounding the pool, it creates an effective barrier that separates the pool area from the house and yard.  So if a young child wanders out of the house undetected, the mesh fence prevents him or her from getting into the pool area.
2)   Safer Because Children Can't Climb It

Unlike traditional solid pool fencing, toddlers and small children can't climb or scale a mesh pool safety fence.  The mesh is soft but tightly knit, so there's nothing sturdy for them to grab or step onto.
3)   Easy to Install 
Mesh pool safety fences that are specifically designed for the do-it-yourselfer – like the Pool Fence DIY System by Life Saver — are sold totally assembled in convenient 12-foot long sections that can be easily installed by a homeowner using commonly available tools in almost any type of deck.  Each section includes the necessary latch, deck sleeves and deck caps, as well as a template for fast and easy installation.
4)  Easy to Remove for Entertaining
When you're entertaining adults by the pool and want to remove your mesh pool safety fence temporarily, it's is easy to knock down, roll up and store.   Each 4-foot by 12-foot panel weighs only 14 pounds.
5)  Strong
The Pool Fence DIY System by Life Saver uses the highest quality materials:
Textilene®,  the strongest, most transparent mesh material available;
Sturdy, powder-coated poles with a half-inch reinforced with stainless steel pin that goes into the deck;
Nickel-plated snap safety latches;
A reinforced, double-stitched border;
Round-headed stainless steel screws with no sharp edges.
6)   Attractive and Weather Resistant 
Mesh pool safety fencing maintains its good looks for decades.  While nearly indestructible, the mesh material used in high-quality pool safety fencing by manufacturers like Life Saver is infused with top-of-the-line UV inhibitors that keep your pool fence looking brand new even after years of exposure to harsh sunlight or cold winter temperatures.
7)   Protects Pets from Accidental Drowning
Most pets can't climb or jump over a four-foot high mesh pool safety fence and neither can most wild animals.  A mesh safety fence will help protect your pets from drowning and keep unwanted animals out.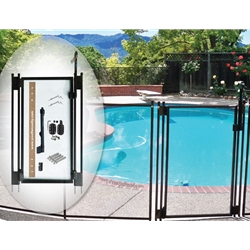 8)  Child-Resistant Self-Locking, Self-Closing Gate 
Life Saver offers an optional self-closing gate that uses a proven, powerful magnetic latch and hinge system that secures the gate once closed.   No amount of shaking, pushing or pulling can disengage the latch. This latch has been designed to meet strict international safety codes, including all codes relating to swimming pool gate safety.
Summary 
A do-it-yourself pool safety fence is a cost-effective way to get all of the advantages of a mesh pool fence for a fraction of the cost of a professionally installed system.  One 4-foot by 12-foot panel from the Pool Fence DIY System costs a little more than $100.00; a typical backyard pool will need 9 or 10 panels.  The savings you will realize by choosing a DIY safety fence is significant!
With an estimated 300 children under the age of five drowning each year in backyard pools, adding another layer of protection around your pool is critical if you have small children.  For added safety, consider getting a pool alarm and/or gate alarm in addition to a pool safety fence.