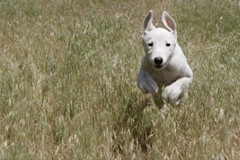 If you are looking for a way to keep your dog safe while he enjoys the freedom to explore and romp in your yard, a wireless dog fence is an affordable and effective alternative to a professionally-installed or do-it-yourself wired electric dog fence.
Here's why:
Latest Technology
Wireless dog fences are the latest innovation in pet safety. Unlike conventional wired electric dog fences that use a buried wire to create a barrier around your yard, wireless systems use a base station that transmits a radio signal which forms an invisible circular boundary. The radio signal is picked up by a receiver collar worn by the dog. When the dog gets too close to the boundary, the collar emits a warning tone. If the dog crosses the boundary, he receives a static correction.
The Wire-Free Wi-Fi Dog Fence by Perimeter Technologies is the only wireless fence that uses WiFi technology.  The Wire-Free Dog Fence intelligently tracks the location of your dog at all times, providing a reminder to respect the established boundary safe area, all while communicating critical safety information back to you.
Most pets learn how the system works after just a couple of weeks of training. Eventually, many dogs learn to back off as soon as they hear the warning tone, so static corrections are no longer needed to keep them happy and safe within the boundary.
Covers up to 2-1/2 Acres
The Wire-Free Wi-Fi Dog Fence provides a much larger signal field (2+ acres) compared to competitive wireless dog fence systems which typically protect less than 3/4 of an acre.  For homes with with very big yards, the Wire-Free Wi-Fi Dog Fence is the ideal system.
Installation Takes Minutes
Installation of a wireless dog fence is easy and involves choosing a location in your house where the base station can be mounted on a wall or set on a shelf and plugged into an electrical outlet. The size of the circular boundary is defined by the system and can be adjusted.
No Wires, No Digging
Wireless dog fence technology uses radio signals to create a boundary, so there are no wires to bury (like with a wired electric fence) or post holes to dig (like with a solid barrier fence). That's a big advantage if you live an area with lots of rocks or in the wintertime when the ground is frozen.
Less $$$
Wireless dog fence systems cost about $300 to $350, whereas a professionally-installed wired electric fence typically runs $1,500 to $2,000 and up, and solid fencing costs even more.
Protects Up to 2 Dogs
The Wire-Free Wi-Fi Dog Fence by Perimeter Technologies can protect up to two dogs.  The system comes with one Wi-Fi collar transceiver.  A second collar transceiver can be ordered as an accessory.
Adjustable "Correction" Settings
The Wire-Free Wi-Fi Dog Fence is the only of do-it-yourself dog fence systems that offers the ability to control the stimulation settings for each dog on the system. This feature is crucial for homes with an older dog or one that is more sensitive to electronic correction. Eight programming options are available for each dog on the system.
Safer than Conventional Fencing
Many dogs are really good jumpers and diggers, which is why a wireless dog fence is actually a more effective way to keep pets contained than a conventional solid fence that dogs can jump over, dig around or tunnel underneath.
Take it Anywhere Convenience
Wireless dog fences are completely portable, making them especially popular with families with vacation homes or if you are traveling in your RV. Just unplug the base station, pack up the receiver collar, and take the system with you.  As long as you have a reliable power source, you are good to go!
Aesthetically Pleasing and No Maintenance
Unlike a a chain link fence,  the boundary of a wireless dog fence is totally invisible, so the beauty of your yard remains unchanged.  It also requires no upkeep as do most solid fences, which eventually need painting and repairs.  Even a wired electric fence can require time-consuming maintenance if the buried wires become exposed or damaged.