A freeze alarm is one of the most convenient and effective ways to monitor temperature extremes in an unoccupied home. Â Freeze alarms can also be used in other types of buildings where temperature-sensitive materials, plants or animals are kept, such as unheated garages, barns or sheds. Â Here's how to choose the best freeze alarm for your outdoor building based on the power supply and communications methods available at your site and the conditions you want to monitor for (in addition to temperature).
No Electricity? 
Option #1: Â Wireless Sensors
If your outdoor building doesn't have electricity, you can use a freeze alarm with wireless sensors, such as the Metropolitan Ion Cellular Gateway.  This freeze alarm has a wireless temperature sensor that operates 250 to 300 feet non-line-of-sight from the gateway (base unit).  Set up the gateway inside your home or office and install the wireless temperature sensor in your garage, barn or shed.  If the distance between your house and the outbuilding exceeds 300 feet, simply add a wireless range extender.
The Metropolitan Ion Gateway communicates via a cellular connection, so it's perfect for locations without Internet or landline phone service. Â When there's a temperature emergency, it sends a text message or email alert to your smartphone.
Option #2: Â Solar-Powered
A solar-powered freeze alarm like the weatherproof Temperature@lert Cellular Solar Temperature Monitor System is is ideal for remote locations and outdoor operations that lack electricity, such as barns and orchards.  After the sun goes down or on a cloudy day, its extended-life lithium ion battery delivers up to 4 weeks of continuous service.
The Temperature@lert Cellular Solar Temperature Monitor System operates on the GSM wireless network and sends phone call, text message or email alerts.  You can add plug-and-play optional sensors to monitor things like soil moisture, wind speed and tank level.
Got Good Internet?
Garages, barns or sheds that are within range of your existing Internet infrastructure can use a freeze alarm that communicates via the Internet.  Most  Internet freeze alarms give you the option of a wired or wireless connection.  Cost savings is one of the biggest advantages of an Internet freeze alarm.  Since you are using your current Internet network, you won't have the extra expense of a cellular or landline phone connection.
Wi-Fi or Wired Connection
The Temperature@lert Wi-Fi Edition is a stand-alone freeze alarm that communicates via a wireless Wi-Fi connection or a an Ethernet cable. Â It's easy to install, easy to use and comes ready to monitor for high and low temperatures. Â Alerts are sent as email or text messages to an unlimited number of smartphones or computers (text service fee required). Â Remote programming is possible by logging in.
Need Advanced Monitoring?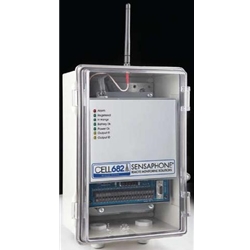 If you need advanced remote monitoring and control of a commercial operation in an outdoor building where telephone or Ethernet lines are not available or too expensive, the Sensaphone Cell682 is the answer.  This freeze alarm has 14 total inputs — 8 dry contact and 6 analog (4-20mA) connections — plus 2 relay outputs.
Users can access information and perform programming changes through a web portal from any web-enabled device. Â In the event of an alarm, the Cell682 notifies up to 24 people by any combination of voice phone call, e-mail, or text message. Â The Cell682 is AC powered and includes a 12-hour backup battery. Â For additional information on the Cell682, take a look at this video.
More Freeze Alarm Choices
Most freeze alarms are multi-functional and can do more than just monitor for low temperatures in your outdoor building.  Sensaphone, one of the leading manufacturers or remote monitoring equipment, offers an extended line of freeze alarm models for professionals and homeowners.  For a comprehensive look at a variety of freeze alarms and their features, go to the Freeze Alarms Comparison Chart on the diycontrols.com website.