If your dog loves the water and is a strong swimmer, you may think that dog stairs, ramps and life vests are just silly props marketed to doting pet owners.  But the fact is many dogs can't swim because of their age, health or breed and are at risk of drowning when they jump of fall into water.  Some dogs simply lack experience swimming in challenging conditions — like a wavy ocean or super-wide lake — while other dogs just don't like getting wet!
Whether your pet is an enthusiastic or reluctant swimmer, the Whole Dog Journal recommends that per owners teach their dogs how to swim and how to be safe in the water, which includes using water safety devices for pets like dog ramps, stairs, alarms and life vests to keep pets safe.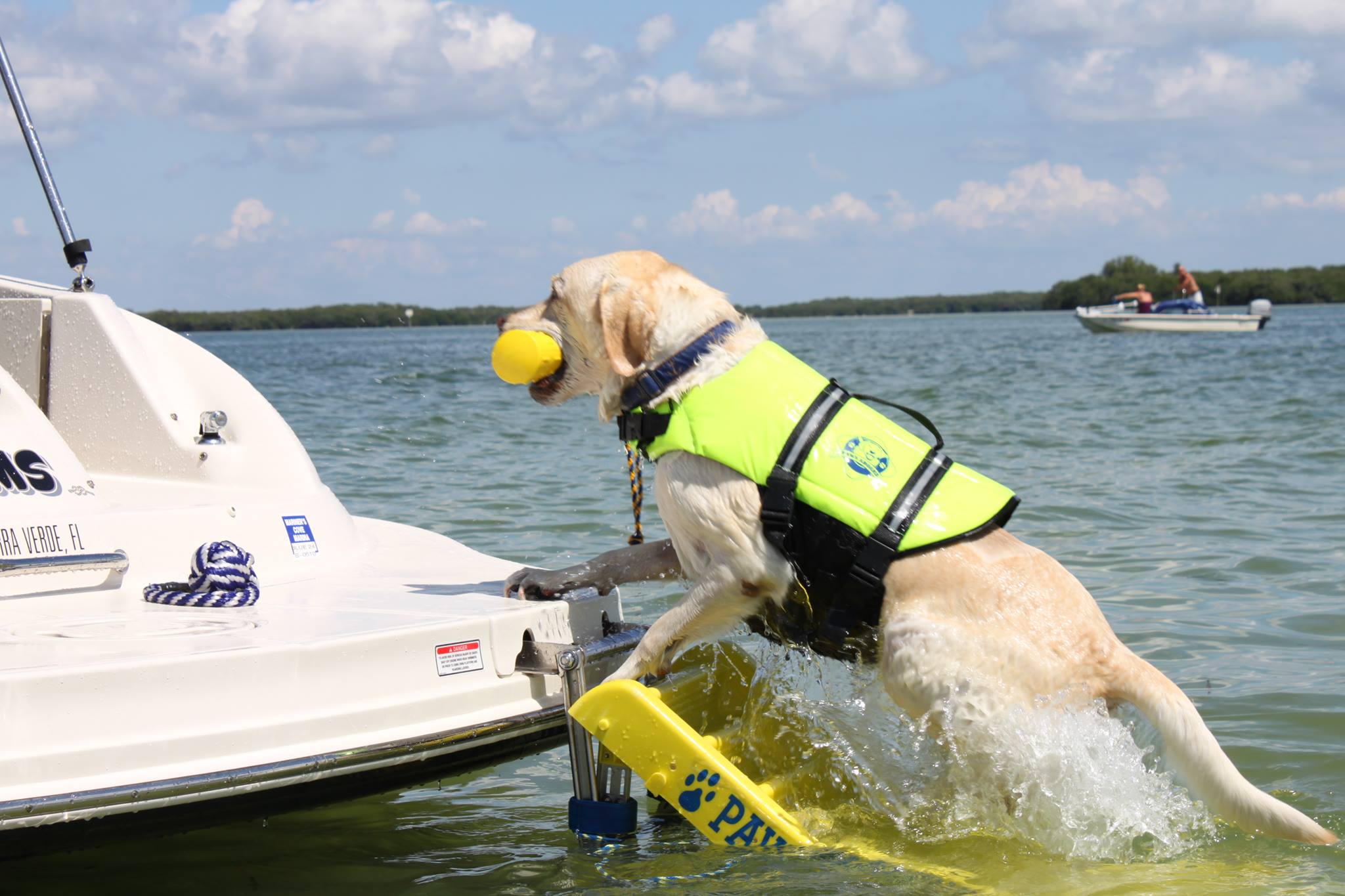 Begin with Swimming Lessons
Swimming lessons for a dog? Believe it or not, not every dog knows how to swim instinctively.  Some breeds are not good swimmers because of their physical structure. Pool owners should introduce their pets to the pool slowly and follow proper dog training techniques to teach them how to paddle and get them familiar with the layout of the pool. A dog life vest provides another layer of protection for poor swimmers and aging dogs. Many trainers recommend using a dog life vest during swimming lessons to give your pet added buoyancy.
Add a Pool Fence and Alarms to Backyard Pools
Pets need to be supervised around the pool area just like children.  Keep unsupervised pets and stray animals out of the pool by enclosing it with a pool fence that's at least 48-inches high. Choose a fencing style that dogs can't jump or climb over easily and install a gate alarm to alert you if the pool entrance is left open accidentally. As an added precaution, get a pool alarm that sirens when a person or pet falls or jumps into the water. A water immersion pool alarm like the popular Safety Turtle activates when a special tag worn on the dog's collar gets wet, eliminating the possibility of false alarms caused by wind or falling branches.
Give Doggy a Reliable Escape Route
Swimming is hard work for dogs and many tire quickly. A dog who is fatigued from excessive paddling runs the risk of panicking and sinking.  Keep your pet safe by providing her with an escape route out of the pool and make sure she knows how to find it and use it. Specially-designed dog stairs provide pets with a non-slip surface at just the right height and angle and often work better for dogs than built-in pool steps or ladders designed for people.  There are even special doggy boat ladders that attach to your boat's swim platform on the stern that make it easy for him to climb out of the water and onto the boat.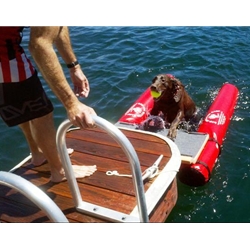 …And a Place to Rest!
An inflatable, independently floating deck and ramp provides swimming dogs with a comfortable place to rest as well as a safe exit from the pool.  Use it in a pool, lake or take it with you on your boat.
Summary
All of these water safety techniques and devices – swimming lessons, a pool fence, gate alarm, dog stairs and a floating deck  — will help keep your dog safe in the backyard pool.  Remember also to never leave your pet unattended in the water — that's one of the most important precautions you can take.