Hiring an experienced, local caretaker to check up on your vacant home is one of the best ways to protect your house and property while you are away. But what if you can't afford to pay a caretaker or there is no one you available that you really trust? Or you want 24/7 protection, which you won't get unless your caretaker lives in? If this is the situation you're facing, here's a list of automated devices that can take the place of a human caretaker to address the most common concerns of vacation homeowners and snowbirds — and give you round-the-clock protection. Two solutions are provided for each device category – "High End" and "Budget" – to fit everyone's pocketbook.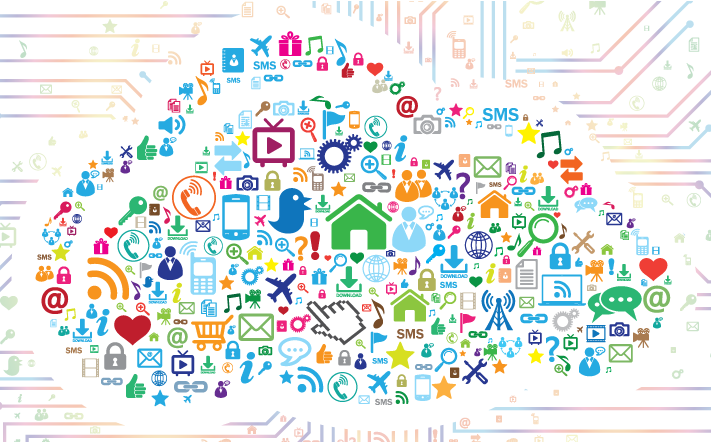 Freeze Alarm – Guard Against Water Damage Due to Frozen Pipes
Furnace failures and power outages can happen at anytime, especially in the winter, sending indoor temperatures dangerously low and causing pipes to freeze and burst. The result is often costly damage to walls, floors, fixtures and furniture. A freeze alarm gives you advance warning that the temperature in your home is plummeting so you can remedy the situation before your pipes freeze.
This freeze alarm is the ideal solution for homes without a landline phone. It's simple to install and comes with a cellular terminal (either AT&T or Verizon compatible). The Cellular Freeze Alarm: Deluxe will call up to three phone numbers if the temperature gets too low or the power goes out and features a phone-controlled thermostat so you can turn up the heat or air conditioning from anywhere. Add optional sensors to also monitor for water leaks, floods or intruders.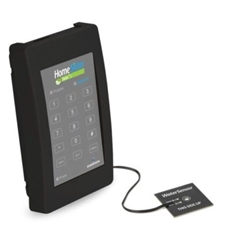 The Homesitter is the lowest cost, multi-functional freeze alarm on the market. It protects homes from damage caused by temperature extremes, water leaks or power failures and alerts two ways (audible alarm and calls up to three telephone numbers). Set-up takes minutes and there are no monitoring fees or installation costs. All you need is a phone line and a power outlet.
Whole House Automatic Water Shutoff System – Prevent Flooding Caused by Faulty Appliances or Plumbing
If not addressed immediately, water leaks can destroy floors, walls, furniture, electronics and personal property.  Aging or faulty water heaters, refrigerators, freezers, washing machines and toilets are the most common sources of water leaks. If a leak is detected anywhere in your home, a whole house water shutoff system turns off the main water supply line so the entire house is protected, regardless of where the source of the leak is.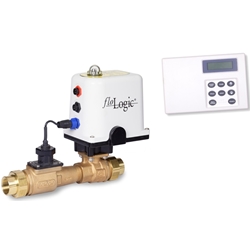 High End:   FloLogic (about $1,600)
The ingenious FloLogic system uses a "flow meter" that continuously monitors the level of water coming into the house. If the flow exceeds a preset limit, it automatically shuts off the water main valve to protect the entire house, regardless of where the source of the leak is. The system can be programmed for "home" and "away" operation and includes an integrated backup battery.  If activated, an audible alarm sounds. Connect it to a home security system for notifications when you're away.
The WaterCop Sargent Basic Package is the economical way to monitor more than one appliance. WaterCop supports an unlimited number of battery-powered wireless moisture sensors that you place around the house near leak-prone appliances. The electric shut-off valve installs at the main water supply line to protect everything in the house that is downstream. This kit comes with 3 wireless moisture sensors; additional sensors can be added. Connect it to your home security system to receive remote notifications if activated.
Wireless Home Security System – Protect Against Vandals and Intruders
A home security system ensures peace-of-mind that your home will be protected against trespassers, but professional installations are expensive and the monthly monitoring fees are extra. Instead, consider one of these economical DIY home security systems. Because they're wireless, they are quick and easy to install. Plus, you can customize your system by choosing the detector and sensors you need.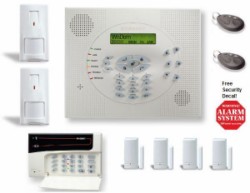 The WisDom Wireless system is recognized as one of the most complete whole-home security systems available today for the do-it-yourselfer. This "bonus" kit has everything you need to get started, including a control panel w/ auto dialer that calls up to 4 phone numbers; 4 contact sensors; 2 motion detectors; 2 key fobs; and a wireless keypad. Fully expandable, it accepts up to 32 wireless sensors plus 1 wired zone.
Oplink makes wireless home security systems that communicate with the Oplink Cloud through the Internet. You control the entire system with your smartphone or tablet from wherever you are. The basic Oplink Security AlarmShield system comes with an Oplink Processing Unit, 2 door/window sensors, a motion sensor, emergency siren and 2 key fobs.  Additional sensors and cameras can be added at any time.
Callout Fire Alarm – Receive Remote Alerts of Fire
Household fires can and do occur in unoccupied homes. Causes include aging wiring, malfunctions in heating systems or electrical appliances and improperly stored flammable liquids. And if no one is around to hear it, the sound of a battery-powered smoke detector is basically useless. A callout fire alarm system that contacts you when you are out is the best way to protect a vacant home in the event of a fire.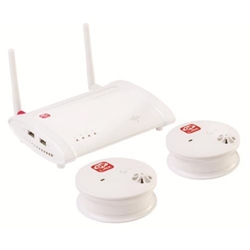 Most homes are equipped with battery-powered smoke and CO detectors. To extend the range of your existing detectors so you will receive alerts of a fire no matter where you are, add the Oplink Connected Fire system that "hears" if your smoke or CO detector goes off and sends an email or text message notification to your smartphone. The sensors also detect and alert if the ambient temperature exceeds the temperature threshold.
Budget: Sensor Accessories for Your Security System ($60 and up)
If your home is protected by either the WisDom Wireless or Oplink AlarmShield security systems, add either the WisDom Wireless Smoke Detector or the Oplink Sonic and Heat Sensor accessories to receive remote notifications in the event of a fire.  (Note that the Oplink Sonic and Heat Sensor works with your battery-powered smoke detector and does not replace it.)
Other Automated Alternatives
All of the devices and systems mentioned in this article are automated alternatives to the ongoing expense of a property caretaker and will also provide years of service and 24/7 protection. If you want even more round-the-clock protection for your home when you're not there, we recommend an outdoor surveillance video system with night vision that will send alerts to your smartphone or computer or a home automation system that can provide a multitude of ways to control and monitor your home from afar.