Communicating is one of the biggest challenges for the more than 21 million Americans who are hard of hearing or deaf, but fortunately there are all kinds of devices and systems available today to help the hearing impaired. This article focuses on two categories of devices designed to make daily living easier for the hard of hearing — amplified phones and alerting / notification systems.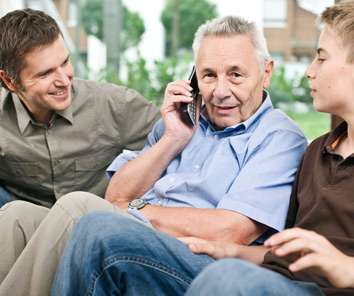 Amplified Phones for the Home
Talking on the household phone can be extremely frustrating for people with hearing loss. Today's wide selection of amplified phones for the hearing impaired offer a variety of features that address just about every need, including large keypads, adjustable volume and tone, extra loud ringers and hearing aid compatibility.  Use this checklist to pick the phone that best fits your needs:
1) Amplification Level – Phones for the hard of hearing have three levels of amplification.  Select the one that boosts volume adequately for you.
2) Portability — Consider the user's mobility and lifestyle when choosing between a corded, cordless and hands-free phone, as well as where the phone will be located in the home.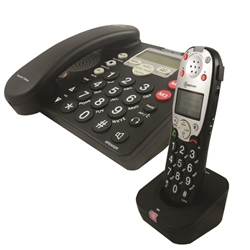 3) Hearing Aid Compatibility — Most amplified phones for the hard of hearing are hearing aid compatible, but many newer cordless amplified phones, like those made by Clarity, are also TIA-1083 compliant (a performance standard that greatly reduces the interference or audible "buzz" that hearing aid wearers often experienced when using a cordless phone).
4) Other Handy Features
Alerting / Notification Systems
In addition to missing out on all or parts of conversations, people with hearing loss often discover that they're simply not hearing important everyday sounds like telephones, doorbells and alarm clocks. Fortunately, there are many notification systems and signalers designed to help people with hearing loss live and function normally at home or when traveling, including these popular alerting systems:
Visual Doorbell Alerts
Telephone Alerts
Vibrating Alarm Clocks
Smoke and Carbon Monoxide Alert
More Help for the Hearing Impaired
An amplified phone for the home and one or more of these alerting / notification systems can greatly improve everyday life for someone with hearing loss. There are many other devices and systems available to help hard of hearing people adapt to their environment, including TV listening systems and personal amplifiers. Oftentimes, these devices prove to be useful to other members of the household as well.