Experienced "snowbirds" heading south for weeks or months to flee the cold know the importance of having some kind of home security system to protect their empty house, but not everyone can afford a professional installation.  Besides cost, many homeowners don't want the burden of learning how to operate complicated technology that involves computers and smartphones and Internet.  For snowbirds looking for simpler, more affordable options for home security and protection, here are some economical alternatives (most under $100) that are easy to setup and a surprisingly effective!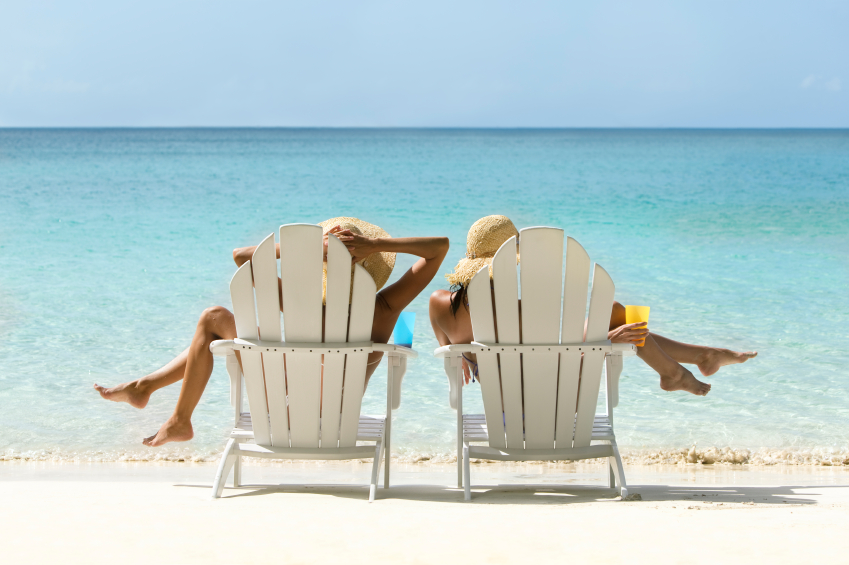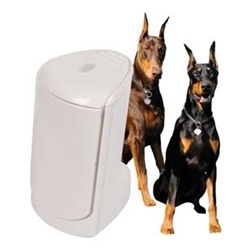 Electronic Watchdog to Scare Away Intruders – The sound of a barking dog is a proven way to deter burglars.  With Rex Plus II the electronic watchdog, your vacant home will be protected 24/7.  Rex is always on guard and can "see" through thick doors, walls and glass.  When he senses movement, he begins barking.  The closer the intruder gets, the more frequent the barking becomes.  Powered by electricity or batteries.  Costs about $80.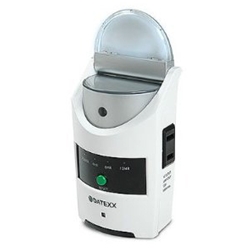 Automated Lighting Makes Your Home Look "Lived In" — Burglars don't want to tangle with dogs or people, so they target homes that look unoccupied.  Give your home that "lived in" look by plugging in a few strategically placed lamps into a light-sensitive timer.  When the sun begins to go down, the timer turns the lamps on automatically.  The lamps stay on for 4, 8, or 12 hours, depending on the setting you choose.  Only $35 each.
Don't forget to light up the outside of your home too.  These easy-to-install solar-powered security floodlights have 14 super bright LEDs and are powered by a solar-charged rechargeable battery.  When motion is detected, the floodlights turn on.  Best of all, they use no electricity and require no wiring.  Under $60.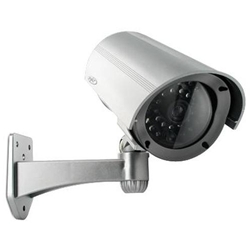 Dummy Security Cameras Look Like the Real Thing – Another easy way to keep intruders off your property is to "arm" your home with dummy security cameras.  Would-be burglars will think they are being recorded by a sophisticated surveillance system and move on to a less protected home.  Really "dumb" dummy cams cost around $20.  For more realistic dummy cams with flashing red LED lights, there are battery and solar-powered models that cost a little bit more.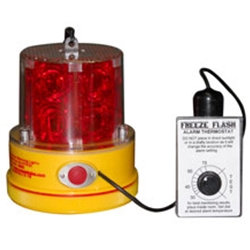 Low Temperature Warning Light Alerts Neighbors — Frozen pipes and flooding can cause catastrophic damage to a home!  Place a battery-powered Freeze Flash warning light in a highly visible window in your home.  If the heat goes off because of a power outage or furnace failure and the inside temperature drops below your setpoint, neighbors will be alerted by a flashing red light and can call to notify you of the situation.  Priced under $70.
Freeze and Water Alarms that Alert You Directly – For snowbirds who don't want to bother their neighbors and prefer to be notified directly if there's a freeze or water problem, here are two multi-functional freeze alarms that send out alarm alerts via a phone call, text message and/or email when there's a water problem at the house.
If you'd rather get text message alerts, the DIY Cellular Alarm for Homes is a dual-sensor alarm that sends text message notifications to your cell phone, tablet or laptop it there's a power outage or two other conditions you choose to monitor.  (Note that this system requires a Verizon cellular signal at the site.)
Other Ways to Protect Your Empty Home
Equipping your home with these budget home security and protection products will give you some peace of mind while you're away from home.  For additional tips on how snowbirds can prepare their home before taking off for vacation, read up on the tips listed in the article Heading South? Home Protection Tips for Snowbirds.