Did you know that a leaking washing machine is one of the most damaging appliances in your entire house?  That's right, a burst washing machine hose can discharge 500 gallons of water in one hour!  And, a flood caused by a leaking washing machine can happen at any time, whether you are home or not, and go undetected for hours or even days.  Fortunately, there are a several strategies you can use to prevent washing machine floods.  Here's what I recommend, beginning with the easiest and least expensive.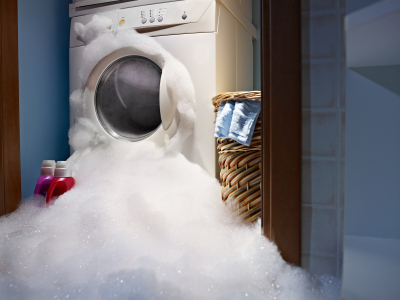 Strategies to Combat Leaking Washing Machines
1.  Buy a washer floor tray 
Slide a plastic water-catching tray under your washing machine to catch drips and leaks. It's a simple, inexpensive way to prevent water damage to your floor should your washing machine begin to leak. Cost — around $20.
2.  Replace water hoses with auto-shutoff hoses
Over time, water supply hoses that connect to your washer can become brittle and burst. Check them periodically for wear and replace old hoses with auto-shutoff connector hoses that automatically turn off the water supply to your washing machine if excess water flow is sensed, before catastrophic flooding can occur. These ingenious hoses cost only about $20 each and can be used on washing machines as well as dishwashers and other plumbing fixtures and appliances.
3.  Install a single-lever manual shut off valve
Manually turning off the hot and cold water faucets when you aren't using your washing machine is one of the best ways to prevent leakage.  Replace those dual faucets with a single-lever faucet that turns off the hot and cold water supply at the same time to make this step even easier to do.  You can pick up a single-lever faucet at any plumbing supply or hardware store for about $25.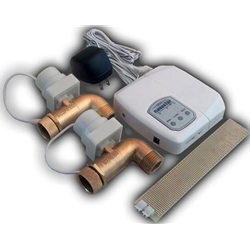 4.  Hook up an automatic water shut off valve
An automatic water shut off valve prevents flooding by immediately turning off the hot and cold water supply as soon as water is detected under or near the washing machine. Water shut off valves are easy to install and provide 24/7 protection. Prices start at around $300. Most models sound an audible alarm; some can be connected to a security system or auto-dialer so you'll receive notifications when you're out.
5.   Invest in an "intelligent" automatic water shut off valve
An "intelligent" valve allows water to flow only when it senses that the washing machine is turned on.  When the wash cycle is complete, it closes the water inlet valves until the washing machine is used again.  If the floor sensor detects water, the unit protects against damage by turning off the water supply and the power to the washing machine, in case the leak is caused by a faulty discharge hose.  Priced at under $200, this shut off valve is a great investment to protect your home against washing machine leaks, regardless of the cause.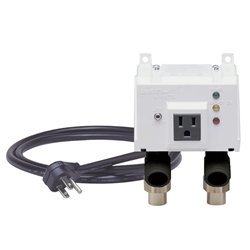 Summary
There are many reasons why your washing machine may start to leak, from ruptured hoses to cracked fittings to internal failures.  Turning off the water supply leading to the washing machine – either manually or by installing auto-shutoff connector hoses or an automatic water shut off valve — is the best way to prevent damage.  An inexpensive washer floor tray will catch water spills and can be used in conjunction with the water sensors that come with automatic shut off valves.
Automatic water shut-off valves can also be installed around other leak-prone appliances in your home, like hot water heaters, dishwashers and refrigerators.  For information on the various models available, take a look at this handy automatic water shut-off valve comparison chart.