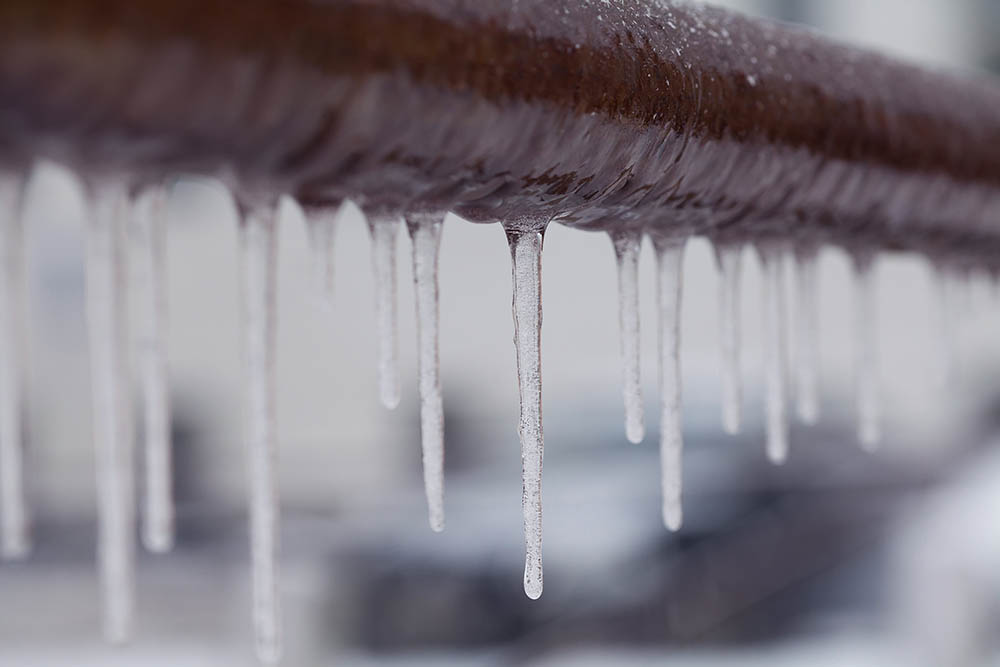 Winter weather brings with it the risk of frozen pipes, and unoccupied houses and vacant vacation cottages are particularly susceptible. If the pipes burst when no one is at home, the damage to walls, floors and furnishings can be catastrophic.
If you own a home in a part of the country where winter brings bone-chilling cold, give yourself peace of mind by installing a double layer of protection: a freeze alarm to alert you to low temperatures and a remotely-accessible automatic water shutoff system to limit damage from leaks or flooding.
Who Needs a Freeze Alarm?
A stretch of bitter cold days or a drop in indoor temperature due to a heating system failure or power outage can cause pipes to freeze, leak and burst. This can be a real headache if you travel during colder months or own a vacation home that isn't used in the winter. A freeze alarm (also called a "high/low temperature alarm") monitors the temperature inside your home and provides a warning if it dips dangerously low.
There are various types of freeze alarms with a wide range of features, but the two basic models are: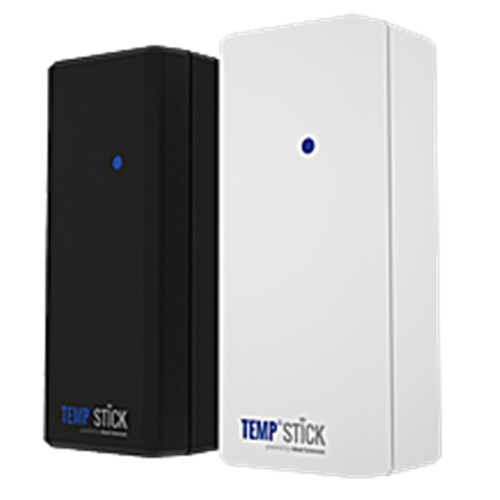 Local alarms that have flashing lights and rely on nearby neighbors or passersby to respond.
Callout alarms which provide the assurance that you'll be notified directly when the temperature in your house gets below a pre-programmed set-point. Choose a communication mode based on what is available or most convenient for you: landline phone, Internet/WiFi or cellular service.
Take Control with a WiFi Temperature & Humidity Monitor
If your home has 24/7 internet access, the Temp Stick Wifi Temperature & Humidity Sensor is an ideal choice for monitoring your home remotely. This WiFi-powered smart monitor sends texts to your phone and email alerts the instant an important change in temperature or humidity is triggered. You set the trigger points and alerts, and can view and update the device from your smartphone, tablet or PC anywhere, anytime. There are no fees or subscriptions and the Temp Stick is battery operated, so you can place it anywhere.
Prevent Water Leaks from Becoming Floods
Installing an automatic water main shutoff system is one of the best ways to protect your property and valuables against potential leaks and costly water damage caused by burst pipes. Also known as whole house water shutoff systems, they can prevent a little drip from becoming a catastrophic flood by automatically turning off the water main when a leak is detected.
Protect Your Home with a WaterCop Automatic Water Shutoff System
WaterCop is one of the most popular whole house leak detection systems on the market. Recognized for their reliability, affordability and "Made in America" quality since 1999, the company is committed to continuously improving its products to keep pace with the latest technology.
The basic WaterCop Classic Sergeant Kit is an easy-to-install, all-in-one sensor-based system with a wireless radio transmitter that detects leaks and automatically closes off access from your water supply. The kit includes the WaterCop Classic Valve/Actuator, an industrial quality lead-free brass valve that installs on the incoming main water supply line into your home, plus three flood sensors. The actuator supports an unlimited number of sensors, so you can purchase as many as you need to detect leaks throughout your home.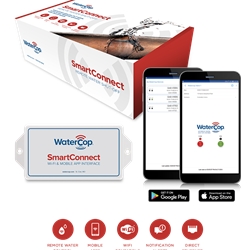 As an added feature, the SmartConnect WiFi and App Interface works through the WaterCop app to provide you with real time system alerts, notifications, and remote monitoring and control of your WaterCop system.
More Ways to Winterize Your Home
The combination of a freeze alarm and an automatic water shutoff system is one of the best investments you can make to help protect your home and valuables against the dangers of frozen pipes. If you need help deciding which devices are right for you, contact the technical experts at diycontrols.com. Looking for more ways to keep your home safe and secure this winter? You'll find plenty of tips in these recent articles on our blog: "Leaving Town This Winter? 4 Tips for Keeping Your Home Safe & Sound" and "5 Easy Ways to Upgrade Your Home This Winter."