Discouraging thieves from targeting your house is probably one of the best strategies to protect your home and property.  But even if you can't afford an expensive home security system, there are many simple and affordable ways you can deter thieves, including these popular budget security products.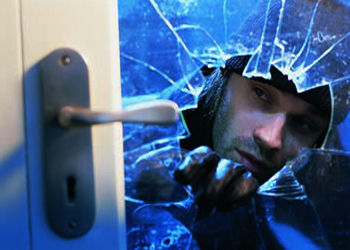 A Fake Home Security System
Homes that don't have a security system are three times more likely to be broken into than homes with security systems.  But by arming your home with "faux security products," burglars will think you have the real deal and go elsewhere.
SECURITY SIGNAGE — Put security yard signs by the mailbox and decals on windows at all of your entrances.  Cost – less than $10!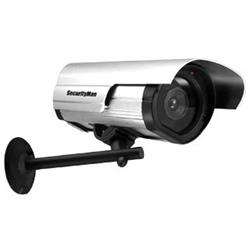 DUMMY CAMS — Deter intruders by making them believe they are being recorded by installing dummy security cameras by entrances and over the driveway.   Cost – under $20 each; a little more for battery or solar-powered models with realistic flashing lights.

Adopt an Electronic Watchdog
Most burglars want to get in and out of the target house quickly and are not looking for confrontations – with people or pets.  So if you don't have a loud barking dog to scare away potential thieves, pretend you do!
REX the ELECTRONIC WATCHDOG —  Rex Plus II, the Electronic Watchdog,  "sees" through thick doors, walls and glass and begins barking when he detects movement.  When he is not protecting, switch Rex Plus to the tranquil sound mode.  Costs a lot less than feeding a real dog – a one-time investment of about $80!
Trick them with Sound and Lights
 Most burglaries occur between 10 a.m. and 3 p.m. when homeowners are at work or school and in the summer time during the peak vacation season.  But you can easily deter intruders by making your home look and sound like it's occupied.  Here's how:
THE SOUND OF MUSIC – Use a basic timer to turn radios or music players on and off throughout the day to give the impression that someone is home.  A simple mechanical timer can be purchased at your local hardware store for less than $10.
THE MAGIC OF LIGHTS – Burglars seek out homes that look empty.  Automate your interior lighting so lamps turn on and off to give your home a "lived in" look.  For really easy setup, try a light-sensitive timer that turns lamps on as soon as the sun goes down.  Cost is around $35.  Exterior motion sensor lights positioned outside your home will also help scare away potential intruders.   Easy-to-install solar-powered security floodlights that use no electricity and range in price from about $60 to $95.
Install an Inexpensive DIY Wireless Security System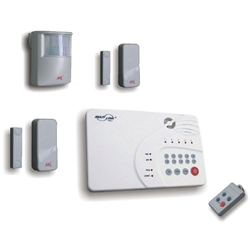 Today's wireless DIY home security systems give you state-of-the-art technology at incredibly affordable prices. For instance, a complete "starter kit" by Skylink can be purchased for under $60.  Safety Technology Wireless Alert offers an improved "Build Your Own" System that communicates by voice message or beeps so you always know which sensor has been activated.
Other Ways to Protect Your Home
In addition to using some of these budget security products, there are lots of other ways you can discourage would-be robbers from targeting your home.  For some helpful tips on how to protect your home, read "Do It Yourself Home Security: 10 Tips for the Absentee Homeowner."