Summer fun means sunny days, beaches, pool parties and backyard barbecues, but for those of us in charge of the brood, it also means making sure the family is safe while they're having a good time.  If family safety is your priority, we're here to help with these 8 summer safety tips and some ingenious devices designed to protect your loved ones and your home.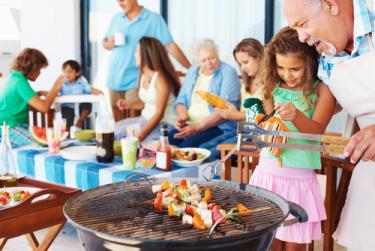 1) Pool Safety
Adult supervision is the best way to keep babies, young children and non-swimmers safe around open water.  A water immersion pool alarm is another sure-fire line of defense.  As soon as anyone wearing one of the special wristbands or tags falls or jumps into the water, an alarm sounds immediately.  We like the Safety Turtle system that's designed to protect children and adults of all ages as well as pets.
2) Teen Safety
Take advantage of today's GPS technology to track and monitor your teen's activity and give yourself some peace-of-mind.  With a GPS tracking device in your teen's car, you can monitor their location and speed in real time. You can even set boundaries and speed limits and get text messages and email alerts if your teen drives too far or too fast.

3) Kiddie Safety
A digital video baby monitor lets parents look in on little ones while they're sleeping, playing or in distress.  Some models also allow two-way communication so you can talk and listen.  The Motorola Blink1 Wi-Fi Video Baby Monitor features Wi-Fi technology that allows you to view and control the camera remotely using a free downloadable app on your smartphone, computer or tablet.  It also has a pan/tilt/zoom camera that that you can control from anywhere to follow baby's movement.  Use your video monitor to supervise bigger kids too!
4) Pet Safety
Swimming is hard work for dogs and many tire quickly, so give your pet a way to get some much needed rest.  In the pool or any open water, a specially-designed life jacket for dogs boosts their endurance and allows them to just float when they tire.  On the boat, a doggy boat ladder attached to the vessel's swim makes it easier for pets to climb out of the water and onto the boat.
5) Home Safety
Crime data indicates that the majority of home burglaries occur in July and August when thieves know that families are away on vacation. One of the easiest ways to minimize risk and make your home look occupied is to set up timers around the house to turn lights, radios and TVs on and off.  Or, consider installing a home controller system that automates multiple indoor and outdoor lights as well as other appliances.
6) Grandma and Grandpa Safety
A medical emergency can happen at any time and grandma or grandpa may not be able to get to a telephone to call for assistance.  Give them a reliable way to summon for help with a medical alert system and wearable pendant.  If you want a low-cost alternative to leasing, you can buy a personal alert system, many of which have the exact same features as the more expensive leased systems, including two-way communication and the ability to call family, friends or 911 directly.
7) BBQ Safety
Grilling outside is popular everywhere during the warm summer months, but remember that it's important to cook meats thoroughly to destroy harmful bacteria.  A laser infrared surface thermometer is an easy way to get an instant temperature reading of your preheated grill.  You can also take the guesswork out of checking meat or poultry for doneness by using a digital probe thermometer.  And if you are grilling at night, a portable LED clip-on grill light will help you see so you can better judge when the food is done.
8) Hurricane Safety
Summer is hurricane season in most parts of the U.S.  Experts advise us to take time before a storm hits to prepare your home and family for a potential emergency.  To track the progress of a storm and get all of the latest information on severe weather from the National Weather Service and other important civil emergencies, invest in a NOAA weather alert radio.  NOAA weather radios have an emergency backup power supply (either alkaline and/or rechargeable battery) since the power usually goes out during a storm, or you can opt for a hand-crank model that you can recharge manually.
Make Family Safety a DIY Project
For more clever and affordable products designed with family safety in mind, take a look at the diycontrols online store of security and safety products.  Our weekly blog is another good source for tips and products to protect children, seniors, pets and home. And our experienced and knowledgeable staff is standing by to provide you with assistance on installation and design.  Just give us a call at 1-800-487-1363.